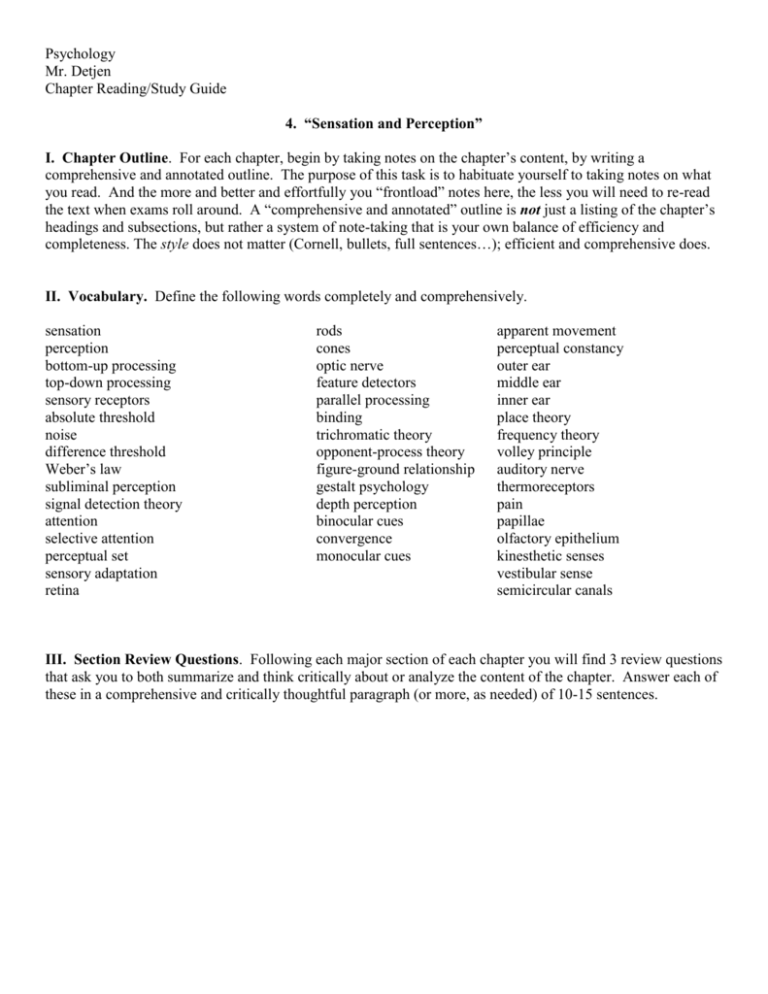 Psychology
Mr. Detjen
Chapter Reading/Study Guide
4. "Sensation and Perception"
I. Chapter Outline. For each chapter, begin by taking notes on the chapter's content, by writing a
comprehensive and annotated outline. The purpose of this task is to habituate yourself to taking notes on what
you read. And the more and better and effortfully you "frontload" notes here, the less you will need to re-read
the text when exams roll around. A "comprehensive and annotated" outline is not just a listing of the chapter's
headings and subsections, but rather a system of note-taking that is your own balance of efficiency and
completeness. The style does not matter (Cornell, bullets, full sentences…); efficient and comprehensive does.
II. Vocabulary. Define the following words completely and comprehensively.
sensation
perception
bottom-up processing
top-down processing
sensory receptors
absolute threshold
noise
difference threshold
Weber's law
subliminal perception
signal detection theory
attention
selective attention
perceptual set
sensory adaptation
retina
rods
cones
optic nerve
feature detectors
parallel processing
binding
trichromatic theory
opponent-process theory
figure-ground relationship
gestalt psychology
depth perception
binocular cues
convergence
monocular cues
apparent movement
perceptual constancy
outer ear
middle ear
inner ear
place theory
frequency theory
volley principle
auditory nerve
thermoreceptors
pain
papillae
olfactory epithelium
kinesthetic senses
vestibular sense
semicircular canals
III. Section Review Questions. Following each major section of each chapter you will find 3 review questions
that ask you to both summarize and think critically about or analyze the content of the chapter. Answer each of
these in a comprehensive and critically thoughtful paragraph (or more, as needed) of 10-15 sentences.