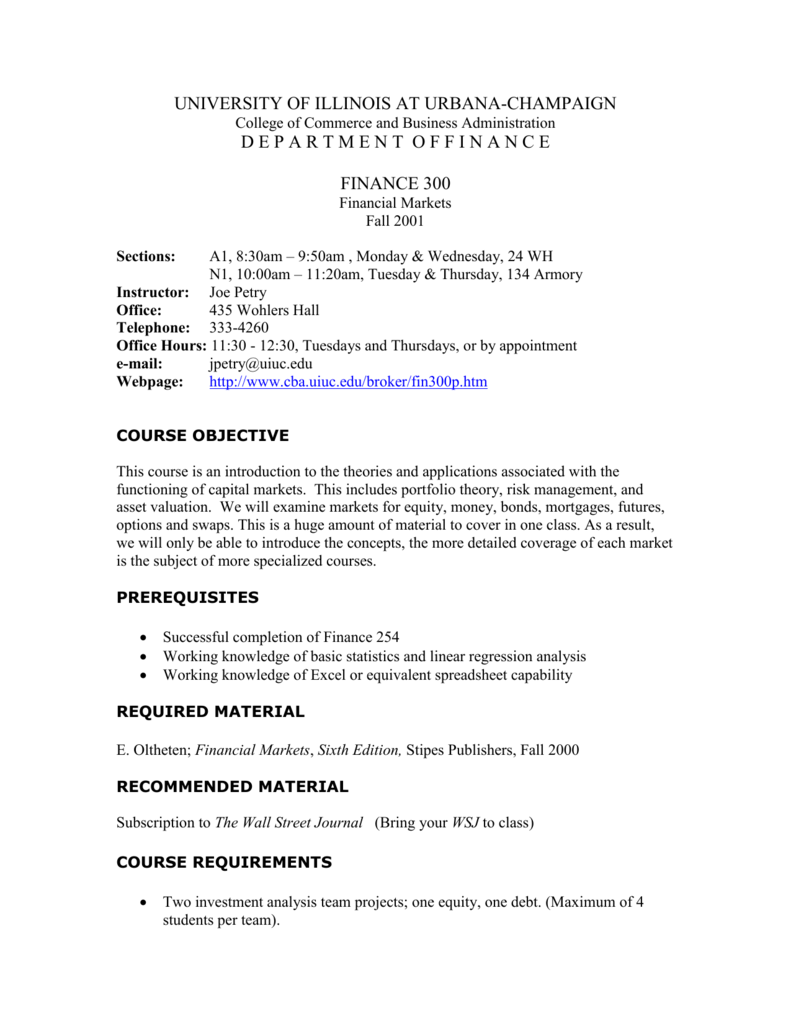 UNIVERSITY OF ILLINOIS AT URBANA-CHAMPAIGN
College of Commerce and Business Administration
DEPARTMENT OFFINANCE
FINANCE 300
Financial Markets
Fall 2001
A1, 8:30am – 9:50am , Monday & Wednesday, 24 WH
N1, 10:00am – 11:20am, Tuesday & Thursday, 134 Armory
Instructor: Joe Petry
Office:
435 Wohlers Hall
Telephone: 333-4260
Office Hours: 11:30 - 12:30, Tuesdays and Thursdays, or by appointment
e-mail:
[email protected]
Webpage:
http://www.cba.uiuc.edu/broker/fin300p.htm
Sections:
COURSE OBJECTIVE
This course is an introduction to the theories and applications associated with the
functioning of capital markets. This includes portfolio theory, risk management, and
asset valuation. We will examine markets for equity, money, bonds, mortgages, futures,
options and swaps. This is a huge amount of material to cover in one class. As a result,
we will only be able to introduce the concepts, the more detailed coverage of each market
is the subject of more specialized courses.
PREREQUISITES



Successful completion of Finance 254
Working knowledge of basic statistics and linear regression analysis
Working knowledge of Excel or equivalent spreadsheet capability
REQUIRED MATERIAL
E. Oltheten; Financial Markets, Sixth Edition, Stipes Publishers, Fall 2000
RECOMMENDED MATERIAL
Subscription to The Wall Street Journal (Bring your WSJ to class)
COURSE REQUIREMENTS

Two investment analysis team projects; one equity, one debt. (Maximum of 4
students per team).



Finance 300 Investment Challenge. This semester long project involves
management of financial assets for a hypothetical client . The process is
described in detail in the text. You will form teams (maximum of 4 students per
team) to accomplish this project.
Three in-class exams
Final Examination (not comprehensive)
GRADING CRITERIA
Examinations
The highest two scores
out of three in-class mid-term exams
24% 120 points
Final Exam
24% 120 points
Examination Total
72%
24% 120 points
360 points
Team Projects
Equity Analysis Report
7%
35 points
Equity Analysis Team Evaluation
2%
10 points
Bond Analysis Report
7%
35 points
Bond Analysis Team Evaluation
2%
10 points
Project Total
18%
90 points
Investment Challenge
NASDAQ Head trader Simulation
1%
5 points
Monthly Stewardship Reports
6%
30 points
Client Letter
2%
10 points
Investment Performance
1%
5 points
Project Total
10%
50 points
100%
500 points
Course Total
Total
There will be no makeup exams, no exceptions. No late assignments will be accepted, no
exceptions.
MISCELLANEOUS
See the class website for a detailed description of other items pertaining to the course.