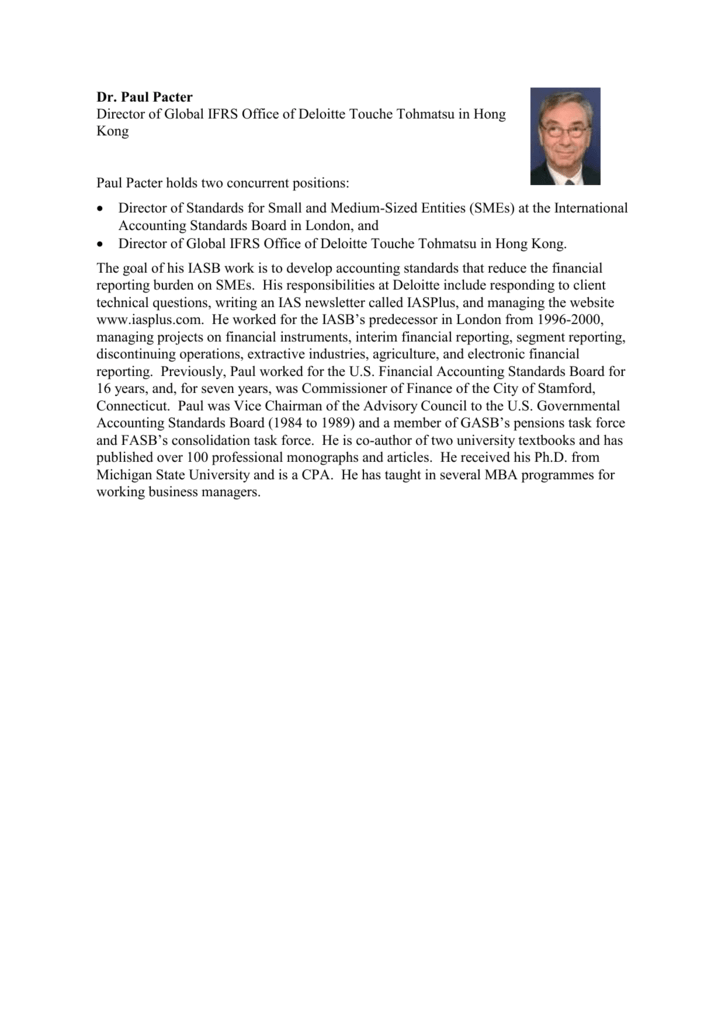 Dr. Paul Pacter
Director of Global IFRS Office of Deloitte Touche Tohmatsu in Hong
Kong
Paul Pacter holds two concurrent positions:


Director of Standards for Small and Medium-Sized Entities (SMEs) at the International
Accounting Standards Board in London, and
Director of Global IFRS Office of Deloitte Touche Tohmatsu in Hong Kong.
The goal of his IASB work is to develop accounting standards that reduce the financial
reporting burden on SMEs. His responsibilities at Deloitte include responding to client
technical questions, writing an IAS newsletter called IASPlus, and managing the website
www.iasplus.com. He worked for the IASB's predecessor in London from 1996-2000,
managing projects on financial instruments, interim financial reporting, segment reporting,
discontinuing operations, extractive industries, agriculture, and electronic financial
reporting. Previously, Paul worked for the U.S. Financial Accounting Standards Board for
16 years, and, for seven years, was Commissioner of Finance of the City of Stamford,
Connecticut. Paul was Vice Chairman of the Advisory Council to the U.S. Governmental
Accounting Standards Board (1984 to 1989) and a member of GASB's pensions task force
and FASB's consolidation task force. He is co-author of two university textbooks and has
published over 100 professional monographs and articles. He received his Ph.D. from
Michigan State University and is a CPA. He has taught in several MBA programmes for
working business managers.