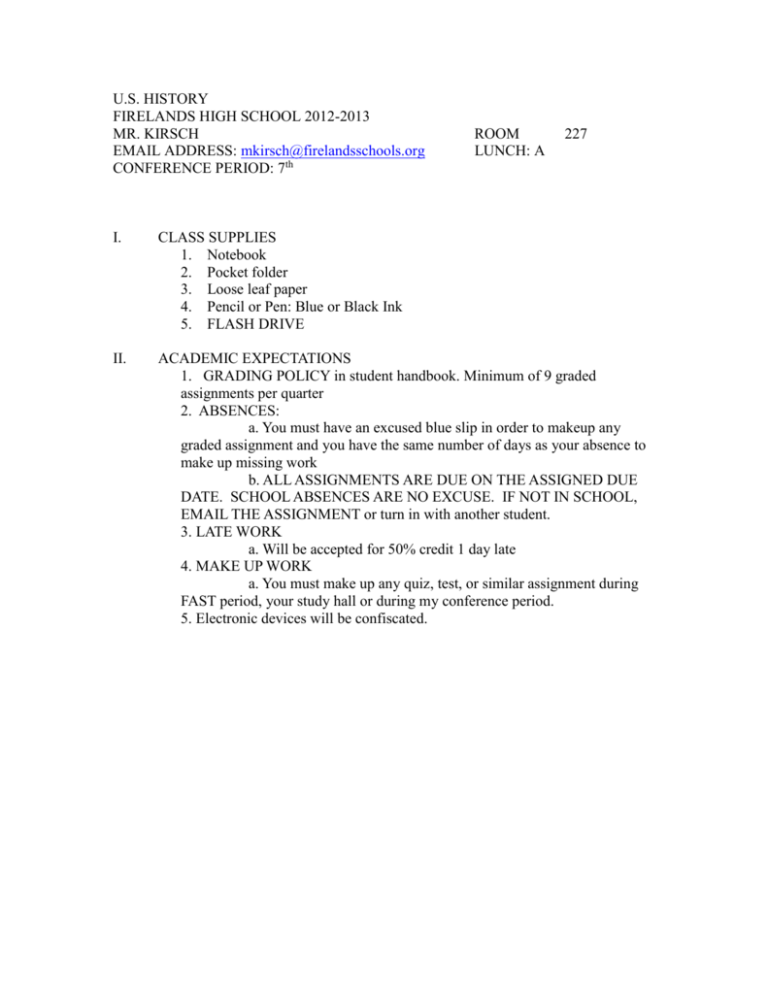 U.S. HISTORY
FIRELANDS HIGH SCHOOL 2012-2013
MR. KIRSCH
EMAIL ADDRESS: mkirsch@firelandsschools.org
CONFERENCE PERIOD: 7th
ROOM
LUNCH: A
227
I.
CLASS SUPPLIES
1. Notebook
2. Pocket folder
3. Loose leaf paper
4. Pencil or Pen: Blue or Black Ink
5. FLASH DRIVE
II.
ACADEMIC EXPECTATIONS
1. GRADING POLICY in student handbook. Minimum of 9 graded
assignments per quarter
2. ABSENCES:
a. You must have an excused blue slip in order to makeup any
graded assignment and you have the same number of days as your absence to
make up missing work
b. ALL ASSIGNMENTS ARE DUE ON THE ASSIGNED DUE
DATE. SCHOOL ABSENCES ARE NO EXCUSE. IF NOT IN SCHOOL,
EMAIL THE ASSIGNMENT or turn in with another student.
3. LATE WORK
a. Will be accepted for 50% credit 1 day late
4. MAKE UP WORK
a. You must make up any quiz, test, or similar assignment during
FAST period, your study hall or during my conference period.
5. Electronic devices will be confiscated.
TOPIC: Historical Thinking & Skills
T 8/28
Expectations / Historical events provide opportunities to examine
alternative Courses of Action
1.
Presidential decisions and alternative choices
W 8/29
The use of primary and secondary sources of information includes
an examination of the credibility of each source
KEY TERMS
a..Source: A person or document that provides information
i. Primary
ii. Secondary
1. Both contain bias
b. Credibility: Source that is believable and trustworthy.
c. Reliability: Source that is well-supported by verifiable facts.
1. Students will analyze individual documents for credibility
R 8/30
Historians develop theses and use evidence to support or refute
positions
THESIS: Argument that is presented in a report. The thesis states the main idea of the
report in one sentence.
1. Explain procedure and format of thesis paper
2. Thesis statement for research paper
3. Begin outline of thesis paper
F 8/31-F 9/7
Historians analyze cause, effect, sequence and correlation in
historical events, including multiple-causation and long and short term causal relations.
1. Lesson: "What caused the Great Depression?"
HW for M 9/10
2.
Read OGT WB chapter 1
3.
Answer all objective questions in the book
M 9/10
Answering Data Based Questions
1. Discuss/review OGT WB chapter 1 objective questions
HW for W 9/12
1. Read chapter 11 OGT WB
2. Define key terms
3. Answer all objective questions in WB
T 9/11
1. Introduction
2. DVD
3. Debriefing
Patriot Day Lesson
W 9/12
Social Studies Skills & Methods
1. Lecture on Skills & Methods
a. Logical fallacies
b. Unstated assumptions
c. Propaganda
d. Stereotype
2. Review OGT WB chapter 11 questions
F 9/14
Unit Test
1. Test on Data Based and Skills & Methods
TOPIC: Historic Documents
M 9/17
HW
Constitution Day Lesson
1. Preamble to the U.S. Constitution
2. Examine the 6 purposes of government
Read OGT WB pages 23-24 and define all key terms in NB
Enlightenment to Imperialism (1700-1900)
T 9/18
Explain connections between the ideas of the Enlightenment and
changes in the relationships between citizens and their government
1. Discussion of OGT WB vocabulary
2. Chart of Enlightenment philosophers, their ideas and who they influenced
a. Locke, Montesquieu, Voltaire, Smith & Rousseau
b. 5 Key Enlightenment Ideas
c. Philosopher
HW
1. OGT WB questions pages 26-27
2. Read the Americans pages 52-57 and answer the following in NB
regarding the Declaration of Independence
a. Paragraph 3 contains four Enlightenment Ideas. Identify them and
provide the example from the Declaration of Independence.
b. Who is the "He" in paragraphs 5-17 and identify 5 wrongs he
committed in the eyes of the colonists.
c. Who is the "For" in paragraphs 18-26 and identify 5 wrongs they
committed in the eyes of the colonists.
d. 2nd to last paragraph, what are the delegates pledging?
e. What did the delegates pledge in the last paragraph?
W 9/19
The Declaration of Independence reflects an application of Enlightenment
ideas to the grievances of British subjects in the American colonies
1. Review OGT WB questions pages 26-27
2. Discuss & Review Declaration of Independence main ideas
3. Make a web
a. Center is Enlightenment Ideas in the Declaration of Independence
b. 4 outer ideas are natural rights, social contract, divine right and all men
are created equal
4. Grievance Paper Rubric
F 9/21
Northwest Ordinance addressed a need for government in the Northwest
Territory and established precedents for the future governing of the United States
1. Reading and analysis of document in class
a. Author & Date
b. Purpose of the document
c. 3 main provisions in the document
d. What did the document say regarding slavery?
HW: Read OGT WB page 25-26
M 9/24
Enlightenment influence on American, French and Latin
Revolutions
1. Lecture on Revolutions
2. Enlightenment ideas that influenced the Revolutions
a. Web and paragraph
3. Compare/contrast the American & French Revolutions
a. Finish for HW
T 9/25
Problems facing the national government under the Articles of
Confederation led to the drafting of the Constitution of the U.S. The framers of the
Constitution applied ideas of the Enlightenment in conceiving the new government
1. Discuss HW
2. Weaknesses of the Articles of Confederation
3. Compare/contrast
a. Declaration of Independence
b. Northwest Ordinance 1787
c. Articles of Confederation
HW
1. Read pages 66-71
2. Define key terms
W 9/26
The Federalist and Anti-Federalist Papers structured the national
debate over the ratification of the Constitution of the United States.
1. Chart compare/contrast the Federalists and Anti-Federalists
2. Excerpts from Federalist No. 10 & 78
HW: Read The Americans pages 96-97
F 9/28
No school Waiver Day
M 10/1
The Bill of Rights is derived from English law, ideas of the
Enlightenment, the experiences of the American colonists, early experiences of selfgovernment and the national debate over the ratification of the Constitution of the United
States.
1. Influences on the Bill of Rights
a. Enlightenment ideas and philosophers
2. ESSENTIAL QUESTION: How well does the Constitution of the United
States continue to serve the needs of the United States of America
T 10/2
Historic Documents Test
1. Historic Documents Test
a. Material from 9/17 – 10/2
2. OGT WB; read and vocabulary on pages 27-32
3. The Americans Chapter 6
a. Read
b. Vocabulary
TOPIC: Industrialization and Progressivism (1877-1920)
The rise of corporations, heavy industry, mechanized farming and
technological innovations transformed the American economy from an agrarian to an
increasingly urban industrial society.
Wednesday 10/3
1. Industrialization
a. Industrial Revolution
b. Nature of Work Changes
c. Changes in Working Conditions
d. The Modernization of Agriculture
e. Urbanization
f. Immigration
g. Rise of Big Business
2. Rubric for progressive era paper
Friday 10/5
1. Library work on paper
Monday 10/8
1. Vocabulary; define the following
a. Corporation
b. Trusts
c. Monopoly
d. Laissez-faire policies
2. Summarize the pros and cons of Corporations and monopolys
KEY QUESTION: Did rapid industrialization improve the lives of Americans? Are the
benefits of progress worth the costs?
The rise of industrialization led to a rapidly expanding workforce. Labor
organizations grew amidst unregulated working conditions and violence toward
supporters of organized labor.
Tuesday 10/9
1. The Rise of Organized Labor
a. Labor unions
b. Strike
c. Karl Marx, Friedrich Engels & The Communist Manifesto 1848
d. Knights of Labor 1869
e. American Federation of Labor 1881
f. Congress of Industrial Organizations 1938
2. Web and paragraph
a. Identify and explain major changes brought about by labor unions
The Progressive Era was an effort to address the ills of American society
stemming from industrial capitalism, urbanization and political corruption.
Wednesday 10/10
1. Summarize the sections on
a. Middle Class Reformers
b. Populist Party
c. Progressive movement
Immigration, internal migration and urbanization transformed American life.
2. Video and WS
3. Lesson on Immigration to the U.S.
a. Packet
F 10/12
No school NEOEA Day
Monday 10/15
1. Progressive Era Paper Due
2. All on Board Project Rubric
3. Web and paragraphs for each of the following effects of industrialization
a. Economic
b. Social
c. Political
4. OGT WB questions pages 32-33
Tuesday 10/16
Immigration
1. Library
2. Review OGT WB questions pages 32-33
Wednesday 10/17
No classes
Senior Field Day
Junior & Sophomore testing
Freshman Career Day
Following Reconstruction, old political and social structures reemerged and racial
discrimination was institutionalized.
Thursday 10/18
1. History/background of post Civil War America and Reconstruction
2. Define the following terms
a. Reconstruction
b. Jim Crow Laws
c. Nativism
d. Klan
3. Reading and analysis of Plessy v. Ferguson 1896
a. Summarize the story of Plessy and actions taken
b. Legal arguments on both sides in this case
c. Explain the court decision and the "Separate but equal doctrine"
Friday 10/19
Unit Test on Industrialization & Progressivism
Material from 10/5 – 10/18
UNIT: Foreign Affairs from Imperialism to Post World War I (1898-1930)
LESSON OBJECTIVE: As a result of overseas expansion, the Spanish
American War and World War I, the United States emerged as a world power.
Monday 10/22
1. Introduce unit topic and lesson objective
2. MAP on OGT WB page 34
3. OGT WB pages 34-38
a. Read
b. Vocabulary
Tuesday 10/23
1. Web with Imperialism in the middle
a. 3 points
i. Political Roots
ii. Economic Roots
iii. Social Roots
b. 3 short paragraphs per each web
Wednesday 10/24
1. OGT WB pages 35-36
a. Outline these pages
DIFFERENCES IN PERSPECTIVES BETWEEN COLONIZERS AND NATIVE
PEOPLES
2. OGT WB pages 36-37
a. Map page 36
b. Results of imperialism across the globe
Friday 10/26
American Imperialism
DIRECTIONS: Create posters displaying the following main ideas on American
Imperialism from OGT WB page 37
Define Imperialism in the center of your poster, with the following ideas surrounding.
1. American Industries
2. Desire for Military Strength
3. New Markets
4. Cultural Superiority
5. Settlement of the West
Monday 10/29
Spanish-American War 1898
1. Read introduction on page 37
2. CAUSES
a. Yellow Journalism
b. De Lome Letter
i. Reading and analysis
c. Maine
Tuesday 10/30
1. Read President McKinley's war message
a. Identify and summarize key points regarding U.S. toward Cuba
Wednesday 10/31
1. Read the Platt and Teller Amendments
a. Summarize the main points in each amendment
b. Which amendment is more closely aligned with McKinley's war
message? Cite specific sections
c. How did the Platt Amendment generally change the policy toward Cuba
contained in the Teller Amendment? Cite specific sections.
Friday 11/2
1. Summarize how the U.S. gained Alaska, Puerto Rico, Guam and the
Philippines
2. Identify reasons the U.S. wanted/needed these territories.
3. Panama Canal
a. Location?
b. Purposes to the U.S.?
Monday 11/5
Review activity
a. OGT WB questions on pages 39-42
b. 20 Points
c. ALL ANSWERS GO ON A SEPARATE SHEET OF PAPER TO TURN
IN WHEN FINISHED
d. HW: THE AMERICANS TEXT
i. Read and define vocabulary from Terms and Names
1. Pages 372 & 381
e. HW DUE MONDAY 11/19 for 50 POINTS
i. THE AMERICANS page 406 All questions
ii. Page 407 OGT questions and alternative assessment
LESSON OBJECTIVE: After WWI, the U.S. pursued efforts to maintain peace in the
world. However, as a result of the national debate over the Versailles Treaty ratification
and the League of Nations, the U.S. moved away from the role of world peacekeeper and
limited its involvement in international affairs.
Tuesday 11/6
WORLD WAR I: 1914-1918 world conflict between European Central and Allied
Powers.
MILITARISM
ALLIANCES
NATIONALISM
IMPERIALISM
ASSASSINATION
1. Causes of World War I
a. MANIA: Identify and explain each letter of this acronym using OGT WB
pages 43-44.
b. Web writing
c. Work on introduction and conclusion sentence together
Wednesday 11/7
1. Lecture on WWI slides 1-9
2. A new kind of warfare
a. OGT WB page 44 A NEW KIND OF WAR
b. List the newest tactics/weapons introduced in WWI in your notes
c. Design and create a poster explaining/demonstrating the main ideas in this
poster.
Friday 11/9
1. Finish, present and display posters
Monday 11/12
Veterans Day
1. CNN Student News
2. Veterans Day Video on Eddie Rickenbacker
Tuesday 11/13
1. Lecture on U.S. involvement in World War I
a. SLIDES 10-14
b. OGT WB 148 & 179
2. Zimmerman note – PRIMARY SOURCE DOCUMENT
i. Reading and analysis
Wednesday 11/14
1. Lecture on Treaty of Versailles & Wilson
a. SLIDES 15-end
2. Kellogg-Briand Pact 1928
25 Points
a. PRIMARY SOURCE DOCUMENT
i. Reading and analysis
Friday 11/16
WWI – WWII
1. OGT WB Pages 46-49
2. Create a timeline of key events and people who were influential during the time
after WWI until the start of WWII
Monday 11/19
1. Collect 50 point assignment
2. Failure of Appeasement
a. Identify European leaders that attempted appeasement with Hitler at
MUNICH CONFERENCE 1938
b. Identify the specific instances in which they appeased Hitler in Europe
3. OGT WB review questions on pages 49-50
Tuesday 11/20
Unit Test
1. Foreign Affairs from Imperialism to Post World War I (1898-1930)
a. Material from 10/22 – 11/14
Wednesday 11/21 – Sunday 11/25
THANKSGIVING BREAK
OGT WB CHAPTER 5
Monday 12/10
The Roaring Twenties
1. Unit vocabulary
2. Lecture on the Roaring 20s
Tuesday 12/11
New Deal
OGT pages 64-66
The Great Depression & The
OGT pages 67-69
1. Lecture
2. Lesson on The Great Depression
Wednesday 12/12
The New Deal
The Great Depression &
OGT pages 67-69
1. The Great Depression and the Federal Government lesson
Friday 12/14
America in WWII
1. Lecture
2. Snow Falling on Cedars
Monday 12/17
OGT pages 70-71
America in WWII & The Prosperous 50s OGT 71-72
1. Video on Japanese Internment
a. 9066 to 9/11
Tuesday 12/18
pages 72-74
1. Lecture
Civil Rights Movement & Social Unrest
Wednesday 12/19
1. Poster board presentations
2. Answer all review questions in OGT book on pages 75-78
Friday 12/21
1. Test on Chapter 5
OGT
Wednesday 1/2
OGT WB CHAPTER 6 PEOPLE IN SOCIETIES
1. Chapter introduction
2. Distribute chapter power point slides
3. Define all chapter vocabulary from OGT WB
Thursday 1/3
Differences in Perspectives OGT WB pages 80-84
1. Lecture pages 80-83
2. Paragraph summary of the importance of
a. NAACP
b. NOW
c. AIM
d. UFW
Friday 1/4
1. DVD: A Song for His People
a. Prior to viewing DVD
DEFINE HERO
NAMES OF HEROES
CHARACTERISTICS OF HEROES
WAYS TO BECOME A HERO
b. Post viewing of the DVD
*In what ways did Pedro Gonzalez live up to your ideal of heroism?
*Did he make the right decision by refusing probation in return for a guilty plea?
2. Review main reason (s) for differences between groups on pages 81-82
3. OGT WB questions pages 83-84
Monday 1/7
Consequences of Social Oppression and Conflict OGT WB pages 84-87
1. Lecture pages 84-86
2. OGT WB questions page 87
Tuesday 1/8
1. Video on Genocide
Wednesday 1/9
Cultural Diffusion OGT WB pages 88-92
1. DVD: Escaping the Final Solution
2. Lecture pages 88-91
3. Chapter Review: OGT WB questions page 91-94
Friday 1/11
1. Test on chapter 6
Monday 1/14 - Tuesday 1/15
1. Review for Midterm Exam Wednesday 1/16 MIDTERM EXAM
Tuesday 1/22
Chapter 7
1. Unit introduction
2. Unit vocabulary from OGT WB
Wednesday 1/23: What are characteristics of regions and why do regions change? (95-99)
1. Lecture
2. Web and paragraphs
a. Summarize the 4 types of regions
b. Compare/contrast 1 developed and 1 developing nation from the chart on
page 98
3. Questions on page 99
Friday 1/25: How has human activity brought about geographic changes? (100-104)
1. Lecture
2. Maps on page 101, 102 & 103
3. OGT WB questions on page 103-104
Monday 1/28: What Factors Have Influenced Migration? (104-107)
1. Lecture
2. Web and paragraph on push/pull factors
3. Review questions pages 108-110
Tuesday 1/29
1. Chapter 7 Test
Wednesday 1/30
Chapter 8
1. Unit Vocabulary
2. Lecture on pages 112-116
3. OGT WB questions pages 117
Friday 2/1
1. Lecture on pages 118-121
Monday 2/4
1. Examples of governmental actions during recessions, inflation and good
economic times
Tuesday 2/5
1. Video
Wednesday 2/6
1. OGT WB questions pages 122-125
2. Chapter 8 Test
Friday 2/8
1. Chapter 9 introduction and vocabulary
2. Power point slides
Monday 2/11
1. Lecture 127-131
2. OGT WB questions pages 131-132
Tuesday 2/12
1. Lecture pages 132-135
2. OGT WB questions page 135
Wednesday 2/13
1. Paragraphs comparing/contrasting forms of government
2. OGT WB 136-137
Friday 2/15
1. Chapter 9 test
Monday 2/18
NO SCHOOL PRESIDENTS DAY
Tuesday 2/19
1. Chapter 10 vocabulary
2. Distribute power point slides
Chapter 10
Wednesday 2/27
1. DVD
2. Chapter 10 review questions in OGT WB
Friday 3/1
NO SCHOOL
Monday 3/4
1. Chapter 10 test
Tuesday 3/5
1. OGT Flashcard review
Wednesday 3/6
OGT practice test
1. Chapter 12 OGT book practice test
Friday 3/8
OGT review
1. Discuss and review OGT practice test from W
M 3/11 – R 3/14
OGT REVIEW
F 3/15
OGT TEST SOCIAL STUDIES
OGT TEST PLACES BIG EMPHASIS ON CHAPTERS 1, 9 - 11
Social Transformations in the United States (1945-1994)
M 3/18
The postwar economic boom, greatly affected by advances in
science, produced epic changes in American life.
M 4/8
M 4/22
M 5/6
The continuing population flow from cities to suburbs, the internal
migrations from the Rust Belt to the Sun Belt and the increase in
immigration resulting from passage of the 1965 Immigration Act
have had social and political effects.
Political debates focused on the extent of the role of government in
the economy, environmental protection, social welfare and national
security
Unit Test
United States and the Post-Cold War World (1991-present)
T 5/7
Improved global communications, international trade, transnational
business organizations, overseas competition and the shift from
manufacturing to service industries have impacted the American
economy.
M 5/20
The United States faced new political, national security and
economic challenges in the post-Cold War world and following the
attacks on September 11, 2001.
M 6/3
Final Exam Review
W 6/5
Final Exam
HOW TO GET NEWSPAPER TEMPLATE
1. Microsoft Word 2010
2. File
3. New
4. Choose newsletter
5. Create your newspaper front page
UNIT TOPIC: Prosperity, Depression and the New Deal (1919-1941)
CONTENT STATEMENT 17: Racial intolerance, anti-immigrant attitudes and the Red
Scare contributed to social unrest after WWI.
Unit introduction
1. Discussion of unit topic and content statement
2. KEY TERMS
Great Migration
Jim Crow Laws
Ku Klux Klan
Racial intolerance
immigration
Nativism
Immigration quotas
Red Scare
3. Content Elaborations discussion
1. Instructional Strategies from CS 17.
2. Expectations for Learning
a. Web and paragraph
CONTENT STATEMENT 18: An improved standard of living for many, combined with
technological innovations in communication, transportation and industry, resulted in
social and cultural changes and tensions.
1. Discussion of content statement
2. KEY TERMS
Roaring 20's
2. THREE FACTORS UNDERLYING PROSPERITY (65)
a. Rise of the automobile and other industries
b. More efficient production techniques
c. Age of Mass Consumption
LESSON OBJECTIVE: Movements such as the Harlem Renaissance, African-American
great migration, women's suffrage and Prohibition all contributed to social change
1. KEY TERMS
HARLEM RENAISSANCE: Period during the 1920's when Black jazz music, literature,
art and poetry were important parts of cultural reawakening.
GREAT MIGRATION: Movement of Blacks from Southern to Northern cities, mainly in
search of factory jobs.
FEMALE SUFFRAGE: 1920 the 19th Amendment to the U.S. Constitution was ratified,
giving women the right to vote in federal elections.
*Music, writers, part of Civil Rights movement following WWI.
The Great Depression was caused, in part, by the federal
government's monetary policies, stock market speculation,
overproduction of agricultural products and increasing consumer
debt. The role of the federal government expanded as a result of
the Great Depression.
FDR AND THE NEW DEAL
TOPIC: The Cold War (1945-1991)
W 2/6
The United States followed a policy of containment during the
Cold War in response to the spread of communism.
M 2/11
The Second Red Scare and McCarthyism reflected Cold War fears
in American society.
W 2/13
T 2/19
F 2/22
The Cold War and conflicts in Korea and Vietnam influenced
domestic and international politics
The collapse of communist governments in Eastern Europe and the
USSR brought an end to the Cold War
Following WWII, the United States experienced a struggle for
racial and gender equality and the extension of civil rights.