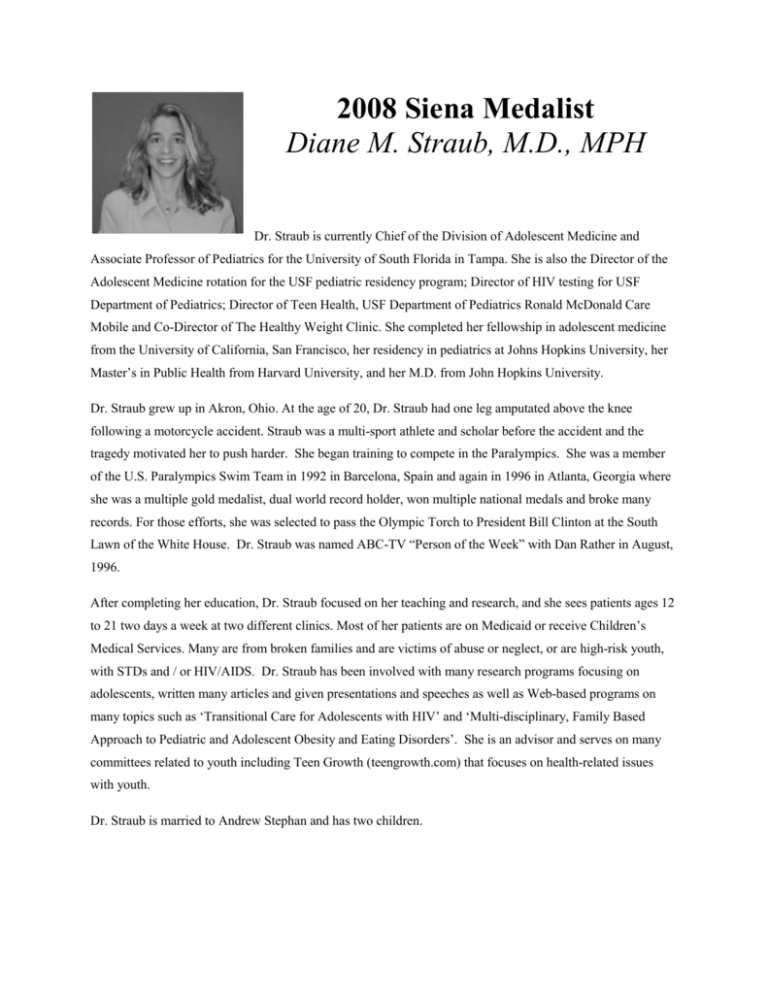 2008 Siena Medalist
Diane M. Straub, M.D., MPH
Dr. Straub is currently Chief of the Division of Adolescent Medicine and
Associate Professor of Pediatrics for the University of South Florida in Tampa. She is also the Director of the
Adolescent Medicine rotation for the USF pediatric residency program; Director of HIV testing for USF
Department of Pediatrics; Director of Teen Health, USF Department of Pediatrics Ronald McDonald Care
Mobile and Co-Director of The Healthy Weight Clinic. She completed her fellowship in adolescent medicine
from the University of California, San Francisco, her residency in pediatrics at Johns Hopkins University, her
Master's in Public Health from Harvard University, and her M.D. from John Hopkins University.
Dr. Straub grew up in Akron, Ohio. At the age of 20, Dr. Straub had one leg amputated above the knee
following a motorcycle accident. Straub was a multi-sport athlete and scholar before the accident and the
tragedy motivated her to push harder. She began training to compete in the Paralympics. She was a member
of the U.S. Paralympics Swim Team in 1992 in Barcelona, Spain and again in 1996 in Atlanta, Georgia where
she was a multiple gold medalist, dual world record holder, won multiple national medals and broke many
records. For those efforts, she was selected to pass the Olympic Torch to President Bill Clinton at the South
Lawn of the White House. Dr. Straub was named ABC-TV "Person of the Week" with Dan Rather in August,
1996.
After completing her education, Dr. Straub focused on her teaching and research, and she sees patients ages 12
to 21 two days a week at two different clinics. Most of her patients are on Medicaid or receive Children's
Medical Services. Many are from broken families and are victims of abuse or neglect, or are high-risk youth,
with STDs and / or HIV/AIDS. Dr. Straub has been involved with many research programs focusing on
adolescents, written many articles and given presentations and speeches as well as Web-based programs on
many topics such as 'Transitional Care for Adolescents with HIV' and 'Multi-disciplinary, Family Based
Approach to Pediatric and Adolescent Obesity and Eating Disorders'. She is an advisor and serves on many
committees related to youth including Teen Growth (teengrowth.com) that focuses on health-related issues
with youth.
Dr. Straub is married to Andrew Stephan and has two children.