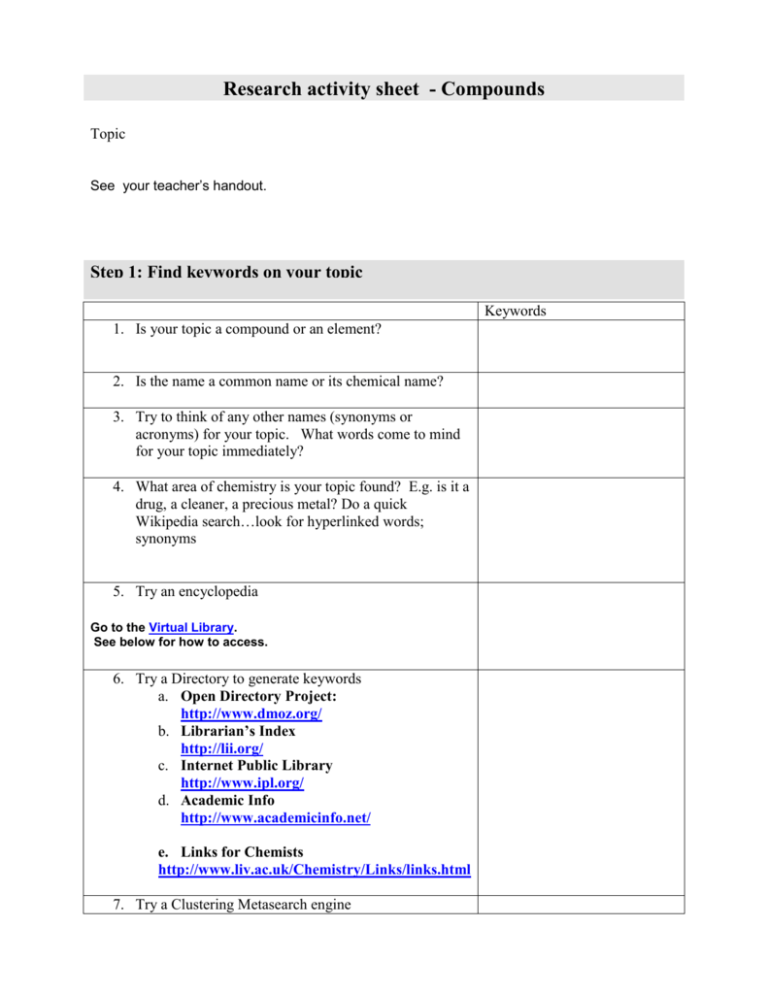 Research activity sheet - Compounds
Topic
See your teacher's handout.
Step 1: Find keywords on your topic
Keywords
1. Is your topic a compound or an element?
2. Is the name a common name or its chemical name?
3. Try to think of any other names (synonyms or
acronyms) for your topic. What words come to mind
for your topic immediately?
4. What area of chemistry is your topic found? E.g. is it a
drug, a cleaner, a precious metal? Do a quick
Wikipedia search…look for hyperlinked words;
synonyms
5. Try an encyclopedia
Go to the Virtual Library.
See below for how to access.
6. Try a Directory to generate keywords
a. Open Directory Project:
http://www.dmoz.org/
b. Librarian's Index
http://lii.org/
c. Internet Public Library
http://www.ipl.org/
d. Academic Info
http://www.academicinfo.net/
e. Links for Chemists
http://www.liv.ac.uk/Chemistry/Links/links.html
7. Try a Clustering Metasearch engine
a. Kartoo www.kartoo.com
b. Dogpile www.dogpile.com
c. Quintura http://www.quintura.com/
8. Try Career Cruising which is in the Virtual Library.
The password is below.
It will help you find careers that may use the
compound you are researching.
Career Cruising
Username: Ancaster
Password: Lion
Step 2: Find books
Try some of the books that are pulled for you.
Finding eBooks:
Access eBooks through the Virtual Library.
Step 3: Finding On-line Encyclopedias
About.com –Chemistry encyclopedia
http://chemistry.about.com/od/chemistryatoz/a/aencyclopedia.htm
Encyclopedia 4U
http://www.encyclopedia4u.com/l/list-of-compounds.html
Science World
http://scienceworld.wolfram.com/chemistry/letters/
NIH
http://chem.sis.nlm.nih.gov/chemidplus/
Chemical Compound Database
http://ull.chemistry.uakron.edu/erd/
Virtual Library ACCESS
Ancaster Library Website
http://schools.hwdsb.on.ca/ancasterhigh/library-2/
Virtual Library
ID: secondary
Password: library
FIND DATABASES AND ON-LINE ENCYCLOPEDIAS HERE!
For Science Topics:
Academic OneFile (scholarly journals)
EBSCO
Step 5: Find articles on the web in Science
Find articles
www.findarticles.com
Infomine
http://infomine.ucr.edu
SCIRUS a free-science encyclopedia/article site.
http://www.scirus.com/
Sciseek
http://www.sciseek.com/
National Science Digital Library
http://nsdl.org/resources_for/k12_teachers/
http://nsdl.org/
Step 6: Finding Quality Websites
Specialized Directories
Links for Chemists
http://www.liv.ac.uk/Chemistry/Links/links.html
Chembiofinder
http://chembiofinder.cambridgesoft.com/chembiofinder/simplesearch.aspx
NIST
http://webbook.nist.gov/chemistry/name-ser.html
Chem Synthesis
http://www.chemsynthesis.com/structure-search.html
How to find MSDS sheets
http://www.msds.com/
http://hazard.com/msds/links.html
http://ccinfoweb.ccohs.ca/msds/search.html
http://www3.3m.com/search/ca/en001/msdssearchform.do
HINTS AND TIPS TO FINDING GOOD WEB SITES:
 Look for good authors (contact info; good background on author)

Look for sites by quality organizations.

Look for quality domains in the URL (.gov; .edu; .k12; .org) E.g. adding site:gov in
search box with your term gives you just sites that are .gov or add inurl:diabetes for sites
that include diabetes in the URL. Add inurl:ca for Canadian sites e.g.: www.diabetes.ca
for the Canadian Diabetes Association.

Look for sites that contain current information (check for dates uploaded; revised and/or
updated)

Look for sites with adequate and accurate information. (check other sites to back up
facts)

Use advanced search features and complex searches using your keywords.


E.g. "carbon dioxide" +safety +protection
Use tilde~ to ask for synonyms. E.g. ~CO should get sites that refer to carbon monoxide.

Use "factsheet" as a search word or article
Chemical Compounds
http://www.allatoms.com/CompoundWebSites.htm
Chemical of the week sheets
http://scifun.chem.wisc.edu/chemweek/chemweek.html
WebElements - look for link on left to compounds
http://www.webelements.com/webelements/scholar/index.html
Household Products website:
http://householdproducts.nlm.nih.gov/index.htm
Properties of materials
www.unb.ca/safety/hazmaterial.html
www.cpuc.ca.gov/environment/info/esa/pgedivest/swaps/final/swapch_2vii.html
For Information on Elements:
1) This site is great for pictures.
http://www.webelements.com/webelements/scholar/
2) This site provides you with the state, melting & boiling points, and density.
http://www.chemicalelements.com/
3) This site provides you with the state, some human uses, health & environmental effects.
http://www.lenntech.com/periodic-chart.htm
4) This site has human uses, and harmful effects.
http://www.kids.net.au/encyclopedia-wiki/pe/Periodic_table
5) This site has uses, and general information.
http://www.chemsoc.org/viselements/pages/pertable_fla.htm
6) Some other sites
http://www.chemicool.com/
http://periodic.lanl.gov/
http://www.tryagain.com/chemistry/elements.htm
http://www.lenntech.com/periodic-chart.htm
CHEM COLLECTIVE -HAS LINK TO VIRTUAL LAB
http://chemcollective.org/
Answer.com
-add the name of your metal and it gives you lots of info
http://www.answers.com/main/science.jsp
CITING SOURCES AND NOTE-TAKING
For note-taking sheets for your project see the Library website or click
here.
Try on-line Citation help software to write your REFEERCES in APA style:
1. KnightCite http://www.calvin.edu/library/knightcite/index.php
2. Citation machine http://citationmachine.net/
To help you format your REFERENCE sheet, read the guides on our website.