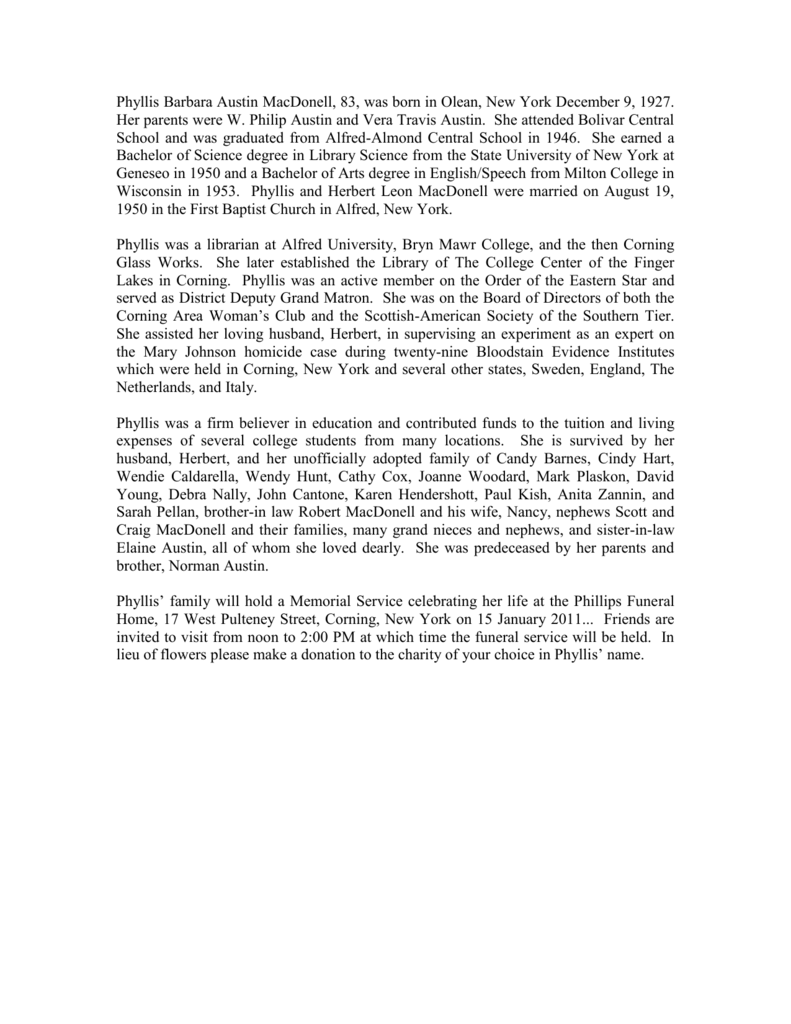 Phyllis Barbara Austin MacDonell, 83, was born in Olean, New York December 9, 1927.
Her parents were W. Philip Austin and Vera Travis Austin. She attended Bolivar Central
School and was graduated from Alfred-Almond Central School in 1946. She earned a
Bachelor of Science degree in Library Science from the State University of New York at
Geneseo in 1950 and a Bachelor of Arts degree in English/Speech from Milton College in
Wisconsin in 1953. Phyllis and Herbert Leon MacDonell were married on August 19,
1950 in the First Baptist Church in Alfred, New York.
Phyllis was a librarian at Alfred University, Bryn Mawr College, and the then Corning
Glass Works. She later established the Library of The College Center of the Finger
Lakes in Corning. Phyllis was an active member on the Order of the Eastern Star and
served as District Deputy Grand Matron. She was on the Board of Directors of both the
Corning Area Woman's Club and the Scottish-American Society of the Southern Tier.
She assisted her loving husband, Herbert, in supervising an experiment as an expert on
the Mary Johnson homicide case during twenty-nine Bloodstain Evidence Institutes
which were held in Corning, New York and several other states, Sweden, England, The
Netherlands, and Italy.
Phyllis was a firm believer in education and contributed funds to the tuition and living
expenses of several college students from many locations. She is survived by her
husband, Herbert, and her unofficially adopted family of Candy Barnes, Cindy Hart,
Wendie Caldarella, Wendy Hunt, Cathy Cox, Joanne Woodard, Mark Plaskon, David
Young, Debra Nally, John Cantone, Karen Hendershott, Paul Kish, Anita Zannin, and
Sarah Pellan, brother-in law Robert MacDonell and his wife, Nancy, nephews Scott and
Craig MacDonell and their families, many grand nieces and nephews, and sister-in-law
Elaine Austin, all of whom she loved dearly. She was predeceased by her parents and
brother, Norman Austin.
Phyllis' family will hold a Memorial Service celebrating her life at the Phillips Funeral
Home, 17 West Pulteney Street, Corning, New York on 15 January 2011... Friends are
invited to visit from noon to 2:00 PM at which time the funeral service will be held. In
lieu of flowers please make a donation to the charity of your choice in Phyllis' name.