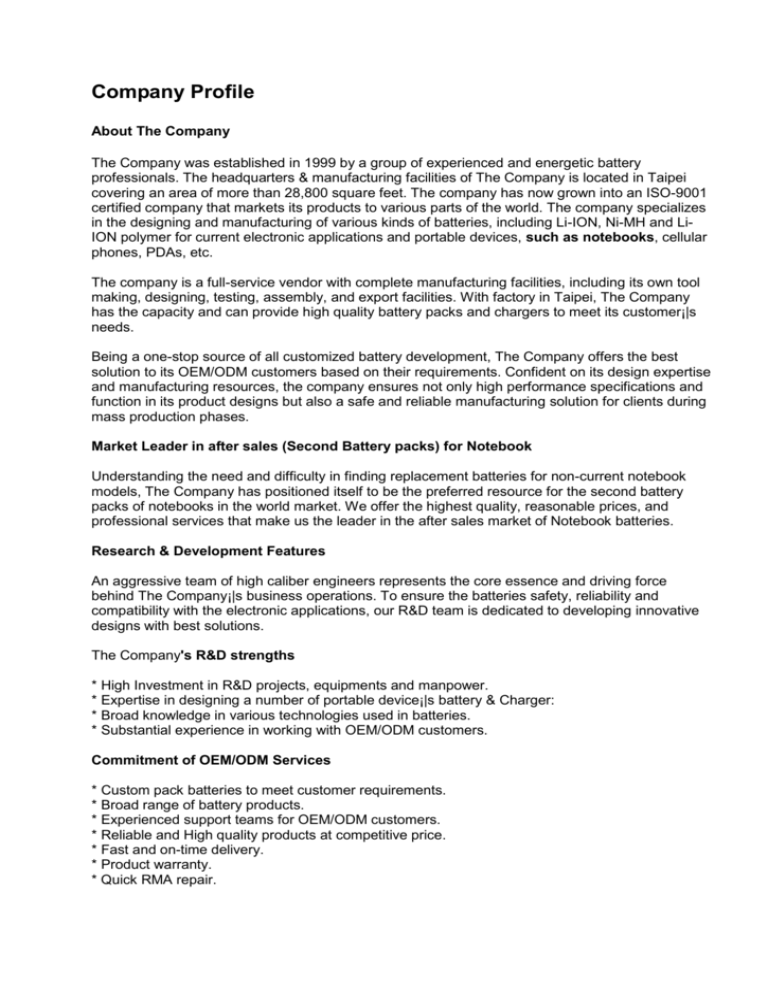 Company Profile
About The Company
The Company was established in 1999 by a group of experienced and energetic battery
professionals. The headquarters & manufacturing facilities of The Company is located in Taipei
covering an area of more than 28,800 square feet. The company has now grown into an ISO-9001
certified company that markets its products to various parts of the world. The company specializes
in the designing and manufacturing of various kinds of batteries, including Li-ION, Ni-MH and LiION polymer for current electronic applications and portable devices, such as notebooks, cellular
phones, PDAs, etc.
The company is a full-service vendor with complete manufacturing facilities, including its own tool
making, designing, testing, assembly, and export facilities. With factory in Taipei, The Company
has the capacity and can provide high quality battery packs and chargers to meet its customer¡|s
needs.
Being a one-stop source of all customized battery development, The Company offers the best
solution to its OEM/ODM customers based on their requirements. Confident on its design expertise
and manufacturing resources, the company ensures not only high performance specifications and
function in its product designs but also a safe and reliable manufacturing solution for clients during
mass production phases.
Market Leader in after sales (Second Battery packs) for Notebook
Understanding the need and difficulty in finding replacement batteries for non-current notebook
models, The Company has positioned itself to be the preferred resource for the second battery
packs of notebooks in the world market. We offer the highest quality, reasonable prices, and
professional services that make us the leader in the after sales market of Notebook batteries.
Research & Development Features
An aggressive team of high caliber engineers represents the core essence and driving force
behind The Company¡|s business operations. To ensure the batteries safety, reliability and
compatibility with the electronic applications, our R&D team is dedicated to developing innovative
designs with best solutions.
The Company's R&D strengths
* High Investment in R&D projects, equipments and manpower.
* Expertise in designing a number of portable device¡|s battery & Charger:
* Broad knowledge in various technologies used in batteries.
* Substantial experience in working with OEM/ODM customers.
Commitment of OEM/ODM Services
* Custom pack batteries to meet customer requirements.
* Broad range of battery products.
* Experienced support teams for OEM/ODM customers.
* Reliable and High quality products at competitive price.
* Fast and on-time delivery.
* Product warranty.
* Quick RMA repair.
Quality Assurance
It is the motto of our staff to sustain ceaseless attention to quality. The IQC department maintains
detailed logs on its component inspections to screen materials of nonconformance. In order to
achieve consistent manufacturing quality, particularly in a high output environment, proper training
is a must. Our QA department ensures the manufacturing process is in compliance with New MILSTD-105E and AQL standards.
Mission
The mission of The Company is to be the leading solution provider for battery and chargers in this
explosive portable electronic device era, including the medical, computer, video/audio, military and
other industries. The Company will proudly persevere in its pioneering work to ensure that it
continues to fulfill its promise and to be the world-class designer & manufacturer of battery
products.