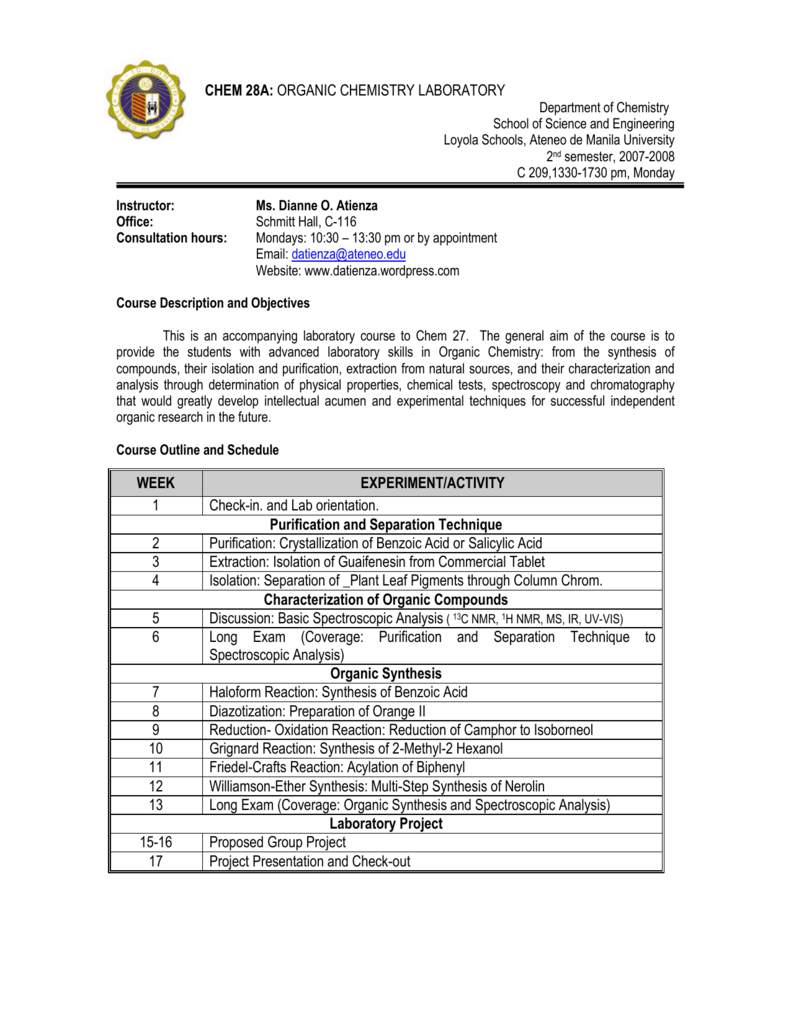 CHEM 28A: ORGANIC CHEMISTRY LABORATORY
Department of Chemistry
School of Science and Engineering
Loyola Schools, Ateneo de Manila University
2nd semester, 2007-2008
C 209,1330-1730 pm, Monday
Instructor:
Office:
Consultation hours:
Ms. Dianne O. Atienza
Schmitt Hall, C-116
Mondays: 10:30 – 13:30 pm or by appointment
Email: [email protected]
Website: www.datienza.wordpress.com
Course Description and Objectives
This is an accompanying laboratory course to Chem 27. The general aim of the course is to
provide the students with advanced laboratory skills in Organic Chemistry: from the synthesis of
compounds, their isolation and purification, extraction from natural sources, and their characterization and
analysis through determination of physical properties, chemical tests, spectroscopy and chromatography
that would greatly develop intellectual acumen and experimental techniques for successful independent
organic research in the future.
Course Outline and Schedule
WEEK
1
2
3
4
5
6
7
8
9
10
11
12
13
15-16
17
EXPERIMENT/ACTIVITY
Check-in. and Lab orientation.
Purification and Separation Technique
Purification: Crystallization of Benzoic Acid or Salicylic Acid
Extraction: Isolation of Guaifenesin from Commercial Tablet
Isolation: Separation of _Plant Leaf Pigments through Column Chrom.
Characterization of Organic Compounds
Discussion: Basic Spectroscopic Analysis ( 13C NMR, 1H NMR, MS, IR, UV-VIS)
Long Exam (Coverage: Purification and Separation Technique to
Spectroscopic Analysis)
Organic Synthesis
Haloform Reaction: Synthesis of Benzoic Acid
Diazotization: Preparation of Orange II
Reduction- Oxidation Reaction: Reduction of Camphor to Isoborneol
Grignard Reaction: Synthesis of 2-Methyl-2 Hexanol
Friedel-Crafts Reaction: Acylation of Biphenyl
Williamson-Ether Synthesis: Multi-Step Synthesis of Nerolin
Long Exam (Coverage: Organic Synthesis and Spectroscopic Analysis)
Laboratory Project
Proposed Group Project
Project Presentation and Check-out
Course Requirements
Requirements
Pre-lab Reports
Post-lab Reports
Project proposal
Project product and presentation
Lab performance
Quizzes, Seatworks




Points/ experiment
10 pts.
100 pts.
50 pts.
100 pts.
20 pts.
~ 100 pts.
Prelab reports must be handwritten in the standard notebook provided by the stockroom and must be
passed before the start of the experiment.
All data must be written directly in your lab notebook.
Post-lab reports must be type-written and passed during the next laboratory period.
Read the Laboratory Safety and Guidelines
Grading System
Grading is by point system; earn as many points as you can. The final grade is equivalent to the
number of points earned over the number of points at stake.
LETTER
GRADE
A
B+
B
C+
C
D
F
NUMERICAL
EQUIVALENT
≥ 92
87 – 91
80 – 86
75 – 79
68 – 74
60 – 67
BELOW 60
Classroom Policies
 NO Pre-lab, NO Lab
 Post-lab reports submitted after the due date are 25% discounted in per day basis.
 A missed laboratory session will be compensated by a postlab report and discussion but 50%
discounted, also a zero grade for the lab performance in that experiment.
 No make-up session will be given.
 Students late for 15 minutes or missing the prelab discussion will get a 5-point deduction from the
lab performance and "absent" mark for students coming after 30 mins.
 Incomplete Post-lab reports by the end of the semester will be given an INCOMPLETE final grade.
 Dishonesty (e.g. cheating, false data, plagiarism, etc.) is major offense. Should thre be evidence
that dishonesty has been committed, the maximum penalty allowed by the university will be
pursued.
 The student handbook allows two (2) cuts, excused or unexcused. A missed laboratory session will
mean a grade of zero for the activity except for cuts due to serious illness or school-required
engagements. An OFFICIAL document must be submitted to the instructor upon the student's
return.
Laboratory Manual:

Experiencing Organic Chemistry by Guidote, A., del Rosario, D. and Abuzo, A.
References

Experimental Organic Chemistry by Clark F. Most, Jr.

Techniques and Experiments for Organic Chemistry; Fessenden, R.J., Fessenden,
J.S.