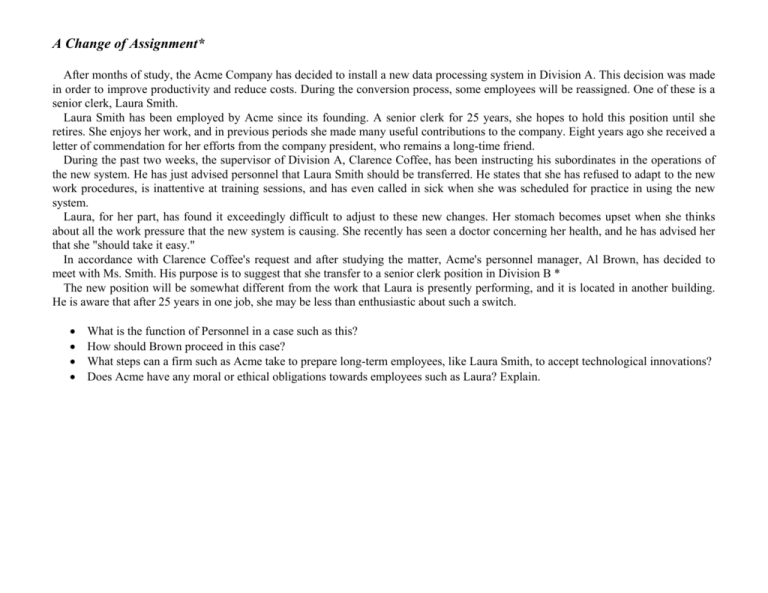 A Change of Assignment*
After months of study, the Acme Company has decided to install a new data processing system in Division A. This decision was made
in order to improve productivity and reduce costs. During the conversion process, some employees will be reassigned. One of these is a
senior clerk, Laura Smith.
Laura Smith has been employed by Acme since its founding. A senior clerk for 25 years, she hopes to hold this position until she
retires. She enjoys her work, and in previous periods she made many useful contributions to the company. Eight years ago she received a
letter of commendation for her efforts from the company president, who remains a long-time friend.
During the past two weeks, the supervisor of Division A, Clarence Coffee, has been instructing his subordinates in the operations of
the new system. He has just advised personnel that Laura Smith should be transferred. He states that she has refused to adapt to the new
work procedures, is inattentive at training sessions, and has even called in sick when she was scheduled for practice in using the new
system.
Laura, for her part, has found it exceedingly difficult to adjust to these new changes. Her stomach becomes upset when she thinks
about all the work pressure that the new system is causing. She recently has seen a doctor concerning her health, and he has advised her
that she "should take it easy."
In accordance with Clarence Coffee's request and after studying the matter, Acme's personnel manager, Al Brown, has decided to
meet with Ms. Smith. His purpose is to suggest that she transfer to a senior clerk position in Division B *
The new position will be somewhat different from the work that Laura is presently performing, and it is located in another building.
He is aware that after 25 years in one job, she may be less than enthusiastic about such a switch.




What is the function of Personnel in a case such as this?
How should Brown proceed in this case?
What steps can a firm such as Acme take to prepare long-term employees, like Laura Smith, to accept technological innovations?
Does Acme have any moral or ethical obligations towards employees such as Laura? Explain.