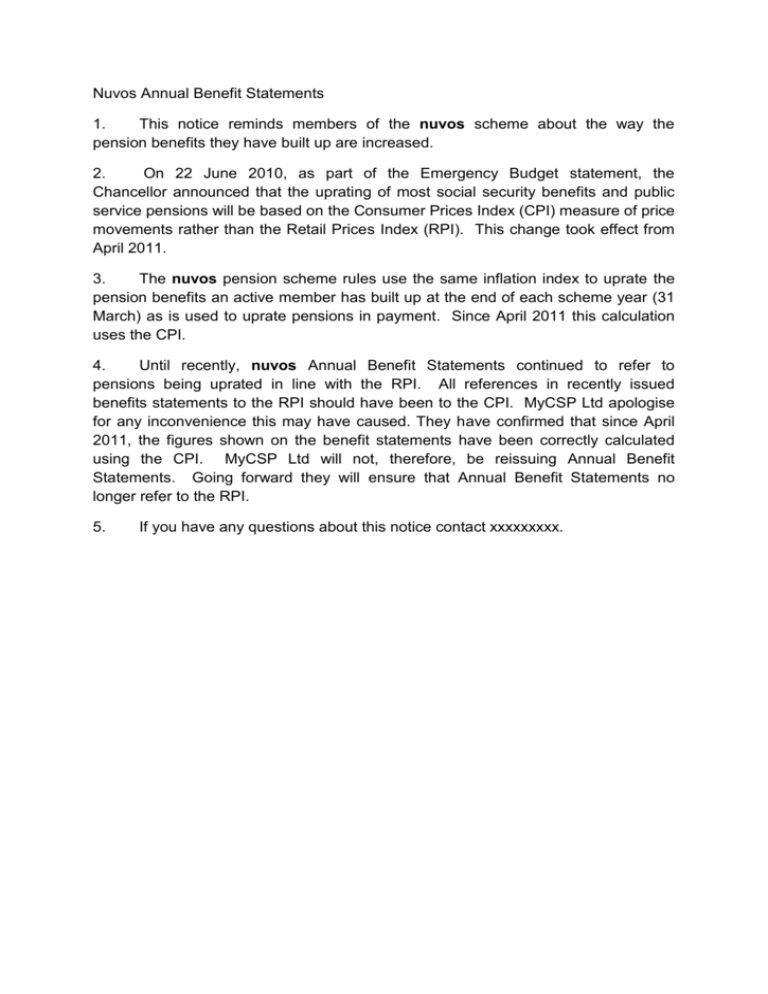 Nuvos Annual Benefit Statements
1.
This notice reminds members of the nuvos scheme about the way the
pension benefits they have built up are increased.
2.
On 22 June 2010, as part of the Emergency Budget statement, the
Chancellor announced that the uprating of most social security benefits and public
service pensions will be based on the Consumer Prices Index (CPI) measure of price
movements rather than the Retail Prices Index (RPI). This change took effect from
April 2011.
3.
The nuvos pension scheme rules use the same inflation index to uprate the
pension benefits an active member has built up at the end of each scheme year (31
March) as is used to uprate pensions in payment. Since April 2011 this calculation
uses the CPI.
4.
Until recently, nuvos Annual Benefit Statements continued to refer to
pensions being uprated in line with the RPI. All references in recently issued
benefits statements to the RPI should have been to the CPI. MyCSP Ltd apologise
for any inconvenience this may have caused. They have confirmed that since April
2011, the figures shown on the benefit statements have been correctly calculated
using the CPI. MyCSP Ltd will not, therefore, be reissuing Annual Benefit
Statements. Going forward they will ensure that Annual Benefit Statements no
longer refer to the RPI.
5.
If you have any questions about this notice contact xxxxxxxxx.