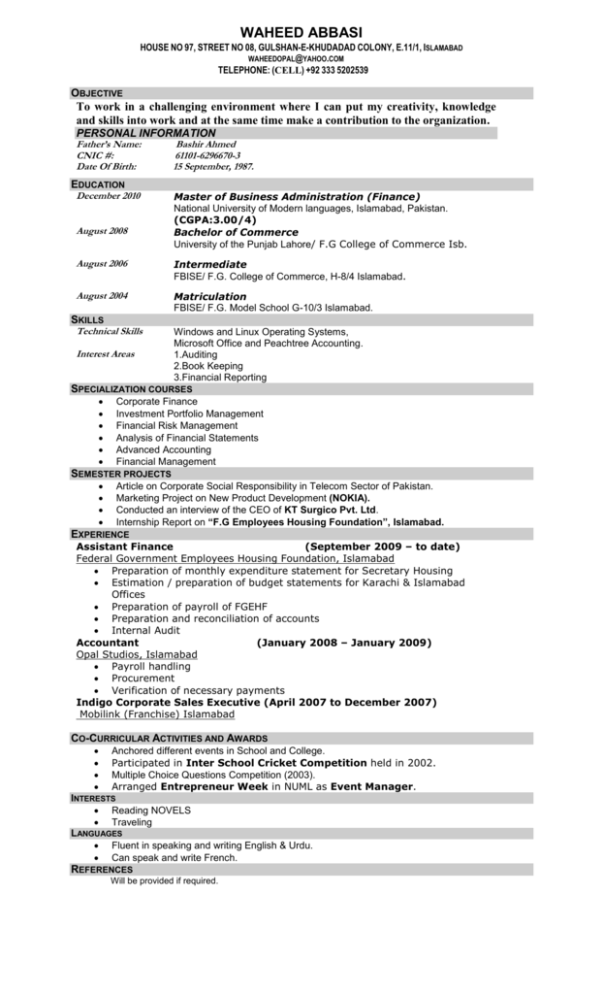 WAHEED ABBASI
HOUSE NO 97, STREET NO 08, GULSHAN-E-KHUDADAD COLONY, E.11/1, ISLAMABAD
[email protected]
TELEPHONE: (CELL) +92 333 5202539
OBJECTIVE
To work in a challenging environment where I can put my creativity, knowledge
and skills into work and at the same time make a contribution to the organization.
PERSONAL INFORMATION
Father's Name:
Bashir Ahmed
CNIC #:
61101-6296670-3
Date Of Birth:
15 September, 1987.
EDUCATION
December 2010
August 2008
Master of Business Administration (Finance)
National University of Modern languages, Islamabad, Pakistan.
(CGPA:3.00/4)
Bachelor of Commerce
University of the Punjab Lahore/ F.G College of Commerce Isb.
August 2006
Intermediate
FBISE/ F.G. College of Commerce, H-8/4 Islamabad.
August 2004
Matriculation
FBISE/ F.G. Model School G-10/3 Islamabad.
SKILLS
Technical Skills
Interest Areas
Windows and Linux Operating Systems,
Microsoft Office and Peachtree Accounting.
1.Auditing
2.Book Keeping
3.Financial Reporting
SPECIALIZATION COURSES






Corporate Finance
Investment Portfolio Management
Financial Risk Management
Analysis of Financial Statements
Advanced Accounting
Financial Management
SEMESTER PROJECTS




Article on Corporate Social Responsibility in Telecom Sector of Pakistan.
Marketing Project on New Product Development (NOKIA).
Conducted an interview of the CEO of KT Surgico Pvt. Ltd.
Internship Report on "F.G Employees Housing Foundation", Islamabad.
EXPERIENCE
Assistant Finance
(September 2009 – to date)
Federal Government Employees Housing Foundation, Islamabad
 Preparation of monthly expenditure statement for Secretary Housing
 Estimation / preparation of budget statements for Karachi & Islamabad
Offices
 Preparation of payroll of FGEHF
 Preparation and reconciliation of accounts
 Internal Audit
Accountant
(January 2008 – January 2009)
Opal Studios, Islamabad
 Payroll handling
 Procurement
 Verification of necessary payments
Indigo Corporate Sales Executive (April 2007 to December 2007)
Mobilink (Franchise) Islamabad
CO-CURRICULAR ACTIVITIES AND AWARDS




Anchored different events in School and College.
Participated in Inter School Cricket Competition held in 2002.
Multiple Choice Questions Competition (2003).
Arranged Entrepreneur Week in NUML as Event Manager.
INTERESTS
 Reading NOVELS
 Traveling
LANGUAGES
 Fluent in speaking and writing English & Urdu.
 Can speak and write French.
REFERENCES
Will be provided if required.