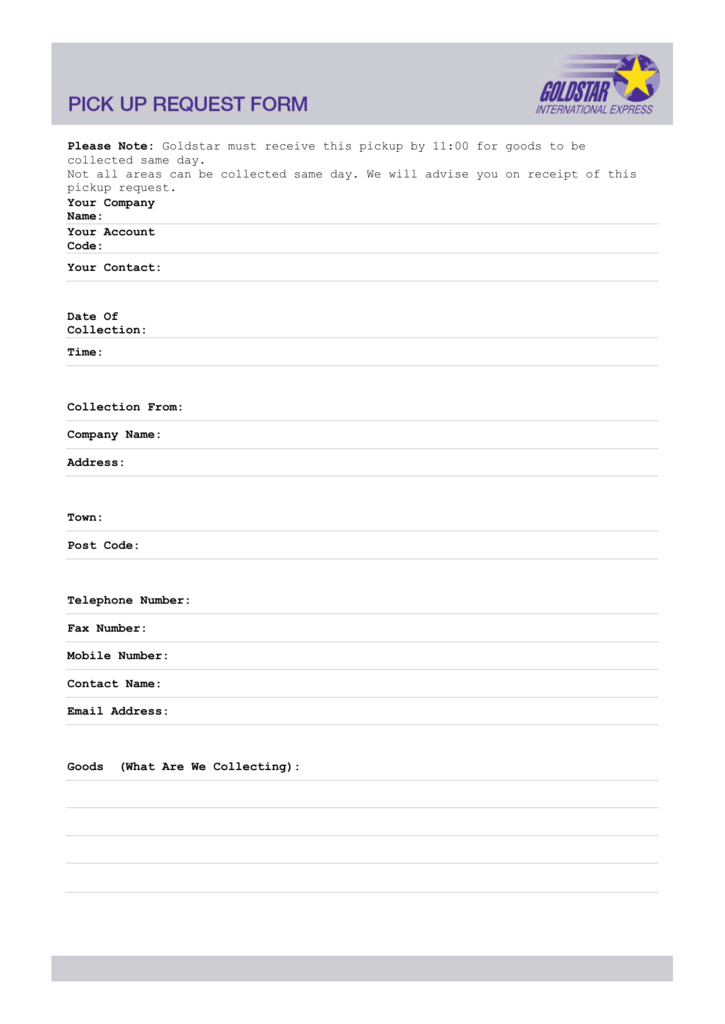 Please Note: Goldstar must receive this pickup by 11:00 for goods to be
collected same day.
Not all areas can be collected same day. We will advise you on receipt of this
pickup request.
Your Company
Name:
Your Account
Code:
Your Contact:
Date Of
Collection:
Time:
Collection From:
Company Name:
Address:
Town:
Post Code:
Telephone Number:
Fax Number:
Mobile Number:
Contact Name:
Email Address:
Goods
(What Are We Collecting):
Weight (Estimate For Collection
Vehicle To Be Used):
Dimensions of Box (if large):
Special Information:
Delivery Address…
Company Name:
Address:
Town:
Contact:
Telephone Number:
Date and Time of
Delivery
Requested:
Value Of Goods £
If Being Collected In The UK – Please Advise If You Wish
Goods To Be Insured (  )
Yes
No
Checklist:




Make sure your have asked the sender to pack the goods properly (see packaging
instructions on this website)
Make sure you have asked the sender to label goods (each piece) with your
company name and address c/o Goldstar
If goods are coming from outside the EEC make sure they have a commercial
invoice showing the description of contents and value.
Send this pickup request via email to our specials department - You will
receive confirmation from our specials team that you pickup has been arranged
together with an estimated price based on your weight quoted, and expected
transit time back to the delivery address.
number with which to track your package.
You will be given an airway bill
If you have any questions about your pickup please call us on 020 8568 2535 and ask
to speak to the specials department.