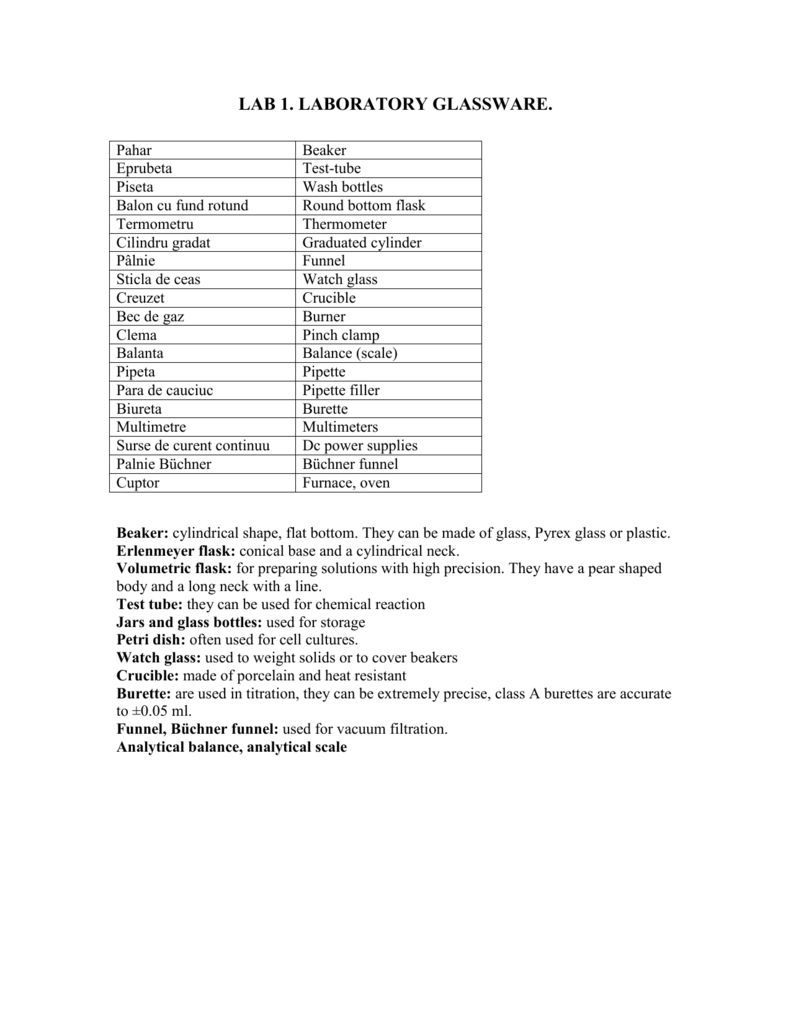 LAB 1. LABORATORY GLASSWARE.
Pahar
Eprubeta
Piseta
Balon cu fund rotund
Termometru
Cilindru gradat
Pâlnie
Sticla de ceas
Creuzet
Bec de gaz
Clema
Balanta
Pipeta
Para de cauciuc
Biureta
Multimetre
Surse de curent continuu
Palnie Büchner
Cuptor
Beaker
Test-tube
Wash bottles
Round bottom flask
Thermometer
Graduated cylinder
Funnel
Watch glass
Crucible
Burner
Pinch clamp
Balance (scale)
Pipette
Pipette filler
Burette
Multimeters
Dc power supplies
Büchner funnel
Furnace, oven
Beaker: cylindrical shape, flat bottom. They can be made of glass, Pyrex glass or plastic.
Erlenmeyer flask: conical base and a cylindrical neck.
Volumetric flask: for preparing solutions with high precision. They have a pear shaped
body and a long neck with a line.
Test tube: they can be used for chemical reaction
Jars and glass bottles: used for storage
Petri dish: often used for cell cultures.
Watch glass: used to weight solids or to cover beakers
Crucible: made of porcelain and heat resistant
Burette: are used in titration, they can be extremely precise, class A burettes are accurate
to ±0.05 ml.
Funnel, Büchner funnel: used for vacuum filtration.
Analytical balance, analytical scale
WEIGHING A LIQUID, POWDER OR GRANULAR SUBSTANCE
1. Place the weighing container on the balance pan and close the doors.
2. Tare the container. The display will show zero. This allows the mass of your
sample to be read directly.
3. Add the substance to be weighed, close the chamber doors and read the display to
find the mass of your sample.
MEASURING A VOLUME OF SOLUTION
A characteristic of liquids in glass containers is that they curve at the edges due to
the surface tension. This curvature is called the meniscus. When you read the volume
your eye should be at the same level with the liquid. Always read the bottom of the
meniscus.
PREPARING CHEMICAL SOLUTIONS
Solute - The substance which dissolves in a solution.
Solvent - The substance which dissolves the solute to form a solution. For example, in a
sugar and water solution, water is the solvent; sugar is the solute.
Mole - A fundamental unit of mass. 1 mole contains 6.023 x 1023 molecules of that
substance. (Avogadro's number NA)
Solution 1: Weight percentage
c% 
Formula
md
100
ms
Example: A 10% NaCl solution has ten grams of sodium chloride dissolved in 100 ml of
solution.
Procedure: Weigh 10g of sodium chloride. Pour it into a graduated cylinder or
volumetric flask containing about 80ml of water. Once the sodium chloride has dissolved
completely (swirl the flask gently if necessary), add water to bring the volume up to the
final 100 ml. Caution: Do not simply measure 100ml of water and add 10g of sodium
chloride. This will introduce error because adding the solid will change the final volume
of the solution and throw off the final percentage.
Solution 2: Molar Solutions
Formula
c
M

n
m

V MV
Examples: The molecular weight of a sodium chloride molecule (NaCl) is 58.44, so 1
mole is 58.44 g. If you dissolve 58.44g of NaCl in a final volume of 1 liter, you have
made a 1M NaCl solution
Procedure: Weigh 58.44 g NaCl. Pour it into a volumetric flask with the volume of 1
liter. Fill the flask with distilled water until the volume mark.