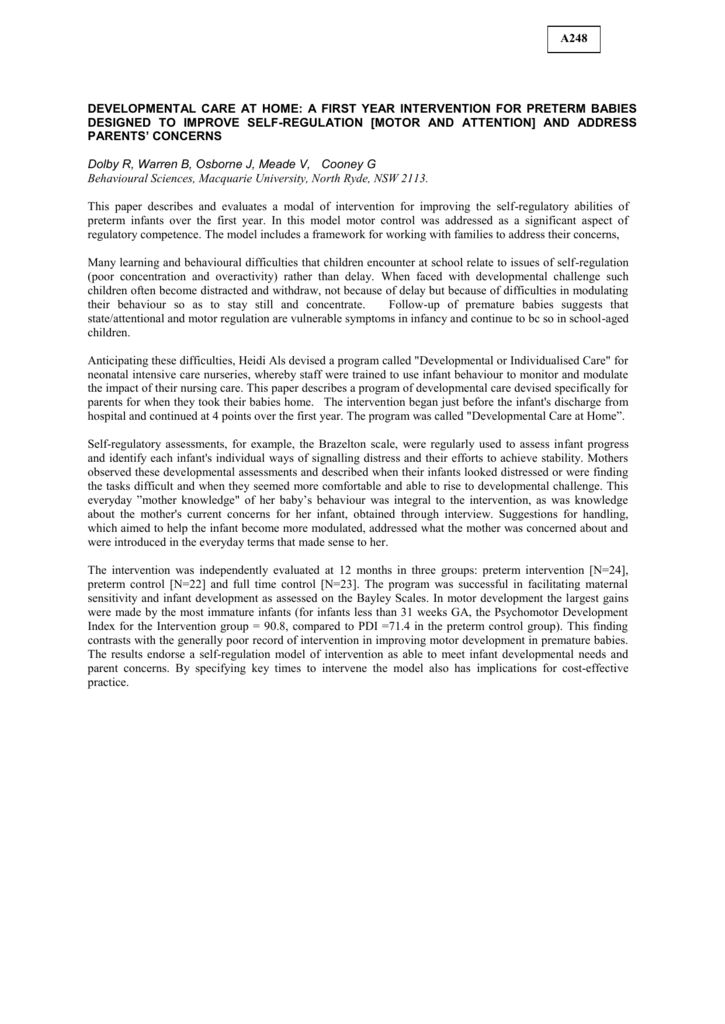 A248
DEVELOPMENTAL CARE AT HOME: A FlRST YEAR INTERVENTION FOR PRETERM BABIES
DESIGNED TO IMPROVE SELF-REGULATION [MOTOR AND ATTENTION] AND ADDRESS
PARENTS' CONCERNS
Dolby R, Warren B, Osborne J, Meade V, Cooney G
Behavioural Sciences, Macquarie University, North Ryde, NSW 2113.
This paper describes and evaluates a modal of intervention for improving the self-regulatory abilities of
preterm infants over the first year. In this model motor control was addressed as a significant aspect of
regulatory competence. The model includes a framework for working with families to address their concerns,
Many learning and behavioural difficulties that children encounter at school relate to issues of self-regulation
(poor concentration and overactivity) rather than delay. When faced with developmental challenge such
children often become distracted and withdraw, not because of delay but because of difficulties in modulating
their behaviour so as to stay still and concentrate.
Follow-up of premature babies suggests that
state/attentional and motor regulation are vulnerable symptoms in infancy and continue to bc so in school-aged
children.
Anticipating these difficulties, Heidi Als devised a program called "Developmental or Individualised Care" for
neonatal intensive care nurseries, whereby staff were trained to use infant behaviour to monitor and modulate
the impact of their nursing care. This paper describes a program of developmental care devised specifically for
parents for when they took their babies home. The intervention began just before the infant's discharge from
hospital and continued at 4 points over the first year. The program was called "Developmental Care at Home".
Self-regulatory assessments, for example, the Brazelton scale, were regularly used to assess infant progress
and identify each infant's individual ways of signalling distress and their efforts to achieve stability. Mothers
observed these developmental assessments and described when their infants looked distressed or were finding
the tasks difficult and when they seemed more comfortable and able to rise to developmental challenge. This
everyday "mother knowledge" of her baby's behaviour was integral to the intervention, as was knowledge
about the mother's current concerns for her infant, obtained through interview. Suggestions for handling,
which aimed to help the infant become more modulated, addressed what the mother was concerned about and
were introduced in the everyday terms that made sense to her.
The intervention was independently evaluated at 12 months in three groups: preterm intervention [N=24],
preterm control [N=22] and full time control [N=23]. The program was successful in facilitating maternal
sensitivity and infant development as assessed on the Bayley Scales. In motor development the largest gains
were made by the most immature infants (for infants less than 31 weeks GA, the Psychomotor Development
Index for the Intervention group = 90.8, compared to PDI =71.4 in the preterm control group). This finding
contrasts with the generally poor record of intervention in improving motor development in premature babies.
The results endorse a self-regulation model of intervention as able to meet infant developmental needs and
parent concerns. By specifying key times to intervene the model also has implications for cost-effective
practice.