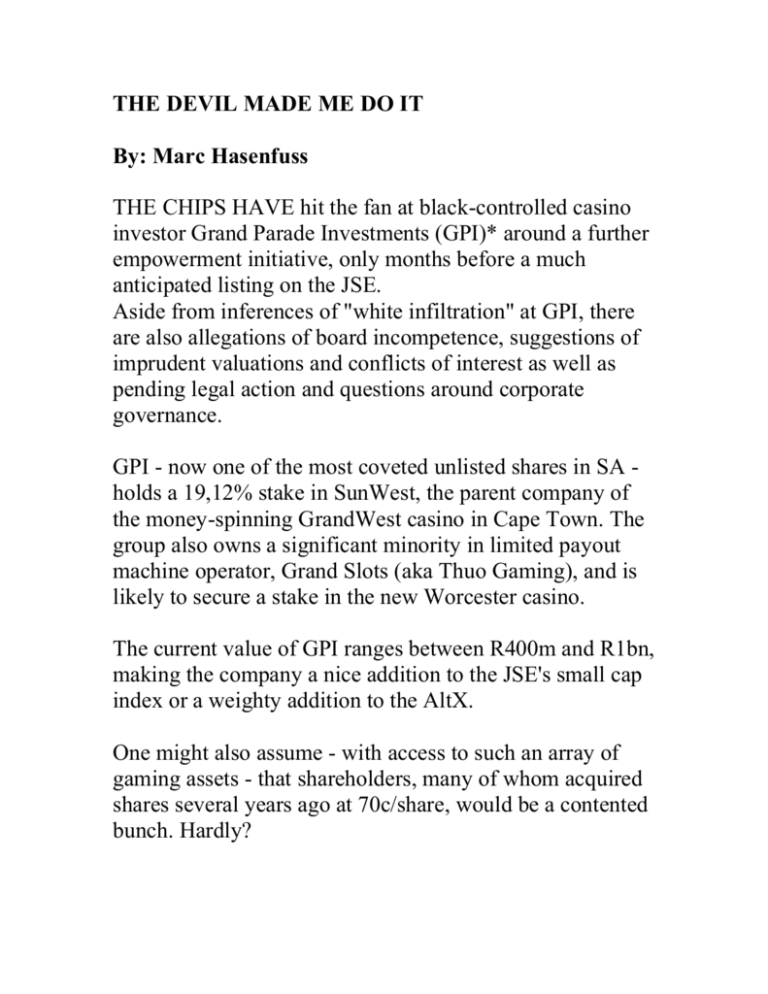 THE DEVIL MADE ME DO IT
By: Marc Hasenfuss
THE CHIPS HAVE hit the fan at black-controlled casino
investor Grand Parade Investments (GPI)* around a further
empowerment initiative, only months before a much
anticipated listing on the JSE.
Aside from inferences of "white infiltration" at GPI, there
are also allegations of board incompetence, suggestions of
imprudent valuations and conflicts of interest as well as
pending legal action and questions around corporate
governance.
GPI - now one of the most coveted unlisted shares in SA holds a 19,12% stake in SunWest, the parent company of
the money-spinning GrandWest casino in Cape Town. The
group also owns a significant minority in limited payout
machine operator, Grand Slots (aka Thuo Gaming), and is
likely to secure a stake in the new Worcester casino.
The current value of GPI ranges between R400m and R1bn,
making the company a nice addition to the JSE's small cap
index or a weighty addition to the AltX.
One might also assume - with access to such an array of
gaming assets - that shareholders, many of whom acquired
shares several years ago at 70c/share, would be a contented
bunch. Hardly?
A special meeting of shareholders last Sunday revealed
serious tensions at board and shareholder level during the
lead-up to a vote on proposals to issue 12m new shares to
enhance the group's BEE credentials.
No surprise that three directors - Ragi Moonsamy, Crispin
Sonn and Solly Tshiki - were booted off the GPI board a
day after the shareholders' meeting. All three had either
questioned or objected to GPI's empowerment share issue.
Moonsamy and Sonn - both directors of major shareholder
Sancino Projects - had addressed the shareholders' meeting
in an attempt to sway the more than 1 000 assembled
shareholders to vote against the share-issue proposals.
Tshiki is a director of GPI shareholder Origin Investments.
The issue at stake at GPI - the way Finweek sees it - really
revolves around whether existing shareholder value is
being diluted if the board pursues a share issue to enhance
the group's BEE credentials. The very valuation of GPI also
comes into question.
The debate also questions the current leadership at GPI,
implying that the group isn't being run in the interest of
shareholders. Indeed, there's every indication that the
controversy over the empowerment share issue has exposed
the start of a power struggle at GPI.
For the record, about 70% of GPI's shareholders voted in
favour of resolutions to issue the 12m new shares.
But the matter isn't this cut and dried.
A few days before the special shareholders' meeting,
Sancino (an anagram for 'casino') - a 13% shareholder in
GPI - petitioned the Cape High Court for an interdict to
stop the vote on the empowerment share issue. Sancino was
supported by another significant majority shareholder, Blue
Bay Partners, a Cape-based investment company.
The matter was postponed, with Sancino and Blue Bay
agreeing to let the meeting proceed on condition that no
resolutions are enforced until court proceedings run their
course. A new court date - aimed at overturning the
establishment of the BBBEE (broad-based black economic
empowerment) trust - has been set for mid-September.
Perhaps at this point it's useful to outline the main thrust of
the empowerment share issue.
Basically, 12,6m shares (almost 20% of GPI's share capital)
will be issued at an average price of 500c to raise R63m.
Proceeds will be used to acquire further shares in SunWest
as part of a stated goal of securing 30% of the gaming
company.
The shares will be issued as follows: 2,5m to a GPI special
purpose vehicle comprising new black corporate investors
at 650c/share; 3,2m to new non-black corporate investors at
650c/share and 6,9m to a GPI broad-based black economic
empowerment Trust (which will include existing black
shareholders in GPI) at a discounted 400c/share with a year
lock-in clause until 2012.
The circular sent to GPI shareholders did not disclose the
identities of the new corporate investors - but a question at
the shareholders' meeting from well-known Cape Town
businessman Kevin Roman saw JSE-listed Trematon
Capital Investments and Alpha Capital named as the nonblack corporate investors and Bulelani Ncguka, Circle
Capital and Cape Empowerment Trust (CET) as the black
corporate investors.
Adams stressed that none of the investing entities had any
relationship with GPI directors.
The bolstering of empowerment credentials at GPI should
not really be a contentious issue. For SunWest to retain the
exclusivity of its gaming licence in the Western Cape, it
stands to reason that suitable empowerment partners are
safely in place.
One only has to look at the situation at Real Africa
Holdings - a major investor in Sun International's casinos to see how empowerment credentials can be eroded.
Interestingly, RAH is suing Sun International for over
R300m in a dispute over the allotment of additional shares
in SunWest (see our recent Cover Story: "Gray Skies over
Paradise").
It's a well-known fact that white investors have in the last
12 to 18 months infiltrated GPI. The most significant
"raiders" are Charisma Holdings and Blue Bay, which each
hold about 2,9% of GPI.
The major issue, though, in terms of so-called white
infiltration is the emergence of Sanlam as a major indirect
shareholder in GPI. Sanlam featured prominently on the
pages of www.fin24.co.za and Finweek late last year when
it snatched control (59%) of Sancino (by converting
preference shares into equity) from CET. Sanlam
effectively holds 6,5% of GPI.
Sancino - by virtue of Sanlam's majority shareholding - can
no longer be deemed a BBBEE company. That means
Sancino - one of the original investors in GPI - may not be
in line for its allotment of shares offered to original
consortia shareholders, the BBBEE trust.
By inference one would assume Sancino's opposition to
GPI's empowerment share issue is based on its possible
exclusion from the exercise.
Sancino director Ragi Moonsamy emphatically denies this.
He argues that Sancino's opposition to GPI's share issue
proposals is based on concerns about the dilution of
existing shareholders.
He intimates that the Sanlam factor at Sancino is a red
herring because the institution has already agreed to sell a
15% stake to directors in a bid to push black ownership
back closer to the 50% mark.
"Our big issue is why GPI insists on issuing shares to
protect BEE credentials. This is a black-owned company.
Was it asked to do the share issue by the local gaming
board or SunWest?"
Moonsamy argues that if there's a need to protect BEE as
regards the GrandWest licence, then the matter should be
dealt with by SunWest. "The gaming licence lies with
SunWest? it's SunWest's responsibility to protect BEE, not
GPI's."
This sentiment is shared by Blue Bay.
Blue Bay director Uys Meyer, earlier told Die Burger that
his company isn't against a mechanism to safeguard the
long-term empowerment credentials of GPI, but then the
shares must be issued in an even-handed way, based on
transparent pricing by an independent merchant bank.
On a valuation basis Moonsamy argues that GPI is not
being prudent in issuing shares between 400c and 650c in
the empowerment share offer in lieu of the value that could
be accorded the GPI shares on listing.
Meyer reckons GPI's directors need to get an independent
merchant bank to value GPI's shares for purposes of the
new issue.
Moonsamy asks: "Why is GPI giving away shares at this
price when we know at listing the price could be
substantially higher? We ran an independent valuation
model that put a value of 1500c/share on GPI."
GPI's share issue price carries a "fair and reasonable"
statement from Paul Leaf-Wright (the former BoE
executive) from Leaf Capital.
Moonsamy reckons the proposed share issue is
fundamentally flawed - describing the exercise as a
"memorial service" to empowerment at the recent
shareholders' meeting. "New shares should be issued to
existing shareholders in the correct proportion."
Of course, there's a potential hitch in a pro rata share issue
to existing shareholders in that many may not be able to
take up their rights. Who would be the underwriter in such
a case?
GPI chairman Hassen Adams is adamant the share issue is
absolutely necessary for GPI.
At last week's shareholders' meeting Adams dismissed
Sancino's legal challenge to GPI's share issue as spurious.
"If anything happens, it'll be an indictment to
empowerment. I would have thought we explored the
matter ad nauseam in our board meetings."
He told shareholders that Moonsamy - who received
rapturous applause from shareholders - "excites people with
the wrong information".
Adams pointed out that allowing corporate investors to buy
in at a premium-priced 650c/share meant existing
shareholders could subscribe for new shares at 400c/share.
"We have not sold BEE away. The corporate shareholders
are holding shares on your behalf with the same lock-up
clause."
On the issue of diluting existing shareholders, Adams shot
back with a hard-hitting response to shareholders at the
meeting: "We are not diluting you, we are diluting Blue
Bay. You can shoot me down for this, but I will never
allow a white man to steal from us again."
Adams was clearly miffed with Blue Bay - whose two
representatives were present at the meeting. He said Blue
Bay used State employees from the police and prisons
services - allegedly purporting to represent GPI - to
convince shareholders to sell their shares.
The fact of the matter is that Blue Bay was (and is)
perfectly entitled to buy GPI shares. As such Blue Bay was
offering the only mechanism whereby GPI investors could
trade their shares as there has never been a formal or
informal over-the-counter platform available to investors.
Blue Bay consultant Andrew Ball says the company had
unsuccessfully initiated talks with GPI early last year with
a view to a reverse listing via the old Moribo shell (now
housing IFA Hotels).
Ball says that when Blue Bay started buying GPI shares,
nine months later, the shares were still being bought and
sold at R1,10 through GPI's office. Ball says that 65,2% of
the total shares purchased by Blue Bay, have been in blocks
of 5 000 shares or more - the largest block being 600 000
shares.
Clearly GPI's remaining directors must be concerned about
the "hostile" presence of Sancino and Blue Bay. The
combined entities, with support from other larger
shareholders (as witnessed in the shareholders' meeting
vote) may be able to garner sufficient support to become a
major nuisance to GPI directors. Presumably first prize for
the rebel shareholders would be to preclude GPI passing
any special resolutions.
That could affect future deal flow and stymie future fundraising efforts.
With a listing imminent, it's probably incumbent on GPI's
board to find a quick solution to the tense impasse - if only
to put thousands of unsophisticated shareholders at ease.
A possible solution could be to make peace with Sanlam.
With three directors ousted from the GPI board last week,
there may be an opportunity to appoint someone from the
Bellville-based institution to GPI's board.
Whether including Sancino in a proportional empowerment
share offer - ie only the parts of Sancino deemed genuinely
BEE - would smooth matters over, remains to be seen. Gut
feeling is that such a gesture could ease tensions markedly.
But Blue Bay's Ball notes: "Peace lies in the board of
directors understanding the value of the assets owned by
GPI."
The inference is that by issuing shares at 650c/share to new
investors, the board is giving away a valuable chunk of the
company. Blue Bay reckons a fairer issue price for shares
to new participating investors may be closer to 1200c/share,
based on the underlying value of the SunWest shares.
Ball says: "Basically we think that if a share offer is to be
made, then it must be made to all shareholders. Why
outsiders like Trematon, Bulelani Ngcuka or Alpha?"
Both Sancino and Blue Bay have raised concerns about the
levels of corporate governance at GPI, citing a conflict of
interest with the chairman's position on the boards of
related companies.
Adams serves on the boards of SunWest, Sun International
and the Worcester casino as well as on the boards of
Tattersalls, Slot Solutions and Thuo Gaming.
Ball argues: "Hassen has a good vision, but we can't
console ourselves that GPI is guaranteed the best outcome
in negotiations when the man sits on practically all the
boards of related companies."
It seems the rebel shareholders will be punting for Adams
to stand down as chairman (although retaining his board
seat) with an experienced, independent corporate figure
(someone like Jakes Gerwel springs to mind) taking the
helm in the run-up to listing.
Moonsamy has raised the question of the appointment of
Felicia Roman as the trustee for the GPI SPV and BBBEE
trust, where she can vote the 12,6m shares. Roman was
recently appointed GM of the soon-to-be-opened Worcester
casino, in which GPI is likely to secure a meaningful
shareholding. Adams holds a major investment in the
Worcester casino, a stake that's rumoured to be earmarked
for injection into GPI shortly.
The first signs of resistance to the Worcester casino's
incorporation into GPI were evident at the recent
shareholders' meeting where some parties questioned the
"real" rationale for such a transaction.
There's a growing belief that Sun International acted on
Worcester (which was initially part of London Clubs'
fizzled SA plans) as a safety measure. Lack of development
at Worcester could have seen the licence transferred to the
Cape Metropole (ending GrandWest's exclusivity in Cape
Town), as Gaming Board regulations have previously
allowed the transfer of licences within provinces.
Other shareholders canvassed by Finweek are content for
Adams to take the company forward to listing. One noted:
"Sure issues have been raised about Hassen, but he has
injected much-needed vigour at GPI since taking over the
chairmanship from Peter Swartz. What have his critics
done for GPI?"
Adams - at the shareholders' meeting and afterwards in
conversation with Finweek - reiterated that he had gone out
of his way to secure the best deals for GPI shareholders.
"These shareholders are my congregation?we've always
had strong community support. We've promised the world
and now it's time to deliver."
Adams told shareholders ahead of the crucial vote last
week: "We have done the most incredible transaction with
Sun International. I'm too scared to even tell my board
about it?"
Shareholders had their say last Sunday - now GPI's welllaid empowerment plans rest in the hands of the courts.
* The writer holds shares in GPI.