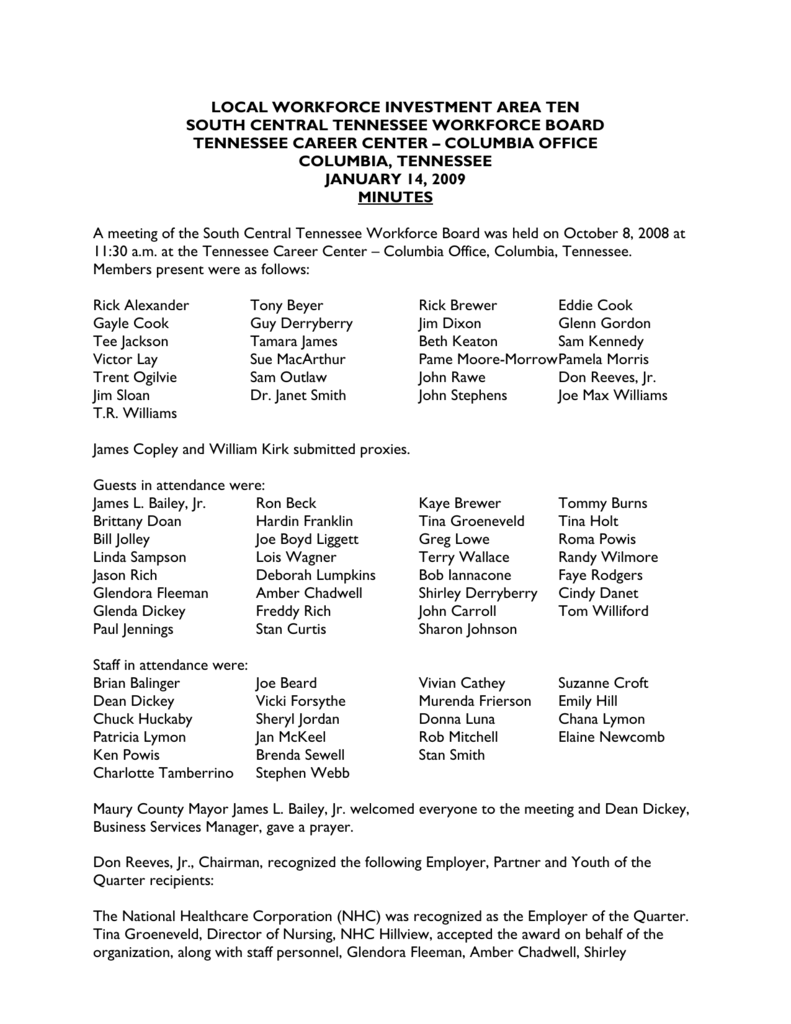 LOCAL WORKFORCE INVESTMENT AREA TEN
SOUTH CENTRAL TENNESSEE WORKFORCE BOARD
TENNESSEE CAREER CENTER – COLUMBIA OFFICE
COLUMBIA, TENNESSEE
JANUARY 14, 2009
MINUTES
A meeting of the South Central Tennessee Workforce Board was held on October 8, 2008 at
11:30 a.m. at the Tennessee Career Center – Columbia Office, Columbia, Tennessee.
Members present were as follows:
Rick Alexander
Gayle Cook
Tee Jackson
Victor Lay
Trent Ogilvie
Jim Sloan
T.R. Williams
Tony Beyer
Guy Derryberry
Tamara James
Sue MacArthur
Sam Outlaw
Dr. Janet Smith
Rick Brewer
Eddie Cook
Jim Dixon
Glenn Gordon
Beth Keaton
Sam Kennedy
Pame Moore-Morrow Pamela Morris
John Rawe
Don Reeves, Jr.
John Stephens
Joe Max Williams
James Copley and William Kirk submitted proxies.
Guests in attendance were:
James L. Bailey, Jr.
Ron Beck
Brittany Doan
Hardin Franklin
Bill Jolley
Joe Boyd Liggett
Linda Sampson
Lois Wagner
Jason Rich
Deborah Lumpkins
Glendora Fleeman
Amber Chadwell
Glenda Dickey
Freddy Rich
Paul Jennings
Stan Curtis
Staff in attendance were:
Brian Balinger
Dean Dickey
Chuck Huckaby
Patricia Lymon
Ken Powis
Charlotte Tamberrino
Joe Beard
Vicki Forsythe
Sheryl Jordan
Jan McKeel
Brenda Sewell
Stephen Webb
Kaye Brewer
Tina Groeneveld
Greg Lowe
Terry Wallace
Bob Iannacone
Shirley Derryberry
John Carroll
Sharon Johnson
Tommy Burns
Tina Holt
Roma Powis
Randy Wilmore
Faye Rodgers
Cindy Danet
Tom Williford
Vivian Cathey
Murenda Frierson
Donna Luna
Rob Mitchell
Stan Smith
Suzanne Croft
Emily Hill
Chana Lymon
Elaine Newcomb
Maury County Mayor James L. Bailey, Jr. welcomed everyone to the meeting and Dean Dickey,
Business Services Manager, gave a prayer.
Don Reeves, Jr., Chairman, recognized the following Employer, Partner and Youth of the
Quarter recipients:
The National Healthcare Corporation (NHC) was recognized as the Employer of the Quarter.
Tina Groeneveld, Director of Nursing, NHC Hillview, accepted the award on behalf of the
organization, along with staff personnel, Glendora Fleeman, Amber Chadwell, Shirley
Derryberry, Cindy Danet, Glenda Dickey, and Freddy Rich. As partners, the South Central
Tennessee Workforce Alliance has co-sponsored with NHC Healthcare three customized
Practical Nursing training programs with 60 graduates, two OJT contracts with four
participants, and one Registered Nursing Skills Shortage Training class graduating 32. NHC has
also been instrumental in providing free CNA training to over 100 Career Center customers.
Through the years the partnership expanded to other NHC facilities thus providing better
accommodations for our Career Center dislocated workers that transitioned from
manufacturing jobs to new careers in healthcare.
The Tennessee Technology Center at Hohenwald was recognized as Employer of the Quarter.
Mr. Rick Brewer, Director, accepted the award. For many years TTC at Hohenwald has been
instrumental in developing and providing training programs for our workforce. Director Rick
Brewer and Assistant Director Kelli Kea-Carroll oversee the school in Hohenwald. TTC at
Hohenwald and the South Central Tennessee Workforce Alliance have worked together to
provide various training programs for Career Center customers. Some of the specialized
projects TTC at Hohenwald has provided include two Automotive Technology special classes
at Mt. Pleasant, three customized Practical Nursing classes co-sponsored with SCTWA and
NHC Healthcare.
Brittany Doan was recognized as the Youth of the Quarter. Ms. Doan is a participant in the
WIA sponsored Jobs for Tennessee Graduates (JTG) program at Central High School in
Columbia, Tennessee. Her future career goal is to become a pharmacist. This semester, she
has decided to focus on bringing up her ACT score and increase her GPA in hopes of securing
more scholarship opportunities.
A panel discussion was held concerning issues pertaining to the theme of the, "Opportunities
and Challenges of Workforce Development in the Healthcare Industry". Panelists were Bill
Jolley, Vice President, Tennessee Hospital Association (facilitator), Kay Brewer, VP Human
Resources, Maury Regional Medical Center, Randy Wilmore, CEO, Middle Tennessee Bone and
Joint Clinic, Lois Wagner, PhD, APRN-BC, Vanderbilt University & Tennessee Center for
Nursing, and Tina Groeneveld, Director of Nursing, NHC Hillview.
The meeting was called to order at 1:10 p.m.
The minutes from the October 8, 2008 meeting were approved by consent. The following Ad
Hoc Committee Bylaw Recommendations were briefly reviewed and discussed:
1. AR 003 page 2 of 2
Add to Section 5 –Member Responsibility (italicized words are the addition):
c. Conflict of Interest. Each member shall sign the South Central TN Workforce Board
Conflict of Interest Statement prior to participating as a voting board member. A copy of the
Statement is attached as Appendix A.
2. AR 005 page 2 of 3
Modify the title of Section 2 b. to the following (italicized words are the addition):
b.
P-16 Education Council , formerly referred to as the Youth Council
Jim Sloan made the motion to approve the Ad Hoc Committee's bylaw recommendations.
Victor Lay seconded the motion. The motion was passed.
Joe Max Williams conducted the remainder of the meeting on behalf of Mr. Reeves, Chairman.
The Unemployment Rate Analysis and Adult Training Report were briefly reviewed.
Rick Molder, Director of Program Operations, briefly reviewed the Dislocated Worker Update.
He mentioned there have been approximately 1700 layoffs in our area since the last report.
It was mentioned that entrepreneurial workshops will be offered starting in February in area
counties.
The Youth Update was reviewed and discussed. An in-school program with Artistree, which
linked with this year's Big Read featured book "The Adventures of Tom Sawyer", was
developed and performed. Approximately 150 Students from six schools, as well as youths
from the Maury County Boys and Girls Club, participated this year. In addition, it was
mentioned there were 50 students who participated in the Jobs for Tennessee Graduates (JTG)
program last semester. There are currently three JTG programs located in Lewis, Maury, and
Perry Counties.
Ms. McKeel mentioned a meeting with employers in Marshall County will be held on January
23rd to discuss the various needs of their employees.
The remaining information items were deferred to members to review at their convenience.
The meeting adjourned at 1:41 p.m.