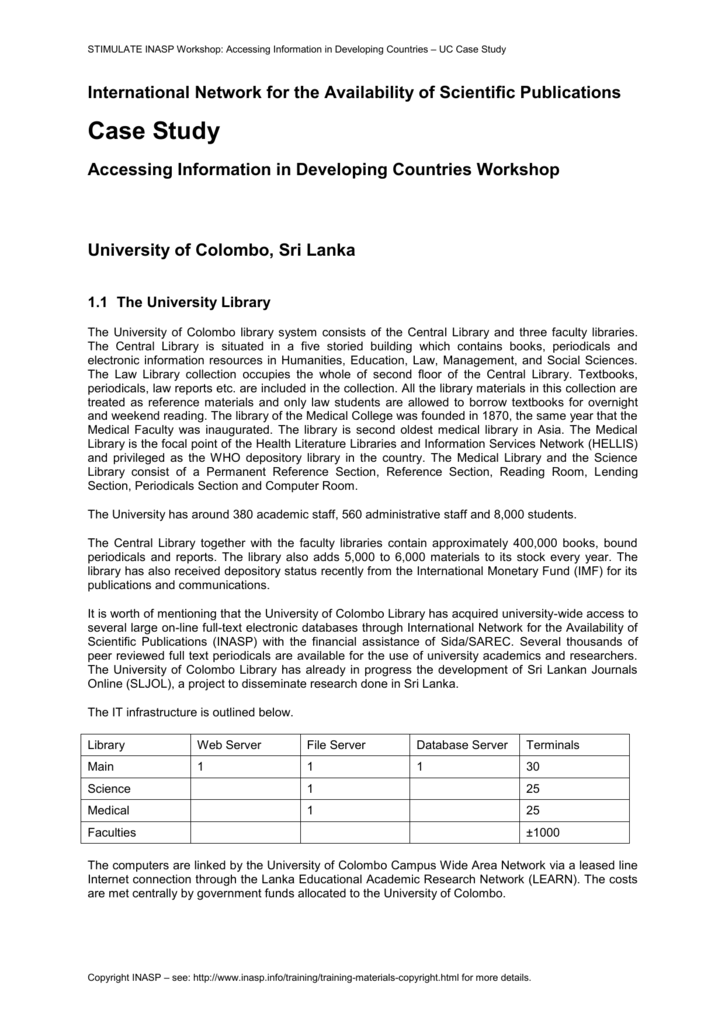 STIMULATE INASP Workshop: Accessing Information in Developing Countries – UC Case Study
International Network for the Availability of Scientific Publications
Case Study
Accessing Information in Developing Countries Workshop
University of Colombo, Sri Lanka
1.1 The University Library
The University of Colombo library system consists of the Central Library and three faculty libraries.
The Central Library is situated in a five storied building which contains books, periodicals and
electronic information resources in Humanities, Education, Law, Management, and Social Sciences.
The Law Library collection occupies the whole of second floor of the Central Library. Textbooks,
periodicals, law reports etc. are included in the collection. All the library materials in this collection are
treated as reference materials and only law students are allowed to borrow textbooks for overnight
and weekend reading. The library of the Medical College was founded in 1870, the same year that the
Medical Faculty was inaugurated. The library is second oldest medical library in Asia. The Medical
Library is the focal point of the Health Literature Libraries and Information Services Network (HELLIS)
and privileged as the WHO depository library in the country. The Medical Library and the Science
Library consist of a Permanent Reference Section, Reference Section, Reading Room, Lending
Section, Periodicals Section and Computer Room.
The University has around 380 academic staff, 560 administrative staff and 8,000 students.
The Central Library together with the faculty libraries contain approximately 400,000 books, bound
periodicals and reports. The library also adds 5,000 to 6,000 materials to its stock every year. The
library has also received depository status recently from the International Monetary Fund (IMF) for its
publications and communications.
It is worth of mentioning that the University of Colombo Library has acquired university-wide access to
several large on-line full-text electronic databases through International Network for the Availability of
Scientific Publications (INASP) with the financial assistance of Sida/SAREC. Several thousands of
peer reviewed full text periodicals are available for the use of university academics and researchers.
The University of Colombo Library has already in progress the development of Sri Lankan Journals
Online (SLJOL), a project to disseminate research done in Sri Lanka.
The IT infrastructure is outlined below.
Library
Web Server
File Server
Database Server
Terminals
Main
1
1
1
30
Science
1
25
Medical
1
25
Faculties
±1000
The computers are linked by the University of Colombo Campus Wide Area Network via a leased line
Internet connection through the Lanka Educational Academic Research Network (LEARN). The costs
are met centrally by government funds allocated to the University of Colombo.
Copyright INASP – see: http://www.inasp.info/training/training-materials-copyright.html for more details.
STIMULATE INASP Workshop: Accessing Information in Developing Countries – UC Case Study
1.2 How electronic resources are purchased by the library
The Sida Library Support Programme has for a number of years provided Sri Lankan university
libraries with scientific journals. The support is now taking a new turn, towards subscription to online
databases. Activities are in collaboration with the British-based organization International Network for
the Availability of Scientific Publications (INASP). Access to fresh international research results as
presented in international scientific journals, is a prerequisite for meaningful research endeavour.
Sida's support can be seen as assistance in the provision of access to important scientific and
research electronic information resources, and an opportunity to make research done in Sri Lanka
available to the world.
INASP has negotiated countrywide licenses for 2005 for full text e-information with access to over
5000 full text online journals in science, technology, medicine, social sciences and humanities. The
beneficiaries from this endeavour are not only the academics from all universities in Sri Lanka, but
also people from the other higher educational, research and non-profit making institutions. User
names and passwords have been assigned to the latter. The advantage of the online databases of full
text articles is that they reach more users in the Sri Lanka academic system and the supply of
accessible journals has been increased by several orders of magnitude. INASP also conducts training
workshops, and provides guidance and support to design and implement the SLJOL project.
The University of Colombo library had also negotiated with JSTOR and Ford Foundation to gain
access to the very popular online database called JSTOR, which provides access to back files of
journals. It is particularly popular among the researchers, students and teachers of the university
specially those who are in the field of humanities and social sciences. The Ford Foundation sponsors
this online database and also Hein Online.
1.3 Cost of e-resources
The costs associated with the e-resources mentioned below is for countrywide access. Therefore
each and every institution in Sri Lanka does not need to pay money individually.
1.3.1 2005 Subscriptions
Resource
Cost
Sub total
Current Awareness Services
British Library Inside Web
£110
Sub total
£110
Full-text Electronic Journals
Blackwell Publishing
£14,610
EBSCO Publishing
£24,309
John Wiley & Sons (InterScience)
£38,674
Sub total
£77,593
TOTAL
£77,703
* All fees include 10% administrative charges of INASP
Copyright INASP – see: http://www.inasp.info/training/training-materials-copyright.html for more details.
STIMULATE INASP Workshop: Accessing Information in Developing Countries – UC Case Study
1.4 Cost of infrastructure to support e-resources
Staff
The library staff of the University of Colombo consists of senior level librarians with a sound
knowledge of ICT. In addition there is an Instructor in Computer Technology who is a science
graduate with computer science as a subject for his degree. The Computer Application Assistant in
the library has a thorough knowledge in ICT. Taking into consideration the other staff, especially those
who are in clerical and allied grades, computer competence is also in a reasonably good level. Under
these circumstances the workload in relation to e-resources is managed by the said staff and a full
time administrator who is attached to the SLJOL project. Therefore no extra expenses for manpower
are incurred.
Training
We have conducted several training programmes on the use of electronic resources for teaching and
learning and research for students and staff both academic and non-academic. The above mentioned
professionals in the University of Colombo Library carried out these training programmes free of
charge as funds have not been allocated for such kind of activity. The costs associated with the
training programme with regard to infrastructure facilities/refreshments were borne by the University of
Colombo. In addition to the training sessions conducted in the University of Colombo itself, the
resources personnel in the library deliver lectures on e-information resources and access for other
training workshops conducted by various non-profit making organisations.
Access
Since we have a separate web server for merging web based information resources it is not
necessary to have another web server or any other equipment to carry out the work in connection to
e-journals.
No additional infrastructure is required for providing facilities to access e-journals because the
members of the library as well as the academic staff attached to the departments are provided with
passwords or user names to access particular e-journals even from their place of residence.
Therefore no costs are involved for such work.
However JSTOR and Hein Online databases have been set to proxy IP addresses and the patrons of
the library can directly access these without going through the usernames and passwords.
Nevertheless, some users prefer to have usernames and passwords for the reason that they want to
access to these databases at their home since the access to Internet from the university is pretty slow
because of the bandwidth problems. Therefore they prefer to use Blackwell, EBSCO and Wiley
InterScience databases because that they can use usernames and passwords for these.
Paper
The cost of paper is not very high, as paper is needed only when a notice or leaflet has to be prepared
to educate or notify the users. The cost of paper can be estimated below £100 per year.
Computers
At the moment the computers available in the Central Library and in the faculties of the university are
used to access e-journals. However, it is desirable if we could have in the library an additional 20
computers for e-journal access only due to the high demand in accessing e-journals.
The Central Library has introduced a Computer Lounge, which is very specifically dedicated for
students and staff who particularly need to access electronic information for their work. The demand
for using the laboratory is extremely high and the library expects there will be a need to expand it soon
to cater for the hundreds of users.
1.5 Any other issues
The time period taken to register, process and obtain delivery of some e-journals is at least two
weeks. This time period is rather too long and it would be preferred if action could be taken to reduce
the time period to a maximum of 2 days.
No proper system to obtain user statistics for each database is available.
Copyright INASP – see: http://www.inasp.info/training/training-materials-copyright.html for more details.