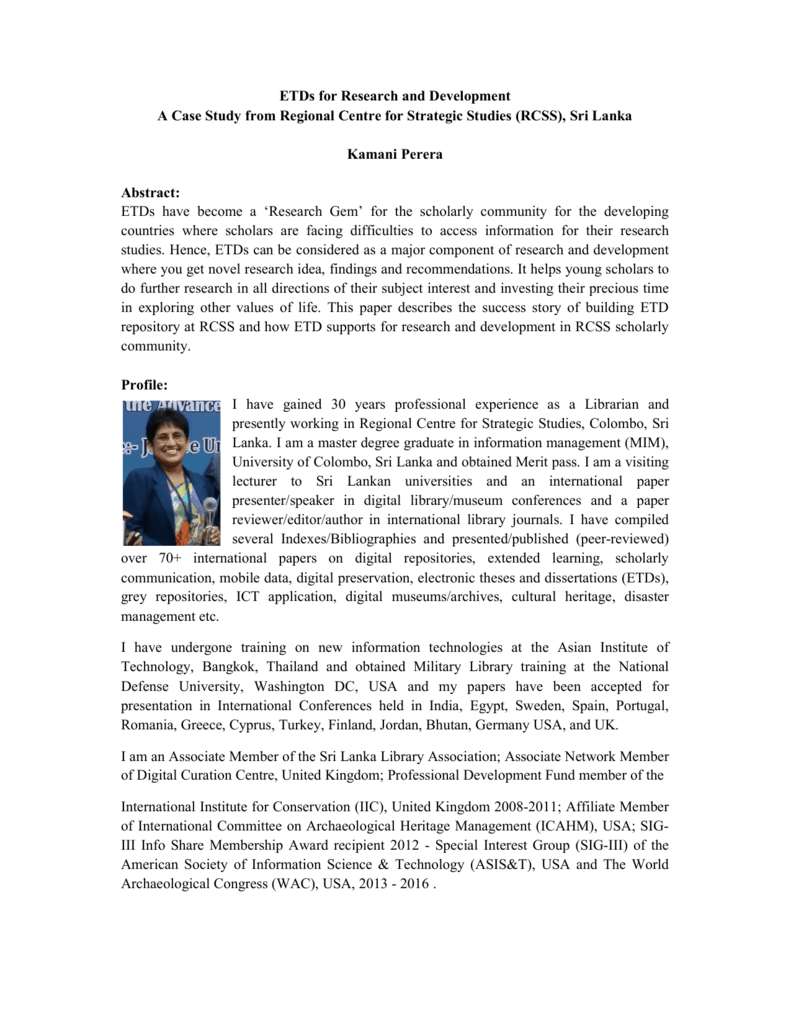 ETDs for Research and Development
A Case Study from Regional Centre for Strategic Studies (RCSS), Sri Lanka
Kamani Perera
Abstract:
ETDs have become a 'Research Gem' for the scholarly community for the developing
countries where scholars are facing difficulties to access information for their research
studies. Hence, ETDs can be considered as a major component of research and development
where you get novel research idea, findings and recommendations. It helps young scholars to
do further research in all directions of their subject interest and investing their precious time
in exploring other values of life. This paper describes the success story of building ETD
repository at RCSS and how ETD supports for research and development in RCSS scholarly
community.
Profile:
I have gained 30 years professional experience as a Librarian and
presently working in Regional Centre for Strategic Studies, Colombo, Sri
Lanka. I am a master degree graduate in information management (MIM),
University of Colombo, Sri Lanka and obtained Merit pass. I am a visiting
lecturer to Sri Lankan universities and an international paper
presenter/speaker in digital library/museum conferences and a paper
reviewer/editor/author in international library journals. I have compiled
several Indexes/Bibliographies and presented/published (peer-reviewed)
over 70+ international papers on digital repositories, extended learning, scholarly
communication, mobile data, digital preservation, electronic theses and dissertations (ETDs),
grey repositories, ICT application, digital museums/archives, cultural heritage, disaster
management etc.
I have undergone training on new information technologies at the Asian Institute of
Technology, Bangkok, Thailand and obtained Military Library training at the National
Defense University, Washington DC, USA and my papers have been accepted for
presentation in International Conferences held in India, Egypt, Sweden, Spain, Portugal,
Romania, Greece, Cyprus, Turkey, Finland, Jordan, Bhutan, Germany USA, and UK.
I am an Associate Member of the Sri Lanka Library Association; Associate Network Member
of Digital Curation Centre, United Kingdom; Professional Development Fund member of the
International Institute for Conservation (IIC), United Kingdom 2008-2011; Affiliate Member
of International Committee on Archaeological Heritage Management (ICAHM), USA; SIGIII Info Share Membership Award recipient 2012 - Special Interest Group (SIG-III) of the
American Society of Information Science & Technology (ASIS&T), USA and The World
Archaeological Congress (WAC), USA, 2013 - 2016 .