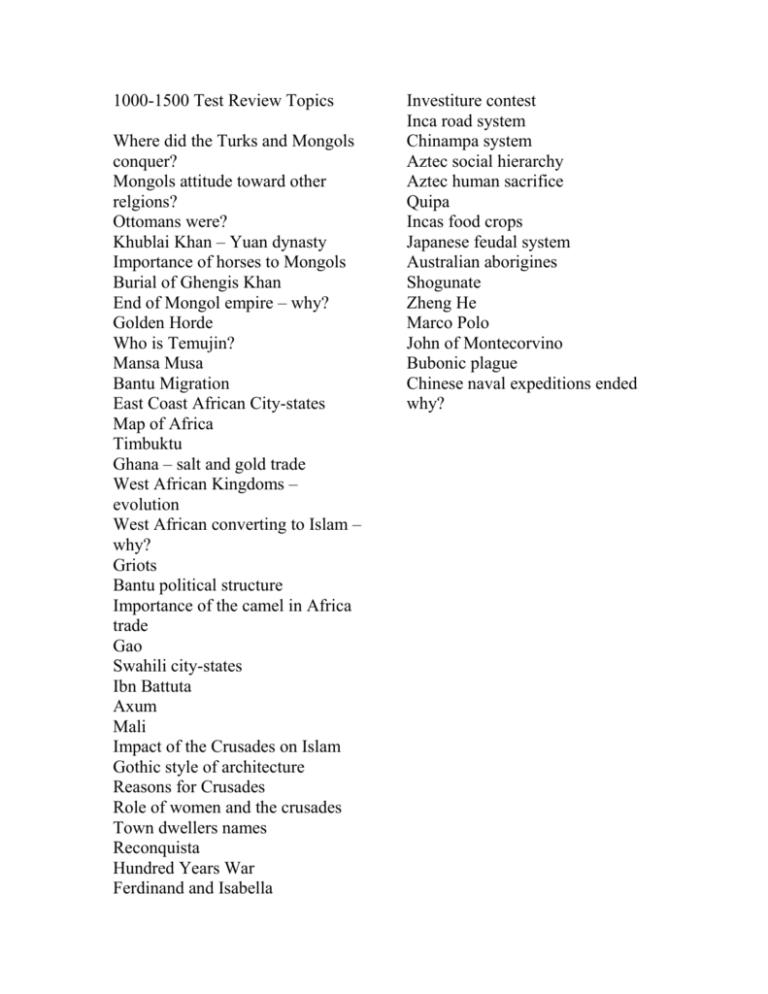 1000-1500 Test Review Topics
Where did the Turks and Mongols
conquer?
Mongols attitude toward other
relgions?
Ottomans were?
Khublai Khan – Yuan dynasty
Importance of horses to Mongols
Burial of Ghengis Khan
End of Mongol empire – why?
Golden Horde
Who is Temujin?
Mansa Musa
Bantu Migration
East Coast African City-states
Map of Africa
Timbuktu
Ghana – salt and gold trade
West African Kingdoms –
evolution
West African converting to Islam –
why?
Griots
Bantu political structure
Importance of the camel in Africa
trade
Gao
Swahili city-states
Ibn Battuta
Axum
Mali
Impact of the Crusades on Islam
Gothic style of architecture
Reasons for Crusades
Role of women and the crusades
Town dwellers names
Reconquista
Hundred Years War
Ferdinand and Isabella
Investiture contest
Inca road system
Chinampa system
Aztec social hierarchy
Aztec human sacrifice
Quipa
Incas food crops
Japanese feudal system
Australian aborigines
Shogunate
Zheng He
Marco Polo
John of Montecorvino
Bubonic plague
Chinese naval expeditions ended
why?