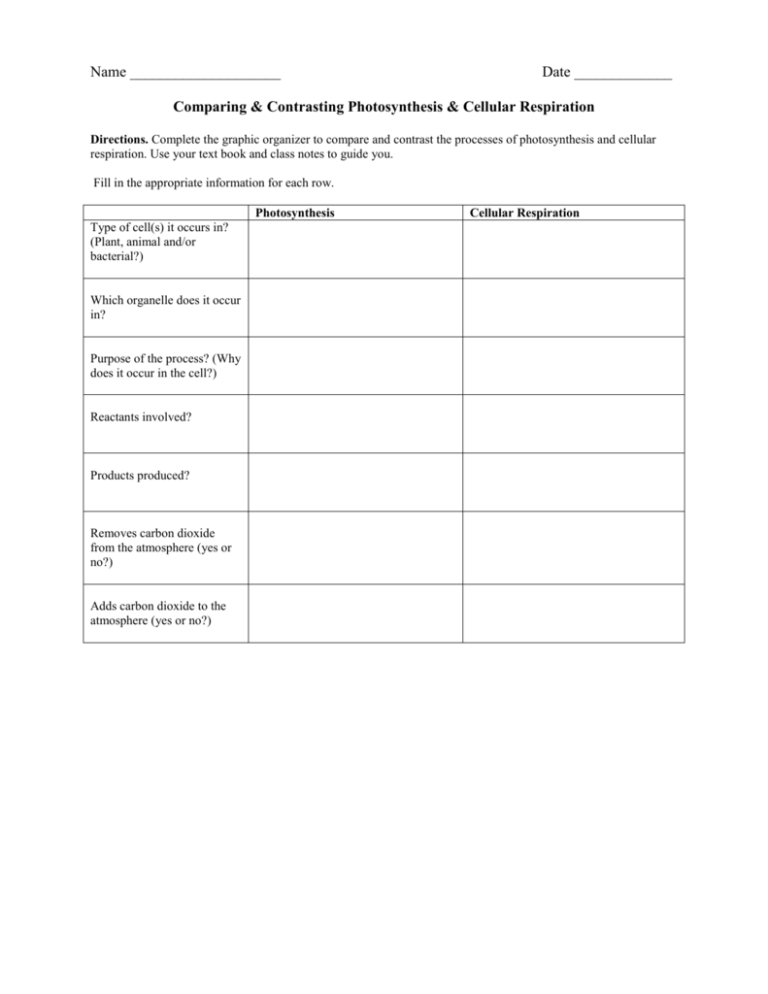 Name ____________________
Date _____________
Comparing & Contrasting Photosynthesis & Cellular Respiration
Directions. Complete the graphic organizer to compare and contrast the processes of photosynthesis and cellular
respiration. Use your text book and class notes to guide you.
Fill in the appropriate information for each row.
Photosynthesis
Type of cell(s) it occurs in?
(Plant, animal and/or
bacterial?)
Which organelle does it occur
in?
Purpose of the process? (Why
does it occur in the cell?)
Reactants involved?
Products produced?
Removes carbon dioxide
from the atmosphere (yes or
no?)
Adds carbon dioxide to the
atmosphere (yes or no?)
Cellular Respiration
Based on the table above, write each term or statement in the correct part of the Venn diagram below.
6CO2 + 6H2O → C6H12O6 + 6O2
Chloroplasts
Chlorophyll
Animal cells
Plant cells
Produces carbon dioxide
Mitochondria
Sunlight → Chemical
Produces oxygen
C6H12O6 + 6O2 → 6CO2 + 6H2O + Energy
Photosynthesis
Cellular
Respiration
Some people claim talking to plants can make them grow better. Given what you know about photosynthesis and
respiration, why might a person talking/breathing very close to plant have an impact on its growth?
If plants produce oxygen as a result of photosynthesis, why aren't oxygen levels continually increasing in the
atmosphere?