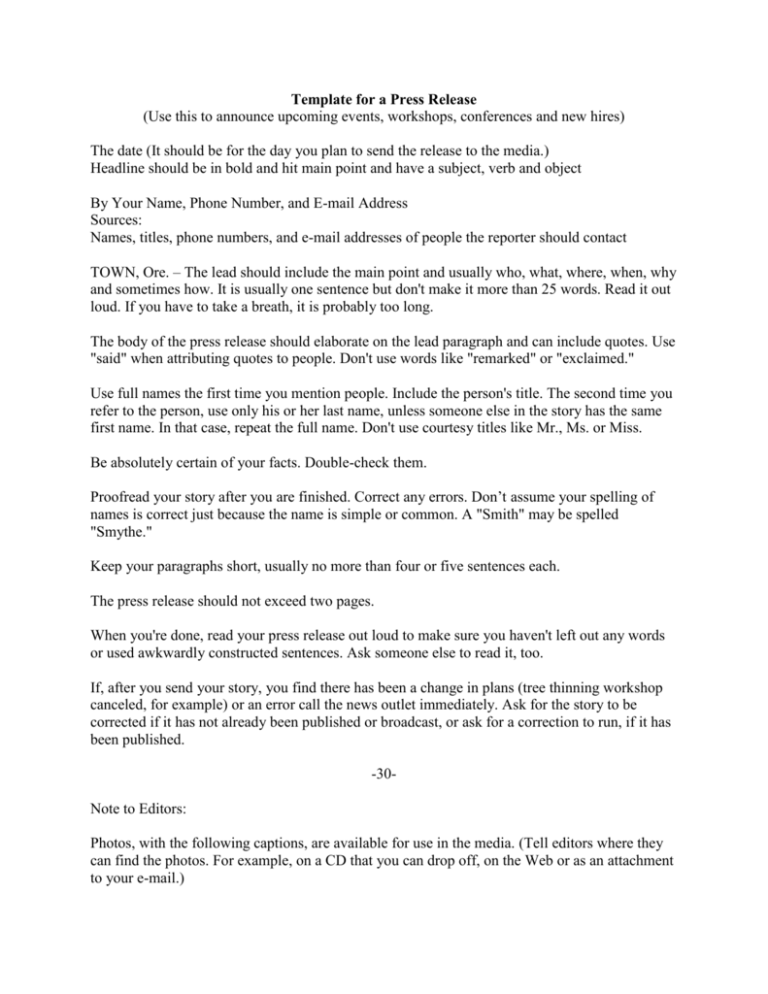 Template for a Press Release
(Use this to announce upcoming events, workshops, conferences and new hires)
The date (It should be for the day you plan to send the release to the media.)
Headline should be in bold and hit main point and have a subject, verb and object
By Your Name, Phone Number, and E-mail Address
Sources:
Names, titles, phone numbers, and e-mail addresses of people the reporter should contact
TOWN, Ore. – The lead should include the main point and usually who, what, where, when, why
and sometimes how. It is usually one sentence but don't make it more than 25 words. Read it out
loud. If you have to take a breath, it is probably too long.
The body of the press release should elaborate on the lead paragraph and can include quotes. Use
"said" when attributing quotes to people. Don't use words like "remarked" or "exclaimed."
Use full names the first time you mention people. Include the person's title. The second time you
refer to the person, use only his or her last name, unless someone else in the story has the same
first name. In that case, repeat the full name. Don't use courtesy titles like Mr., Ms. or Miss.
Be absolutely certain of your facts. Double-check them.
Proofread your story after you are finished. Correct any errors. Don't assume your spelling of
names is correct just because the name is simple or common. A "Smith" may be spelled
"Smythe."
Keep your paragraphs short, usually no more than four or five sentences each.
The press release should not exceed two pages.
When you're done, read your press release out loud to make sure you haven't left out any words
or used awkwardly constructed sentences. Ask someone else to read it, too.
If, after you send your story, you find there has been a change in plans (tree thinning workshop
canceled, for example) or an error call the news outlet immediately. Ask for the story to be
corrected if it has not already been published or broadcast, or ask for a correction to run, if it has
been published.
-30Note to Editors:
Photos, with the following captions, are available for use in the media. (Tell editors where they
can find the photos. For example, on a CD that you can drop off, on the Web or as an attachment
to your e-mail.)

This is where you write a caption, which is a brief description of what is happening in the
photo and who is in it. It should be no more than two sentences and the verbs should be
written in the present tense even when an event already took place. Be sure to correctly
spell the name of each person in the photo and include his or her title. If there are several
people in the photo, identify them using words like "left," "right," "center" or "from left
to right." At the end of the caption, write "Photo by" and include the photographer's
name. Make sure you have permission from the photographer to send the photo to the
media.

You can include another photo caption and credit here, too, if you have more photos. If
you have more than three photos, include captions for only the best three and then write
in the editor's note that additional photos are available upon request, or that they're on an
accompanying CD if you've submitted a CD.

Here is an example: (from left to right) Johnny Jones, a Sunnyside 4-H club member,
shows fellow club members Mary Anderson and Sally Smith how to groom a horse.
Photo by Mark Richards.