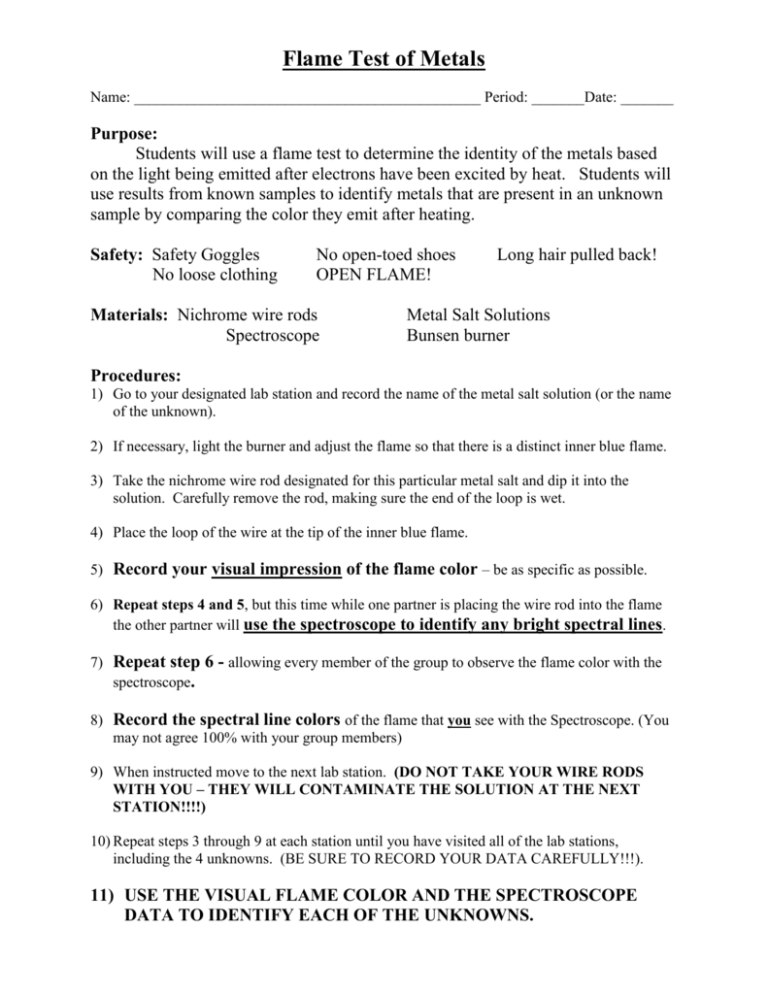 Flame Test of Metals
Name: ______________________________________________ Period: _______Date: _______
Purpose:
Students will use a flame test to determine the identity of the metals based
on the light being emitted after electrons have been excited by heat. Students will
use results from known samples to identify metals that are present in an unknown
sample by comparing the color they emit after heating.
Safety: Safety Goggles
No loose clothing
No open-toed shoes
OPEN FLAME!
Materials: Nichrome wire rods
Spectroscope
Long hair pulled back!
Metal Salt Solutions
Bunsen burner
Procedures:
1) Go to your designated lab station and record the name of the metal salt solution (or the name
of the unknown).
2) If necessary, light the burner and adjust the flame so that there is a distinct inner blue flame.
3) Take the nichrome wire rod designated for this particular metal salt and dip it into the
solution. Carefully remove the rod, making sure the end of the loop is wet.
4) Place the loop of the wire at the tip of the inner blue flame.
5) Record your visual impression of the flame color – be as specific as possible.
6) Repeat steps 4 and 5, but this time while one partner is placing the wire rod into the flame
the other partner will use the spectroscope to identify any bright spectral lines.
7) Repeat step 6 - allowing every member of the group to observe the flame color with the
spectroscope.
8) Record the spectral line colors of the flame that you see with the Spectroscope. (You
may not agree 100% with your group members)
9) When instructed move to the next lab station. (DO NOT TAKE YOUR WIRE RODS
WITH YOU – THEY WILL CONTAMINATE THE SOLUTION AT THE NEXT
STATION!!!!)
10) Repeat steps 3 through 9 at each station until you have visited all of the lab stations,
including the 4 unknowns. (BE SURE TO RECORD YOUR DATA CAREFULLY!!!).
11) USE THE VISUAL FLAME COLOR AND THE SPECTROSCOPE
DATA TO IDENTIFY EACH OF THE UNKNOWNS.
Name: ______________________________________________ Period: _______Date: _______
Group Members:
(each person MUST turn in own report to receive credit for doing this lab)
DATA TABLE 1: Flame test & Spectroscope Results for Metals (18 pts)
Name of
Metal
Lithium
Element
Symbol
Visual Flame
Color
Spectroscope Flame Emission Line Color (s)
Strontium
Copper
Sodium
Potassium
Calcium
DATA TABLE 2: Identify Unknown Elements Using Flame test data: (16 pts)
Unknown
Visual Flame Spectroscope Flame Emission Line Color (s)
Color
A
B
C
D
How did you decide what each unknown was? BE SPECIFIC!(12 pts)
Unknown A
Unknown B
Unknown C
Unknown D
Which
Metal?
Identities of Unknowns 10/18/13
Unknown A
_STRONTIUM_____________
Unknown B
_COPPER_______________
Unknown C
_LITHIUM_____________
Unknown D
_POTASSIUM________________
Identities of Unknowns 11/5/12
Unknown A
_CALCIUM_____________
Unknown B
_SODIUM_______________
Unknown C
__LITHIUM_____________
Unknown D
__BARIUM________________
From: Grigg, Scott R
Sent: Wednesday, October 19, 2011 7:20 PM
To: Eads, Windi L
Subject: RE: BELL RINGER 10-19-2011
FYI, the day of the Flame Test Lab I had the following on my board:
1) Pick up and read lab procedure.
2) Write symbol for each element as indicated.
3) Bellringer - answers from lab procedure:
a) For each sample, what will be your first observation? (ans: flame color)
b) What will be your second observation? (ans: emission spectrum)
c) Why is it important to leave nichrome rods at designated test stations? (ans: contamination)
Note: most of grade depends on correctly identifying unknown samples - take great care to precisely
record color data.
This was by far the smoothest flame test lab I've conducted so far - not sure if it's me, better prep, or the
students.