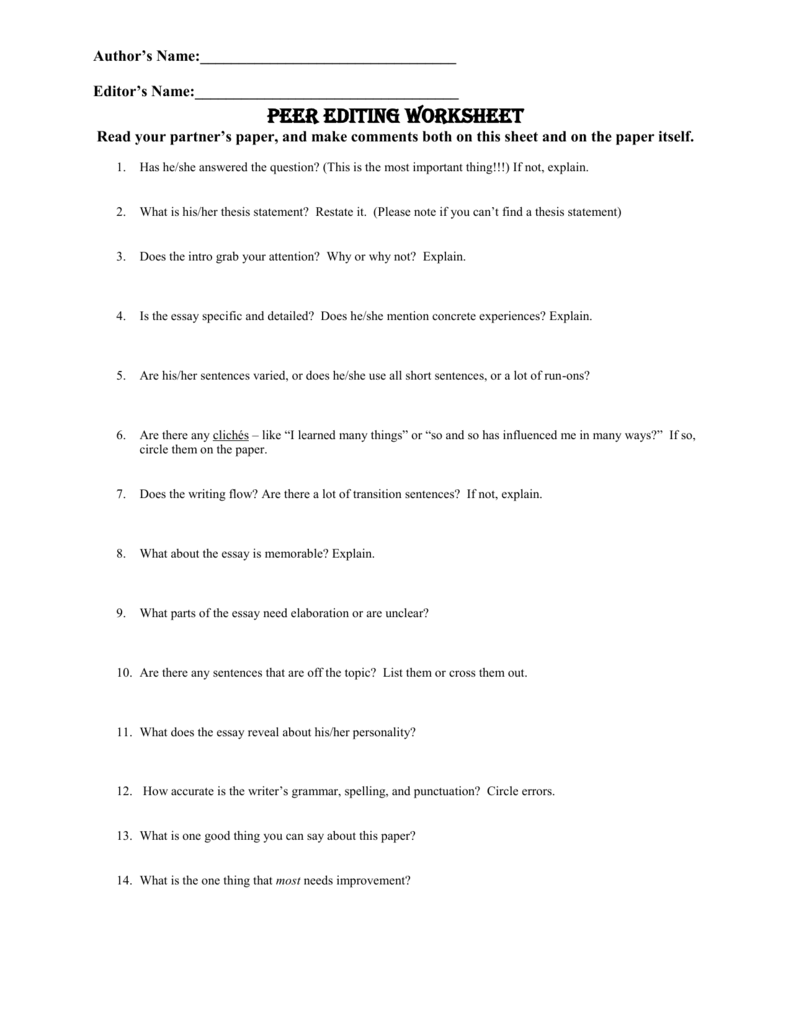 Author's Name:_________________________________
Editor's Name:__________________________________
Peer Editing Worksheet
Read your partner's paper, and make comments both on this sheet and on the paper itself.
1.
Has he/she answered the question? (This is the most important thing!!!) If not, explain.
2.
What is his/her thesis statement? Restate it. (Please note if you can't find a thesis statement)
3.
Does the intro grab your attention? Why or why not? Explain.
4.
Is the essay specific and detailed? Does he/she mention concrete experiences? Explain.
5.
Are his/her sentences varied, or does he/she use all short sentences, or a lot of run-ons?
6.
Are there any clichés – like "I learned many things" or "so and so has influenced me in many ways?" If so,
circle them on the paper.
7.
Does the writing flow? Are there a lot of transition sentences? If not, explain.
8.
What about the essay is memorable? Explain.
9.
What parts of the essay need elaboration or are unclear?
10. Are there any sentences that are off the topic? List them or cross them out.
11. What does the essay reveal about his/her personality?
12. How accurate is the writer's grammar, spelling, and punctuation? Circle errors.
13. What is one good thing you can say about this paper?
14. What is the one thing that most needs improvement?