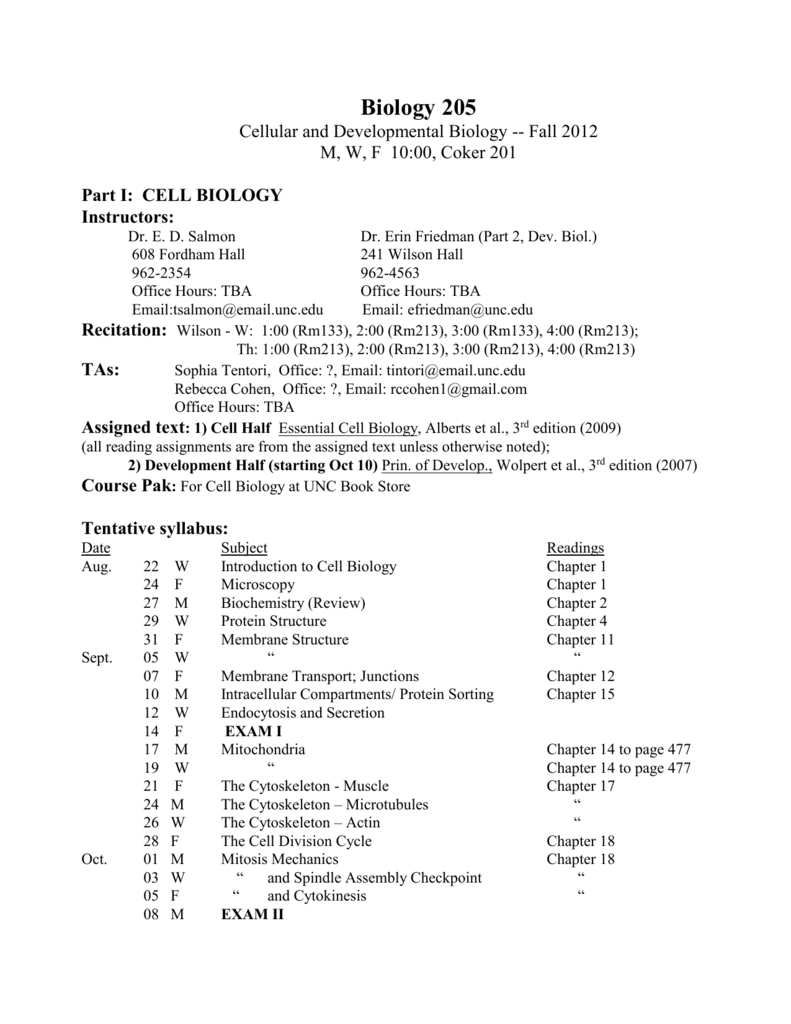 Biology 205
Cellular and Developmental Biology -- Fall 2012
M, W, F 10:00, Coker 201
Part I: CELL BIOLOGY
Instructors:
Dr. E. D. Salmon
Dr. Erin Friedman (Part 2, Dev. Biol.)
608 Fordham Hall
241 Wilson Hall
962-2354
962-4563
Office Hours: TBA
Office Hours: TBA
Email:[email protected]
Email: [email protected]
Recitation: Wilson - W: 1:00 (Rm133), 2:00 (Rm213), 3:00 (Rm133), 4:00 (Rm213);
Th: 1:00 (Rm213), 2:00 (Rm213), 3:00 (Rm213), 4:00 (Rm213)
TAs:
Sophia Tentori, Office: ?, Email: [email protected]
Rebecca Cohen, Office: ?, Email: [email protected]
Office Hours: TBA
Assigned text: 1) Cell Half Essential Cell Biology, Alberts et al., 3rd edition (2009)
(all reading assignments are from the assigned text unless otherwise noted);
2) Development Half (starting Oct 10) Prin. of Develop., Wolpert et al., 3rd edition (2007)
Course Pak: For Cell Biology at UNC Book Store
Tentative syllabus:
Date
Aug.
Sept.
Oct.
22
24
27
29
31
05
07
10
12
14
17
19
21
24
26
28
01
03
05
08
W
F
M
W
F
W
F
M
W
F
M
W
F
M
W
F
M
W
F
M
Subject
Introduction to Cell Biology
Microscopy
Biochemistry (Review)
Protein Structure
Membrane Structure
"
Membrane Transport; Junctions
Intracellular Compartments/ Protein Sorting
Endocytosis and Secretion
EXAM I
Mitochondria
"
The Cytoskeleton - Muscle
The Cytoskeleton – Microtubules
The Cytoskeleton – Actin
The Cell Division Cycle
Mitosis Mechanics
"
and Spindle Assembly Checkpoint
"
and Cytokinesis
EXAM II
Readings
Chapter 1
Chapter 1
Chapter 2
Chapter 4
Chapter 11
"
Chapter 12
Chapter 15
Chapter 14 to page 477
Chapter 14 to page 477
Chapter 17
"
"
Chapter 18
Chapter 18
"
"
Recitation Schedule:
Bio 205 Fall 2011
*All recitations are in Wilson 134 unless otherwise noted.
Aug. 29, 30 1) GFP
(http://nobelprize.org/nobel_prizes/chemistry/laureates/2008/index.html;
http://en.wikipedia.org/wiki/Green_fluorescent_protein;
http://www.conncoll.edu/ccacad/zimmer/GFP-ww/GFP-1.htm;
http://www.microscopyu.com/articles/fluorescence/index.html);
2) How to make a "good" antibody for indirect
immunofluorescence microscopy
Sept. 5, 6
Red Blood Cell Experiment
Sept. 12, 13
TA Review problem set questions
Sept. 13
Late Afternoon: REVIEW Exam #1 (TBA)
-go over OLD exam questions with Dr. Salmon
1st EXAM…Friday Sept. 14
Sept. 19, 20
How cells make ATP (review of experiments)
Sept. 26, 27
"Where there is life, there is motion"—Movies
Oct. 3, 4
TA Review of problem set questions
Oct. 7
Late Afternoon: REVIEW Exam #2 ( #TBA)
-go over old exam questions with Dr. Salmon
2nd EXAM…Monday Oct. 8
Part of First Recitation Assignment to be turned-in at your first Recitation
August 29 or 30:
Provide typed paper about the Green Fluorescent Protein (GFP) answering the
following questions:
1. In what organism was GFP discovered, how was it discovered, and what is
its natural function in the organism.
2. What is the molecular weight, and 3-D shape of GFP? What is the
wavelength of light that excites its green fluorescence, and what are the
wavelengths of this fluorescence?
3. Who first discovered the gene for GFP and made cDNA for protein
expression.
4. Who were the three scientists that shared last years Nobel Prize in chemistry
for their work on GFP; what were the significant contributions of each that
won them a share of the prize?
5. Who else do you think should have also been awarded a share of the prize?