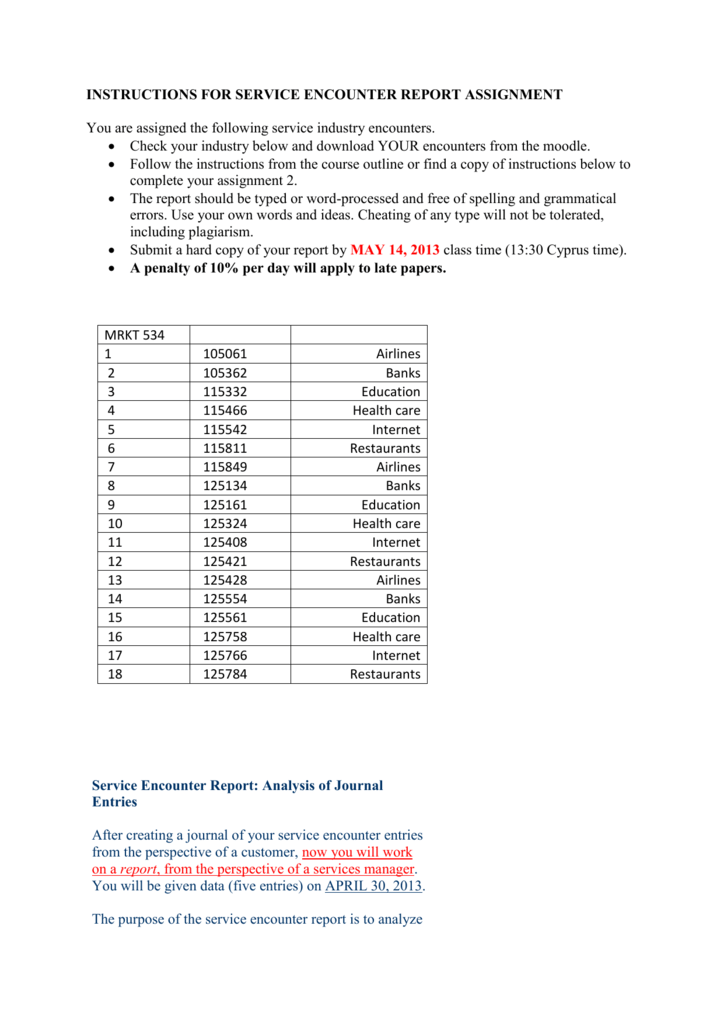 INSTRUCTIONS FOR SERVICE ENCOUNTER REPORT ASSIGNMENT
You are assigned the following service industry encounters.
 Check your industry below and download YOUR encounters from the moodle.
 Follow the instructions from the course outline or find a copy of instructions below to
complete your assignment 2.
 The report should be typed or word-processed and free of spelling and grammatical
errors. Use your own words and ideas. Cheating of any type will not be tolerated,
including plagiarism.
 Submit a hard copy of your report by MAY 14, 2013 class time (13:30 Cyprus time).
 A penalty of 10% per day will apply to late papers.
MRKT 534
1
2
3
4
5
6
7
8
9
10
11
12
13
14
15
16
17
18
105061
105362
115332
115466
115542
115811
115849
125134
125161
125324
125408
125421
125428
125554
125561
125758
125766
125784
Airlines
Banks
Education
Health care
Internet
Restaurants
Airlines
Banks
Education
Health care
Internet
Restaurants
Airlines
Banks
Education
Health care
Internet
Restaurants
Service Encounter Report: Analysis of Journal
Entries
After creating a journal of your service encounter entries
from the perspective of a customer, now you will work
on a report, from the perspective of a services manager.
You will be given data (five entries) on APRIL 30, 2013.
The purpose of the service encounter report is to analyze
service encounters in detail. You will divide them into
"very satisfying" and "very dissatisfying" piles (if you
have). Look through each pile and try to identify any
similarities and differences that seem to exist for each
group. In other words, you will analyze the organizations
that provided the worst and excellent service. Identify
the sources and actions that seem to account for
satisfaction or dissatisfaction with services provided by
the organizations.
Type a (MAX) THREE page paper (double-spaced, oneinch margins, 12 point Times Roman font) analyzing
five encounters in one of the six industry sectors
(airlines, banking, restaurants, education, internet service
providers and healthcare). Try to identify "What makes
customers satisfied or dissatisfied" by applying
Customer Perceptions of Service chapter.
In this paper, be sure to include and discuss relevant
course concepts as you analyze and synthesize your
service encounters. Focus especially on any managerial
implications which might exist. i.e., what should you -as
a service manager- learn from these service encounters?
The service encounter report is due by MAY 14,
2013.