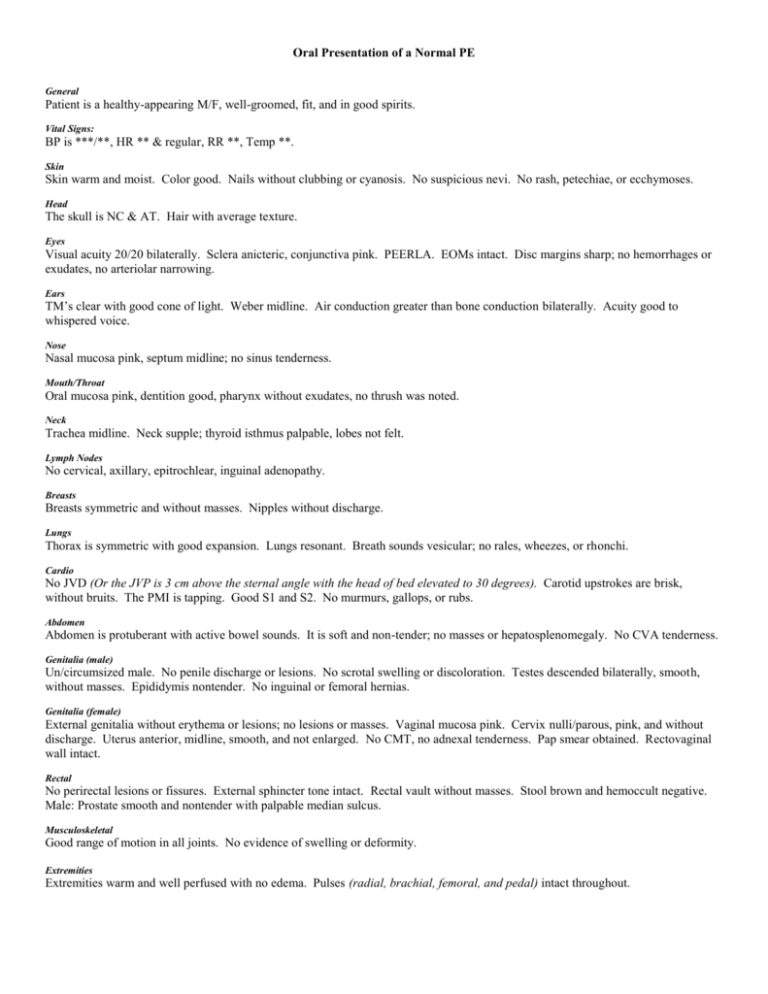 Oral Presentation of a Normal PE
General
Patient is a healthy-appearing M/F, well-groomed, fit, and in good spirits.
Vital Signs:
BP is ***/**, HR ** & regular, RR **, Temp **.
Skin
Skin warm and moist. Color good. Nails without clubbing or cyanosis. No suspicious nevi. No rash, petechiae, or ecchymoses.
Head
The skull is NC & AT. Hair with average texture.
Eyes
Visual acuity 20/20 bilaterally. Sclera anicteric, conjunctiva pink. PEERLA. EOMs intact. Disc margins sharp; no hemorrhages or
exudates, no arteriolar narrowing.
Ears
TM's clear with good cone of light. Weber midline. Air conduction greater than bone conduction bilaterally. Acuity good to
whispered voice.
Nose
Nasal mucosa pink, septum midline; no sinus tenderness.
Mouth/Throat
Oral mucosa pink, dentition good, pharynx without exudates, no thrush was noted.
Neck
Trachea midline. Neck supple; thyroid isthmus palpable, lobes not felt.
Lymph Nodes
No cervical, axillary, epitrochlear, inguinal adenopathy.
Breasts
Breasts symmetric and without masses. Nipples without discharge.
Lungs
Thorax is symmetric with good expansion. Lungs resonant. Breath sounds vesicular; no rales, wheezes, or rhonchi.
Cardio
No JVD (Or the JVP is 3 cm above the sternal angle with the head of bed elevated to 30 degrees). Carotid upstrokes are brisk,
without bruits. The PMI is tapping. Good S1 and S2. No murmurs, gallops, or rubs.
Abdomen
Abdomen is protuberant with active bowel sounds. It is soft and non-tender; no masses or hepatosplenomegaly. No CVA tenderness.
Genitalia (male)
Un/circumsized male. No penile discharge or lesions. No scrotal swelling or discoloration. Testes descended bilaterally, smooth,
without masses. Epididymis nontender. No inguinal or femoral hernias.
Genitalia (female)
External genitalia without erythema or lesions; no lesions or masses. Vaginal mucosa pink. Cervix nulli/parous, pink, and without
discharge. Uterus anterior, midline, smooth, and not enlarged. No CMT, no adnexal tenderness. Pap smear obtained. Rectovaginal
wall intact.
Rectal
No perirectal lesions or fissures. External sphincter tone intact. Rectal vault without masses. Stool brown and hemoccult negative.
Male: Prostate smooth and nontender with palpable median sulcus.
Musculoskeletal
Good range of motion in all joints. No evidence of swelling or deformity.
Extremities
Extremities warm and well perfused with no edema. Pulses (radial, brachial, femoral, and pedal) intact throughout.
Mental status
Patient is AOx3, relaxed, and cooperative. Thought process coherent. Detailed cognitive testing deferred.
Cranial Nerves
I—not tested; II through XII grossly intact/intact to direct testing.
Sensory
Pinprick, light touch, position sense, and vibration intact.
Motor
Good muscle bulk and tone. Strength 5/5 throughout.
Reflexes
2+ and symmetric with plantar reflexes downgoing.
Coordination
Rapid alternating movements, finger-to-nose, heel-to-shin intact. Gait with normal base. No Romberg sign. No pronator drift.