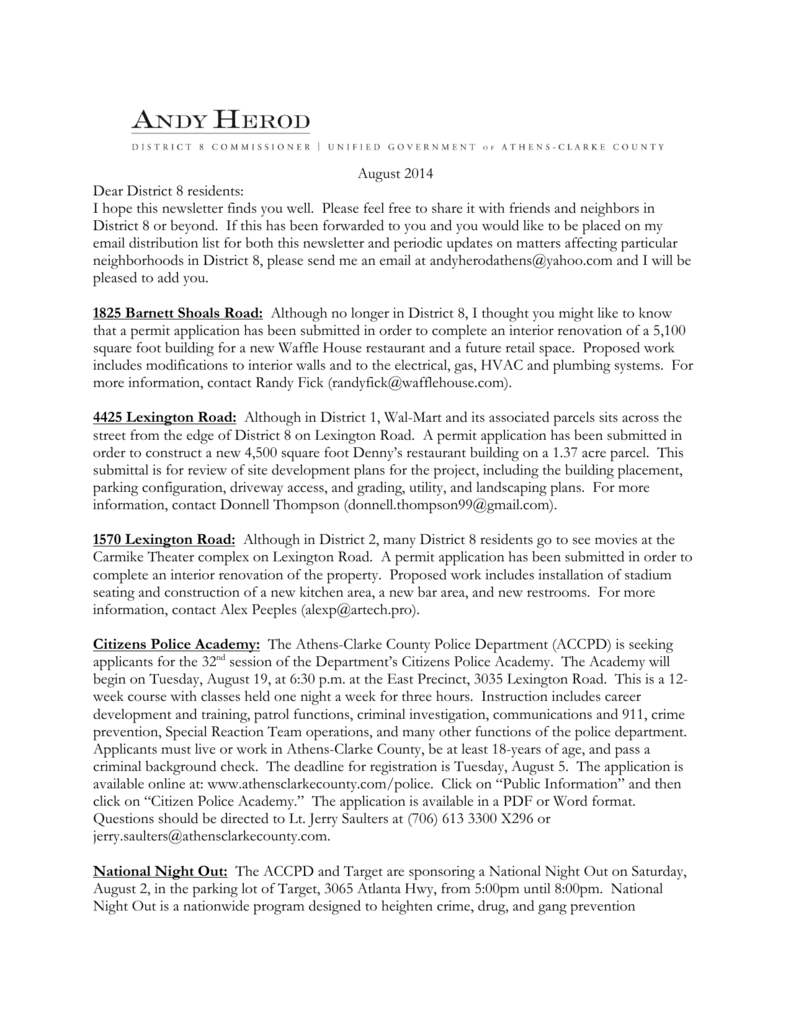 August 2014
Dear District 8 residents:
I hope this newsletter finds you well. Please feel free to share it with friends and neighbors in
District 8 or beyond. If this has been forwarded to you and you would like to be placed on my
email distribution list for both this newsletter and periodic updates on matters affecting particular
neighborhoods in District 8, please send me an email at [email protected] and I will be
pleased to add you.
1825 Barnett Shoals Road: Although no longer in District 8, I thought you might like to know
that a permit application has been submitted in order to complete an interior renovation of a 5,100
square foot building for a new Waffle House restaurant and a future retail space. Proposed work
includes modifications to interior walls and to the electrical, gas, HVAC and plumbing systems. For
more information, contact Randy Fick ([email protected]).
4425 Lexington Road: Although in District 1, Wal-Mart and its associated parcels sits across the
street from the edge of District 8 on Lexington Road. A permit application has been submitted in
order to construct a new 4,500 square foot Denny's restaurant building on a 1.37 acre parcel. This
submittal is for review of site development plans for the project, including the building placement,
parking configuration, driveway access, and grading, utility, and landscaping plans. For more
information, contact Donnell Thompson ([email protected]).
1570 Lexington Road: Although in District 2, many District 8 residents go to see movies at the
Carmike Theater complex on Lexington Road. A permit application has been submitted in order to
complete an interior renovation of the property. Proposed work includes installation of stadium
seating and construction of a new kitchen area, a new bar area, and new restrooms. For more
information, contact Alex Peeples ([email protected]).
Citizens Police Academy: The Athens-Clarke County Police Department (ACCPD) is seeking
applicants for the 32nd session of the Department's Citizens Police Academy. The Academy will
begin on Tuesday, August 19, at 6:30 p.m. at the East Precinct, 3035 Lexington Road. This is a 12week course with classes held one night a week for three hours. Instruction includes career
development and training, patrol functions, criminal investigation, communications and 911, crime
prevention, Special Reaction Team operations, and many other functions of the police department.
Applicants must live or work in Athens-Clarke County, be at least 18-years of age, and pass a
criminal background check. The deadline for registration is Tuesday, August 5. The application is
available online at: www.athensclarkecounty.com/police. Click on "Public Information" and then
click on "Citizen Police Academy." The application is available in a PDF or Word format.
Questions should be directed to Lt. Jerry Saulters at (706) 613 3300 X296 or
[email protected]
National Night Out: The ACCPD and Target are sponsoring a National Night Out on Saturday,
August 2, in the parking lot of Target, 3065 Atlanta Hwy, from 5:00pm until 8:00pm. National
Night Out is a nationwide program designed to heighten crime, drug, and gang prevention
awareness; to generate support for, and participation in, local anti-crime programs; and to strengthen
neighborhood spirit and police-community partnerships. Activities will include the provision of
information by the ACCPD Crime Prevention Unit. ACCPD Traffic officers will also be
conducting child seat safety checks. Members of UGA's Crime Prevention Unit and Bomb and K9
Units will also participate, as will the ACC Fire Department and Project Safe. There will be free
food, face painting, balloon figures, and other safety/health resources for the entire family.
Cell Tower at Cedar Shoals High School: Several people have asked me about the cell tower at
CSHS and how its construction is progressing. Thanks to the kind help from your Board of
Education representative David Huff, Clarke County School District officials have provided me
several updates during the summer as to the project's status. So far the cell tower has been installed
and the work crew has been engaged in activities such as building antenna and radio assemblies and
an antenna platform, as well as directional boring for fiber conduit under the driveway leading to the
ball field. It is my understanding that the need to have heavy equipment on the site has now pretty
much passed. The cell tower contractor plans for the site to be relatively inactive during August as a
fiber software circuit design will probably not be completed until sometime in September. After that
some fine tuning will need to be done, which may involve some small vehicles on the site. The
contractor hopes that all work will be completed so that AT&T will have a launch of the new tower
by the end of the year.
Red-light camera now operational at Gaines School Rd/ Barnett Shoals Rd intersection:
Those of you who regularly pass through the Gaines School Rd/ Barnett Shoals Rd intersection will
perhaps have noticed that a red-light camera system has been installed and is now in operation. This
intersection has been one of the worst – if not the worst – for red-light-running in the entire county,
which is why the cameras have been installed. In my admittedly non-scientific study I have already
noticed a significant decline in red-light-running. Contrary to some popular belief, red-light cameras
are not installed to generate revenue but to improve safety. Indeed, if no one runs the light – our
goal! – then the county will receive no revenue from tickets! Please note that the camera will
photograph you if you do not come to a complete halt when turning on red from Gaines School
Road right onto Barnett Shoals Road. It is illegal in Georgia to engage in a "rolling stop" through a
red-light, whether there is a camera there or not.
Update on College Station Road work: Several constituents have asked me for an update on
work on College Station Road, so here are some highlights. The final date for completion of the
project has been set as October 31, 2016, though the contractor (E.R. Snell) hopes to have all work
completed about three months before then, assuming that they do not lose work days due to
inclement weather. Most of the aerial utilities have been moved and underground utilities will be
moved as the project proceeds. E.R. Snell is currently working through the caisson design and
approval process. The caissons will be constructed within the river bed itself and will extend about
15 feet below the ground level. This should take between 45 and 60 days to complete, based on the
current river flow rates and anticipated river levels. E.R. Snell anticipates beginning work after the
first UGA home football game. This is to avoid congestion on the bridge and to avoid the
restrictions that GDOT places on work being done over the Labor Day holiday.
Finally, a thought for the month: "Courage is what it takes to stand up and speak; courage is also
what it takes to sit down and listen." Winston Churchill (November 30, 1874 – January 24, 1965,
British Prime Minister and author).