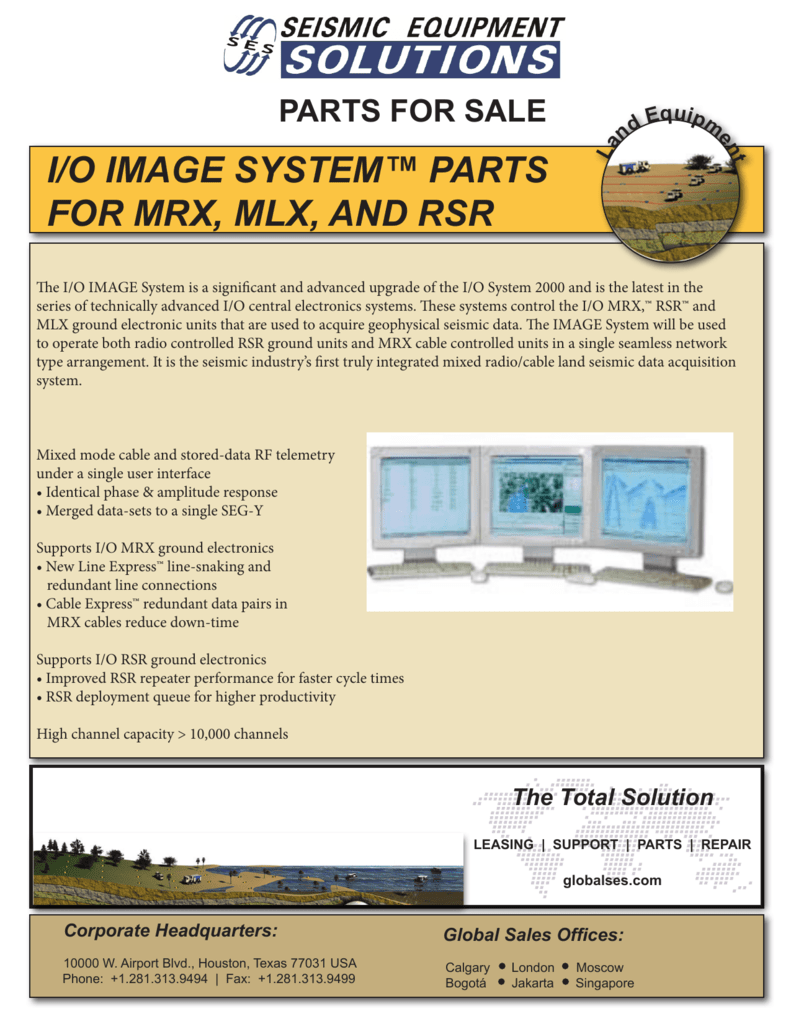 quipm
t
en
I/O IMAGE SYSTEM™ PARTS
FOR MRX, MLX, AND RSR
E
d
n
La
PARTS FOR SALE
The I/O IMAGE System is a significant and advanced upgrade of the I/O System 2000 and is the latest in the
series of technically advanced I/O central electronics systems. These systems control the I/O MRX,™ RSR™ and
MLX ground electronic units that are used to acquire geophysical seismic data. The IMAGE System will be used
to operate both radio controlled RSR ground units and MRX cable controlled units in a single seamless network
type arrangement. It is the seismic industry's first truly integrated mixed radio/cable land seismic data acquisition
system.
Mixed mode cable and stored-data RF telemetry
under a single user interface
• Identical phase & amplitude response
• Merged data-sets to a single SEG-Y
Supports I/O MRX ground electronics
• New Line Express™ line-snaking and
redundant line connections
• Cable Express™ redundant data pairs in
MRX cables reduce down-time
Supports I/O RSR ground electronics
• Improved RSR repeater performance for faster cycle times
• RSR deployment queue for higher productivity
High channel capacity > 10,000 channels
The Total Solution
LEASING | SUPPORT | PARTS | REPAIR
globalses.com
Corporate Headquarters:
Global Sales Offices:
10000 W. Airport Blvd., Houston, Texas 77031 USA
Phone: +1.281.313.9494 | Fax: +1.281.313.9499
Calgary
Bogotá
London
Jakarta
Moscow
Singapore
I/O IMAGE SYSTEM
SPECIFICATIONS
Overall Features
The I/O IMAGE System is unique in its ability to fully integrate both radio and cable based land seismic data
recording under a single user-control interface. This improves the operational efficiencies of the crew and
reduces the delays and errors common on other 'master/slave' type operations. Providing a single data-set
to processing with identical input filter responses for both the cable and radio channels reduces delays in
processing turnaround.
The system can be configured for mixed mode operations or for MRX only, or RSR only. As the central's software
is identical for each configuration, training requirements are reduced.
The central electronics is built on a VME chassis, utilizing a design philosophy that permits rapid hardware and
software upgrades to expand its capabilities. Channel for channel, the I/O IMAGE System deploys the smallest
central electronics in the industry.
Technical Features
Single User Interface
•
•
•
•
•
•
•
•
Exception reporting
User-definable colors
Transparent color option
Spread map underlay assists with production planning
Import off the shelf imagery or databases
Layered images
User-configurable hot keys
Areal selection of stations
I/O Image™ Plot System
• Independent from the control GUI
• Time Series data display (A & B views)
Operator option to define independent
parameters between screen and plotter
• Trace power spectrum display
• Map display with underlay
• Interaction between time series display and map
display for fast identification and location of problems • Source tracking on map view
• Spare MLI
• New ESM External SCSI Module
Visit www.globalses.com to find out more.