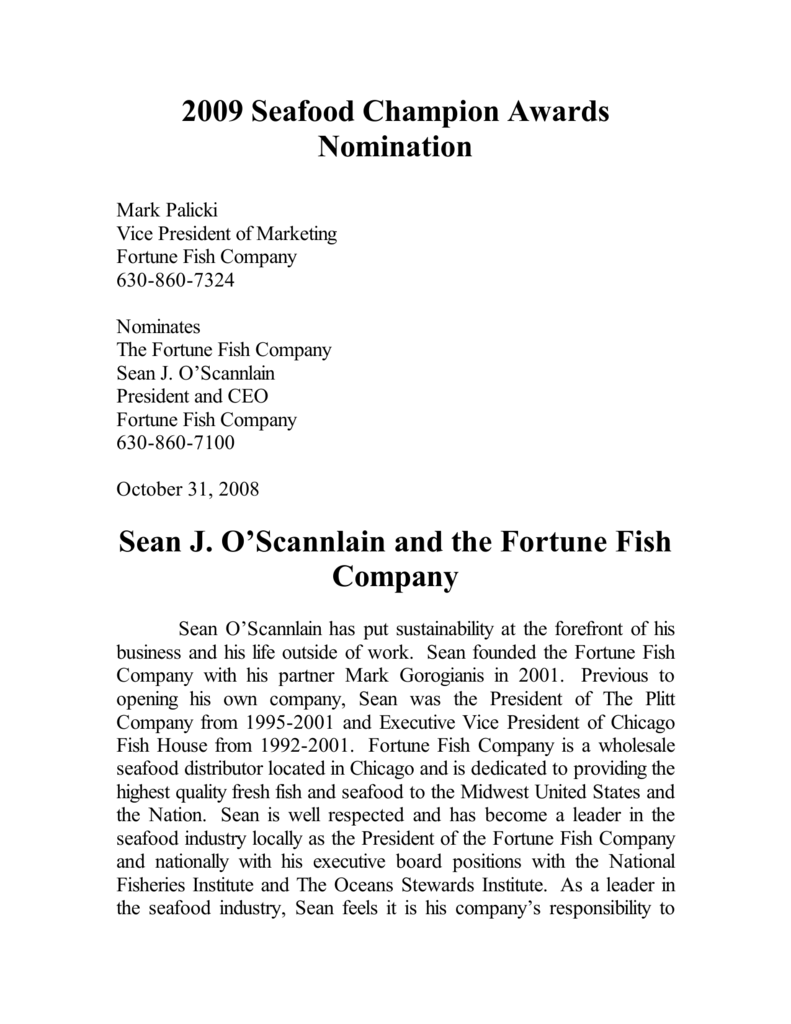 2009 Seafood Champion Awards
Nomination
Mark Palicki
Vice President of Marketing
Fortune Fish Company
630-860-7324
Nominates
The Fortune Fish Company
Sean J. O'Scannlain
President and CEO
Fortune Fish Company
630-860-7100
October 31, 2008
Sean J. O'Scannlain and the Fortune Fish
Company
Sean O'Scannlain has put sustainability at the forefront of his
business and his life outside of work. Sean founded the Fortune Fish
Company with his partner Mark Gorogianis in 2001. Previous to
opening his own company, Sean was the President of The Plitt
Company from 1995-2001 and Executive Vice President of Chicago
Fish House from 1992-2001. Fortune Fish Company is a wholesale
seafood distributor located in Chicago and is dedicated to providing the
highest quality fresh fish and seafood to the Midwest United States and
the Nation. Sean is well respected and has become a leader in the
seafood industry locally as the President of the Fortune Fish Company
and nationally with his executive board positions with the National
Fisheries Institute and The Oceans Stewards Institute. As a leader in
the seafood industry, Sean feels it is his company's responsibility to
provide, promote and market sustainable seafood products from wild
fisheries and aquaculture.
Sean has been a member of the National Fisheries Institute
since 1992 and has been on the board of directors since 2004. He is
also the Chairman of FishPac, the NFI's political action committee. He
travels all over the country on his own time to attend meetings and
contribute to the ongoing efforts of the NFI. Through Sean's direction,
the Fortune Fish Company is MSC Chain of custody certified a
member of Seafood Choices Alliance, Global Aquaculture Alliance,
The Chef's Collaborative and The Oceans Stewards Institute. Sean
has shown his dedication as an agent of change with-in the Fortune Fish
Company and the industry by becoming involved with these
organizations as a decision maker and not just by paying the monthly
dues. He has also developed the Fortune Fish Sustainability Initiative to
help make a local change toward sustainability.
In this signature Initiative, Sean brings the leaders from the
seafood, conservation, research, educational, restaurant, hotel, private
club and retail food service industries together to promote sustainable
seafood. Through this initiative Sean has increased the awareness and
sales of sustainable seafood, with the ultimate goal of affecting the long
term health of the ocean environment and its wonderful supply of
resources.
Fortune Fish Company makes its sustainable seafood choices in
partnership with the John G. Shedd Aquarium's Right Bite sustainable
seafood program. We celebrate a sustainable seafood choice every
two months by marketing and promoting the products through our
website, newsletter, marketing department and sales associates. For
every pound of celebrated seafood sold during the two months, Fortune
Fish donates a portion of its profits to non-profit conservation
organizations that are committed to the future health and supply of our
seafood resources.
The initiative has been an invaluable investment of time and
money. Not only has Fortune Fish increased the awareness of
sustainable seafood with our customers, but has also increased the
market and sales of sustainable seafood. Through this initiative we have
nearly tripled the sales of all the products we have celebrated. In the
case of Laughing Bird Shrimp from Belize, we were selling 40 pounds
per week before the initiative and after the two months we increased
sales to 1,000 pounds per week. We have currently donated over
$10,000 to various conservation organizations across the nation.
Sean's accomplishments with the Fortune Fish Company merit
a Seafood Champions Award because he has influenced and served as
a role model to myself and others that work for or with the Fortune Fish
Company. He has taught us all to focus on one thing at a time and do it
well, which is helping to advance our company and the companies we
touch towards sustainability. We have over 1,500 customers that we
have raised awareness of sustainability to and they in turn can take that
knowledge to the public they serve.
I believe the Sustainability Initiative and all of the offshoot
programs that are developing from it are very creative and innovative.
It is wonderful to se so many different organizations within the seafood
industry come together for two months for one sustainable product.
We believe this approach makes sense, to focus on one product at a
time and to stay focused, as Sean has taught us all to do.
Respectfully,
Mark Palicki
Vice President of Marketing
Fortune F is h Com pa ny
1068 Thorndale Ave
Bensen v il le, IL 60106
T: 630-860-7324
C: 630-303-8391
F : 630-860-7400
w w w. fortunefis hco.net
The information contained in this email and any attachments may be privileged,
confidential, and/or proprietary and is intended solely for the use of the person(s) to
whom it is addressed. If you are not the intended recipient, any review,
retransmission, dissemination or any other use of the information contained in this
email and any attachments is strictly prohibited. If you have received this
communication in error, please notify the sender immediately by replying to this
email. Fortune Fish Company, LLC does not accept responsibility for any changes
made to the information contained in this communication after it was originally sent.