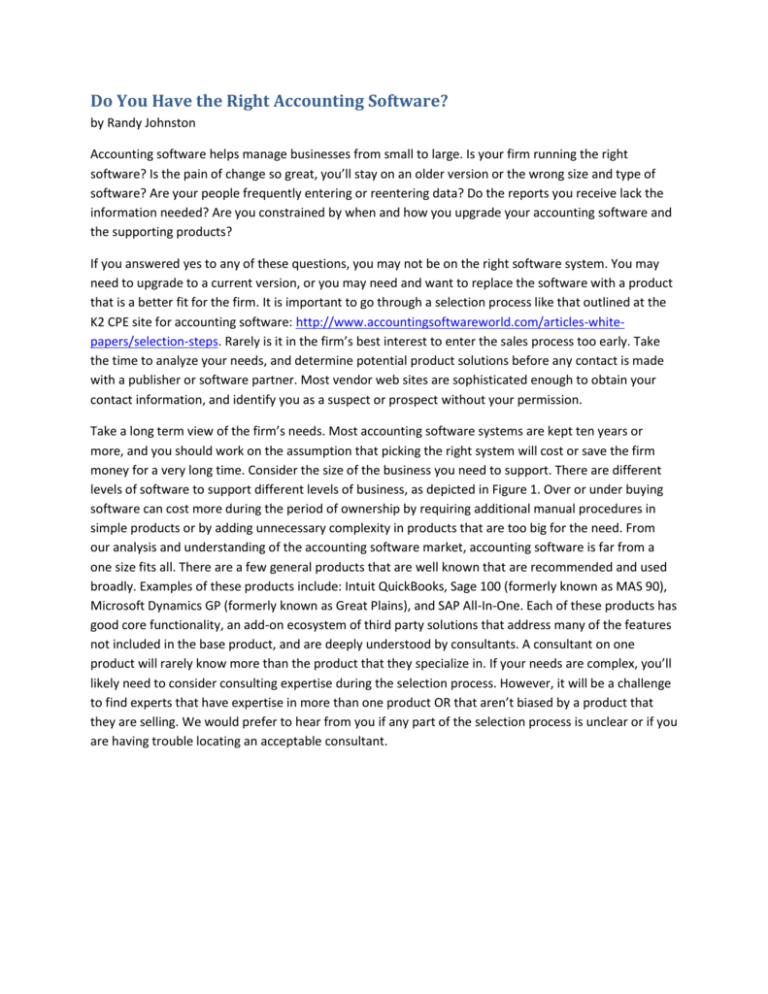 Do You Have the Right Accounting Software?
by Randy Johnston
Accounting software helps manage businesses from small to large. Is your firm running the right
software? Is the pain of change so great, you'll stay on an older version or the wrong size and type of
software? Are your people frequently entering or reentering data? Do the reports you receive lack the
information needed? Are you constrained by when and how you upgrade your accounting software and
the supporting products?
If you answered yes to any of these questions, you may not be on the right software system. You may
need to upgrade to a current version, or you may need and want to replace the software with a product
that is a better fit for the firm. It is important to go through a selection process like that outlined at the
K2 CPE site for accounting software: http://www.accountingsoftwareworld.com/articles-whitepapers/selection-steps. Rarely is it in the firm's best interest to enter the sales process too early. Take
the time to analyze your needs, and determine potential product solutions before any contact is made
with a publisher or software partner. Most vendor web sites are sophisticated enough to obtain your
contact information, and identify you as a suspect or prospect without your permission.
Take a long term view of the firm's needs. Most accounting software systems are kept ten years or
more, and you should work on the assumption that picking the right system will cost or save the firm
money for a very long time. Consider the size of the business you need to support. There are different
levels of software to support different levels of business, as depicted in Figure 1. Over or under buying
software can cost more during the period of ownership by requiring additional manual procedures in
simple products or by adding unnecessary complexity in products that are too big for the need. From
our analysis and understanding of the accounting software market, accounting software is far from a
one size fits all. There are a few general products that are well known that are recommended and used
broadly. Examples of these products include: Intuit QuickBooks, Sage 100 (formerly known as MAS 90),
Microsoft Dynamics GP (formerly known as Great Plains), and SAP All-In-One. Each of these products has
good core functionality, an add-on ecosystem of third party solutions that address many of the features
not included in the base product, and are deeply understood by consultants. A consultant on one
product will rarely know more than the product that they specialize in. If your needs are complex, you'll
likely need to consider consulting expertise during the selection process. However, it will be a challenge
to find experts that have expertise in more than one product OR that aren't biased by a product that
they are selling. We would prefer to hear from you if any part of the selection process is unclear or if you
are having trouble locating an acceptable consultant.
Enterprise
(9,000 Companies)
Employees 2500+, >$1B Rev
Large SMB
(100,000 Companies)
Employees 500-2500, $250M-$1B Revenue
Medium SMB
(600,000 Companies)
Employees 100-499, $50M-$250M Revenue
AccountingRelief ®
Small SMB
(3.2M Companies)
Employees 5-99, $1-50M Revenue
Entry
(23M Companies)
Employees 1-4, < $1M Revenue
Figure 1
Consider the Solutions
There are approximately 300 accounting software products sold in the U.S. market. Around 40 products
sold are Software as a Service (SaaS noted in options below) that run completely in a web browser. As a
rule, the SaaS products will have fewer features than the traditional products offered by publishers
during the last 20-30 years. Most of the products that can be installed in-house are also offered in a
hosted version today. Further, the pricing of these traditional on premise products is usually available in
two forms: monthly subscription or purchase with annual maintenance.
Entry level products today include:
1) Intuit QuickBooks and QuickBooks Online (SaaS) – both are U.S. market leaders in their respective
categories.
2) Sage 50 Pro, Premier and Quantum – Good inventory, costing, payroll and reporting capabilities
make this product an attractive choice for slightly larger organizations that need more users.
3) CYMA – notable for the payroll and human resources capabilities and low cost of ownership.
4) Wave (SaaS) – a free SaaS product with good accountant access and a payroll option.
5) Accounting Power (SaaS) – a product offered through accounting firms that has good accounting
capability including payroll.
Small to Medium Business (SMB) products today include:
1) Open Systems TRAVERSE – a product that has good personalization capabilities, and has specialties
in a number of verticals including not for profit, services, distribution and flexible packaging.
2) Sage 100, 300 and X3 – Sage has more installations in the U.S. market and globally than any other
accounting software publisher. These products are frequently used in distribution and
manufacturing and have broad third party support to fit many vertical markets.
3) Microsoft Dynamics GP, SL, NAV and AX – Microsoft has four different offerings with unique
capabilities in each of the product lines. Dynamics GP is well known for general accounting, costing
and inventory. The NAV and AX lines have the most customization capability.
4) NetSuite (SaaS) – this publicly held company has good CRM and eCommerce integration in their
offering. It also handles international currencies.
5) SAP Business ByDesign (SaaS) – a comprehensive, integrated financial and distribution product that
offers a multi-perspective GL for unique reporting needs.
6) Intacct (SaaS) – promoted by the AICPA's CPA2Biz unit, this product has inventory, costing and third
party integration as well as entry level accounting capability.
Enterprise (ERP) products today include:
1) SAP All-in-One – one of the leading high end systems globally. There are few business situations that
SAP can't handle.
2) Oracle Financials – Oracle has purchased a broad number of companies and integrated the
functionality into their mainstream product. Much of Oracle's revenue comes from their robust
database.
3) Infor Lawson and FMS – Infor has been buying software companies that specialize in higher end
distribution and manufacturing.
4) Workday (SaaS) – the product created by this company is a new generation Enterprise product that
doesn't require a lot of infrastructure, and could reasonably compete at the high end of the market.
These examples are not recommendations, because we believe you need a reasonable system selection
process to fit a product to your needs. Some attributes to consider when buying SaaS/Cloud products vs.
traditional on premise products that can be installed in-house or hosted, are in Figure 2.
Comparing The Options
Cloud
On-Premise
•
•
•
•
•
•
•
•
•
•
•
•
•
•
•
•
•
•
•
•
Subscription based services
Maintained by 3rd party
Data stored somewhere else
Multiple solution providers
Execution through a browser
Data secured by third party
Immature - limited features
Very scalable
How will my data convert
Built-in disaster recovery
Purchase the solution
Stored and maintained locally
Store & protect data locally
Single source solutions
Client/server implementation
Data security is up to you
Mature code is feature rich
Heavy investment to scale
Data fairly easy to convert
Disaster recovery is up to me
Copyright © 2014 K2 Enterprises, LLC. Reproduction or reuse for purposes other than a K2 Enterprises' training event is prohibited.
Figure 2
What To Do
If you determine your firm needs to replace accounting software, attend a K2 CPE course on accounting
software either in person or in a webinar sponsored by your state society. Once you understand some of
your options and the process, begin a needs analysis. Supplement your understanding of the firm's
needs by using The Accounting Library selection tool. Spend a few days in demonstrations of how the
potential products fit your needs; negotiate your contract, make the purchase, and implement.
Vendors will do everything they can to shorten the sales cycle and get you to make a decision fast. This
is to their advantage as a method to eliminate the competition. If a product is a good fit now, it will be a
good fit later. Don't overanalyze, but the worst mistake of all is not spending enough time on
determining needs and due diligence. Be thorough in your selection process!
Randy Johnston is executive vice president of K2 Enterprises.
A special group of ASCPA members will meet to discuss Drake software at 9am on Jan 30 in the ASCPA
offices. If you are interested in attending this group, or if you have software-related questions or are
interested in being part of a user group for a specific software, please contact Nikki Dillon at
ndillon@ascpa.com for information on how you can connect with other ASCPA members.