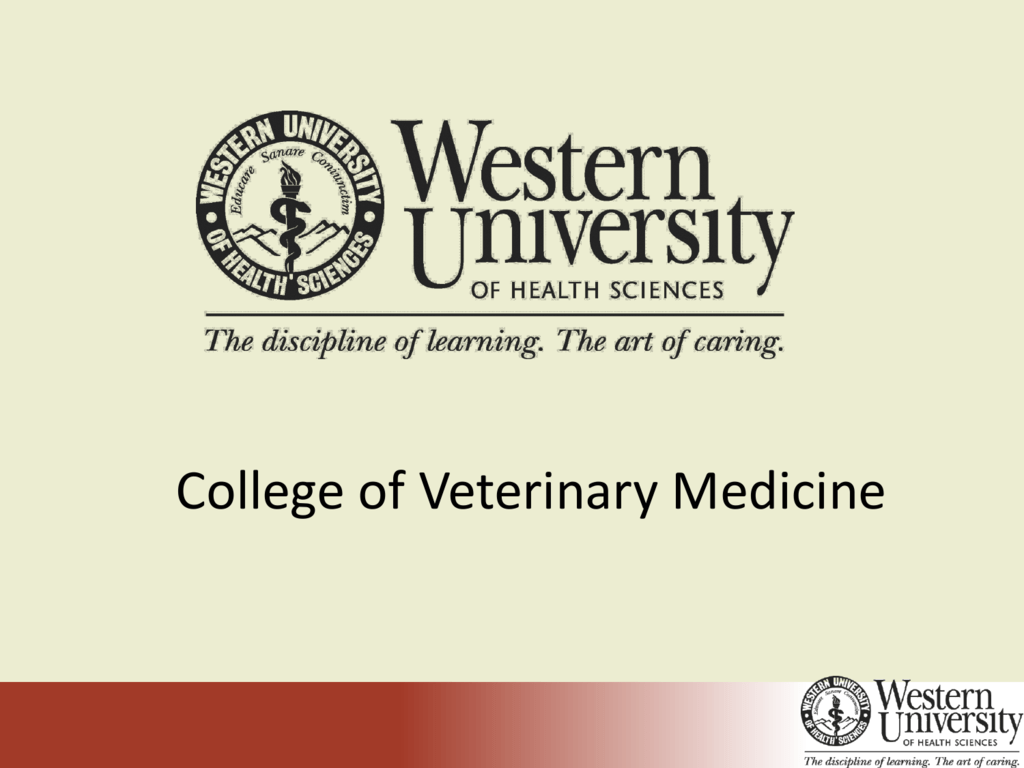 College of Veterinary Medicine
Greg James
University Recruiter
[email protected]
About WesternU
 Private, non-profit, health
sciences graduate
institution founded in
1977
 3,700 students enrolled in
21 programs
 Variety of student clubs in
21 programs
Pomona, California
Mission Statement
 The mission of Western University of Health
Sciences is to produce, in a humanistic tradition,
health care professionals and biomedical
knowledge that will enhance and extend the
quality of life in our communities.
"Skilled hands and compassionate hearts will continue to be the
signature of all our graduates – exactly what is needed in
health care today."
- Founding President Philip Pumerantz
Student Life
 Community Outreach
 Community clinic on campus
 Student Clubs and Organizations
 Currently over 90+ student clubs and
organizations (17 Vet Med)
The Daumier
• 202 units
• Concierge services available
which offers dry cleaning and
grocery delivery.
• Wireless internet throughout the
building.
• Fitness center, pool, and study
lounges located on the property.
WesternU
9 Colleges -21 Degree Programs
 College of Osteopathic Medicine
 Doctor of Osteopathic Medicine
 Campus in Lebanon, Oregon








College of Allied Health Professions
College of Pharmacy
College of Graduate Nursing
College of Veterinary Medicine
College of Podiatric Medicine
College of Dental Medicine
College of Optometry
Graduate College of Biomedical Sciences
What Makes WesternU Unique
Comprehensive Health Sciences University
Masters and Graduate Level Degrees
Interprofessional Education
 Patient Care Center
 Banfield Pet Hospital
Accreditation
 The College of Veterinary Medicine received full
accreditation by the American Veterinary
Medical Association (AVMA) Council on
Education (COE) in March 2010.
 Western University of Health Sciences is fully
accredited by Western Association Schools and
Colleges (WASC).
CVM Founding Commitments
 Student-centered, life-long
learning
 Reverence For Life
Willed deceased Animals for
Veterinary Education (WAVE)
Program
 Excellence in clinical
education through strategic
partnerships
Curriculum/Patient Care Experiences
Years 1 & 2:
 PBL Format
 Veterinary Basic Sciences (VBS)
 Molecular and Cellular Biology
(MCB)
 Veterinary Issues (VI)
 Veterinary Clinical Skills (VCS)
 PBL's are real cases developed by
faculty
 Basic sciences are learned within the
context of the case
 Learning is not limited to "just the
facts" – Students master teamwork
skills, search strategies and
communication
 PBL Support
 PBL Rooms
 Lecture Hall for Grand Rounds
DVM 2018 Academic Schedule
MONDAY
2018
TUESDAY
2018
WEDNESDAY
2018
THURSDAY
2018
8:00 AM
8:30 AM
9:00 AM
Clinical Skills
Grand Rounds
9:30 AM
10:00 AM
10:30 AM
11:00 AM
VBS PBL
Session 1
Clinical Skills
Rotations-As
Scheduled
VBS PBL
Session 2
Clinical Skills
Rotations-As
Scheduled
FRIDAY
2018
Clinical Skills
Only As
Scheduled
VBS PBL
Session 3
11:30 AM
12:00 PM
12:30 PM
1:00 PM
1:30 PM
MDC
Vet Issues
MDC/BSL
MCB
2:00 PM
2:30 PM
3:00 PM
3:30 PM
4:00 PM
4:30 PM
MDC
IPE
MDC/BSL
GR Monday
Holiday
Problem-based Learning
First Year Students at
Cal Poly Pomona
Veterinary Issues Course
Leadership
The Role of Animals
in Society
Professionalism
Business and
Practice
Management
The Veterinary
Profession
Animal Issues
Communication
Skills
Ethics
Veterinary and
Animal Law
Curriculum/Patient Care Experiences
Year 3














Year 4
Required On- & Off-Site Rotation

Junior Presentation

Intro to Practice Management (1)
Small Animal Practice (6)

Livestock/Food Animal Practice (4)
Equine Practice (4)
Surgery/Anesthesia (4)
Population Health & Production (2)
Diagnostic Lab & Pathology (2)
Lab Animal Medicine (2)
Zoo Animal & Wildlife (2)
Veterinary Public Health (2)
Food & Feed Safety(2)
USDA Accreditation & International Med. (2)
Selective Rotations (32 weeks: 8 rotations
4 weeks)
Senior Presentation (based on above
rotations)
Independent Research with Thesis Option
Veterinary Ambulatory Community Services
(VACS) Program
Third Year Rotations
Third Year Rotations
At-A-Glance
Degree (DVM) Doctor of Veterinary Medicine
Class size
Applications Received
Interviews Granted
Classes Start
Annual Tuition
105
872
399
August
$49,635*
GPA Average
3.30 Overall
GRE
520 Verbal
520 Quantitative
4.00 Analytical Writing
*2014-2015 Academic Year
Application Process
 Primary Application - Veterinary Medical
College Application Service (VMCAS)
 Applications available June 1st
 Submit ALL transcripts directly to VMCAS by
September 1st
 Deadline October 2nd (1:00pm EDT)

Secondary Application
on WesternU website June 1st
 Deadline October 2nd (11:59pm PDT)
 Available
Prerequisites/Requirements
Courses
Semester Units
Quarter Units
Organic Chemistry with Lab
3
4
Biochemistry*
3
4
Upper Division Biological and Life Sciences*
9
12
Microbiology*
3
4
Upper Division Physiology (with or without lab)*
3
4
Genetics or Molecular Biology*
3
4
General Physics with Lab
6
8
Statistics
3
4
English Composition
6
8
Humanities/Social Sciences
9
12
** Minimum 500 hours of animal experience
** No time restriction on prerequisites
DVM Prerequisite Database
Veterinary Public Health Program
(DVM/MPH)
University of Minnesota
College of Veterinary Medicine
School of Public Health
and
Western University of Health Sciences
College of Veterinary Medicine
Veterinary Public Health Program
(DVM/MPH)
Jumpstart your career in public health
 An integrated curriculum supporting work toward
both the DVM and MPH
 Use 4th year rotations to accomplish field experience
and finish MPH project
Financial Aid
• Questions?
– [email protected]
• Our Financial Aid Advisors will be happy to
help you:
– 1 (800) 346-1610
• Tuition
– $ 49,635 per year (for 2014-2015 academic year)
What Should I Do Now?
 Official Transcripts
 Letters of Recommendation
 require 3 letters (professionals, academia)
 Personal Statement or Questionnaire
 Deadlines
 Be mindful of deadlines, as late applications will not be
accepted.
 Apply early to avoid worrying about deadlines.
Questions?
Please contact the Office of University Recruitment
Greg James
(909) 469-5246
[email protected]
Attend Preview Day!
prospective.westernu.edu/campusevents
(November 22nd)
The End!