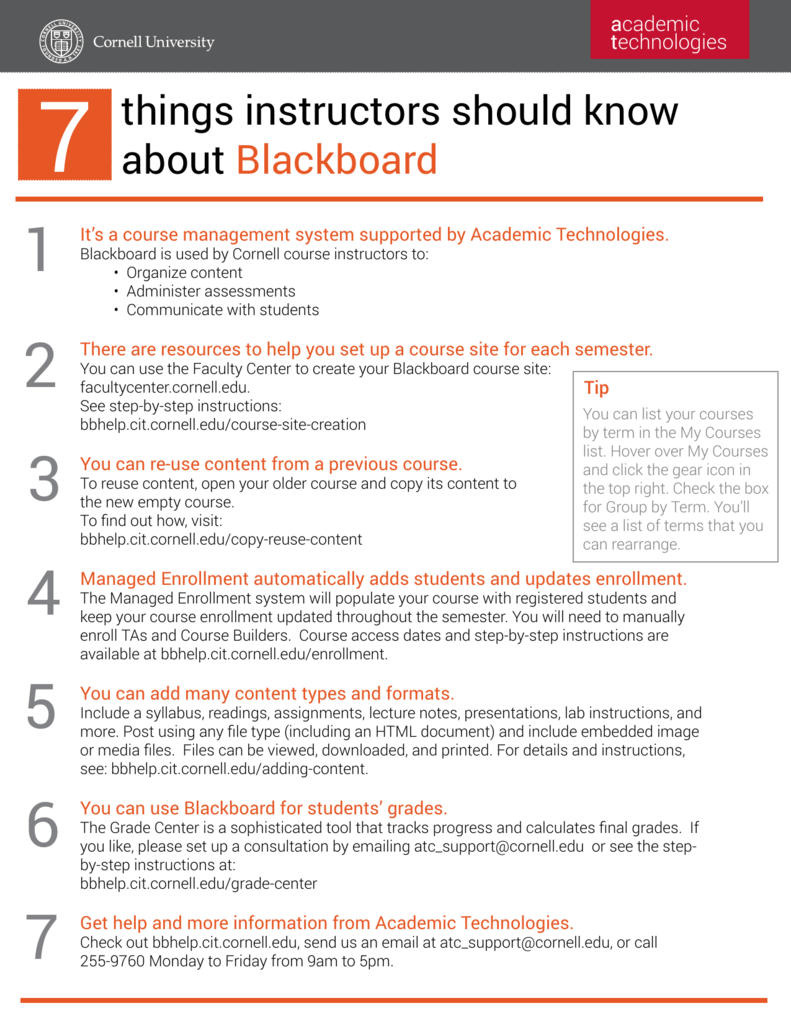 academic
technologies
7
1
2
3
4
5
6
7
things instructors should know
about Blackboard
It's a course management system supported by Academic Technologies.
Blackboard is used by Cornell course instructors to:
• Organize content
• Administer assessments
• Communicate with students
There are resources to help you set up a course site for each semester.
You can use the Faculty Center to create your Blackboard course site:
facultycenter.cornell.edu.
See step-by-step instructions:
bbhelp.cit.cornell.edu/course-site-creation
You can re-use content from a previous course.
To reuse content, open your older course and copy its content to
the new empty course.
To find out how, visit:
bbhelp.cit.cornell.edu/copy-reuse-content
Tip
You can list your courses
by term in the My Courses
list. Hover over My Courses
and click the gear icon in
the top right. Check the box
for Group by Term. You'll
see a list of terms that you
can rearrange.
Managed Enrollment automatically adds students and updates enrollment.
The Managed Enrollment system will populate your course with registered students and
keep your course enrollment updated throughout the semester. You will need to manually
enroll TAs and Course Builders. Course access dates and step-by-step instructions are
available at bbhelp.cit.cornell.edu/enrollment.
You can add many content types and formats.
Include a syllabus, readings, assignments, lecture notes, presentations, lab instructions, and
more. Post using any file type (including an HTML document) and include embedded image
or media files. Files can be viewed, downloaded, and printed. For details and instructions,
see: bbhelp.cit.cornell.edu/adding-content.
You can use Blackboard for students' grades.
The Grade Center is a sophisticated tool that tracks progress and calculates final grades. If
you like, please set up a consultation by emailing [email protected] or see the stepby-step instructions at:
bbhelp.cit.cornell.edu/grade-center
Get help and more information from Academic Technologies.
Check out bbhelp.cit.cornell.edu, send us an email at [email protected], or call
255-9760 Monday to Friday from 9am to 5pm.