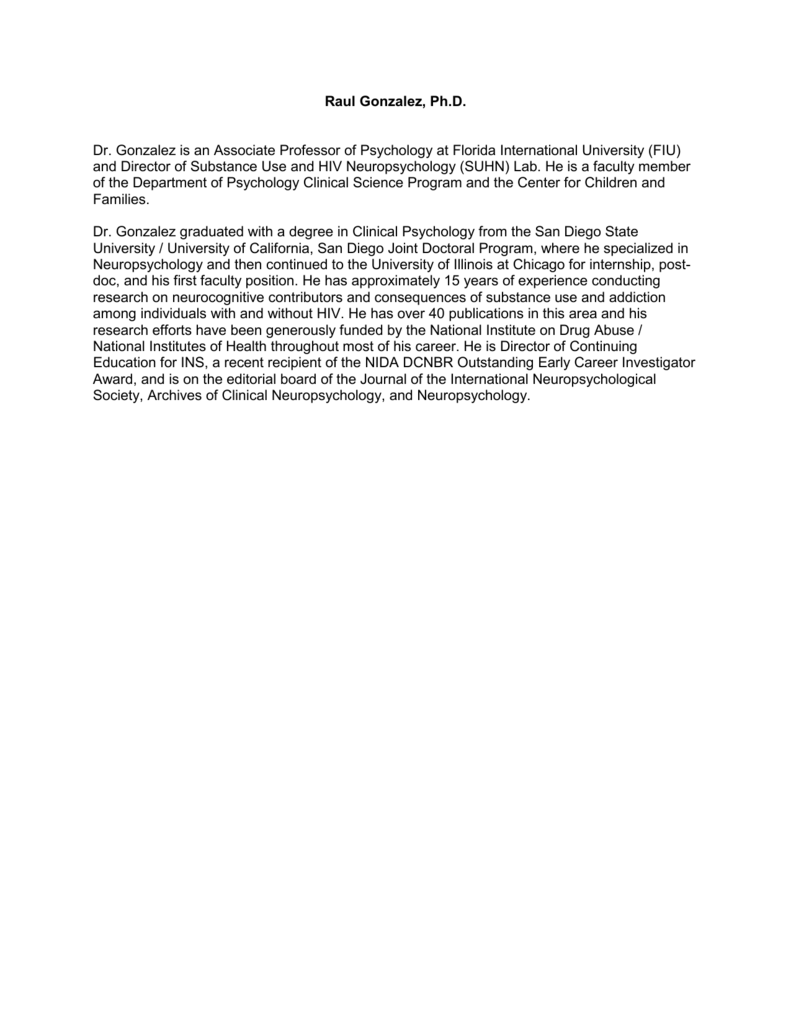 Raul Gonzalez, Ph.D.
Dr. Gonzalez is an Associate Professor of Psychology at Florida International University (FIU)
and Director of Substance Use and HIV Neuropsychology (SUHN) Lab. He is a faculty member
of the Department of Psychology Clinical Science Program and the Center for Children and
Families.
Dr. Gonzalez graduated with a degree in Clinical Psychology from the San Diego State
University / University of California, San Diego Joint Doctoral Program, where he specialized in
Neuropsychology and then continued to the University of Illinois at Chicago for internship, postdoc, and his first faculty position. He has approximately 15 years of experience conducting
research on neurocognitive contributors and consequences of substance use and addiction
among individuals with and without HIV. He has over 40 publications in this area and his
research efforts have been generously funded by the National Institute on Drug Abuse /
National Institutes of Health throughout most of his career. He is Director of Continuing
Education for INS, a recent recipient of the NIDA DCNBR Outstanding Early Career Investigator
Award, and is on the editorial board of the Journal of the International Neuropsychological
Society, Archives of Clinical Neuropsychology, and Neuropsychology.