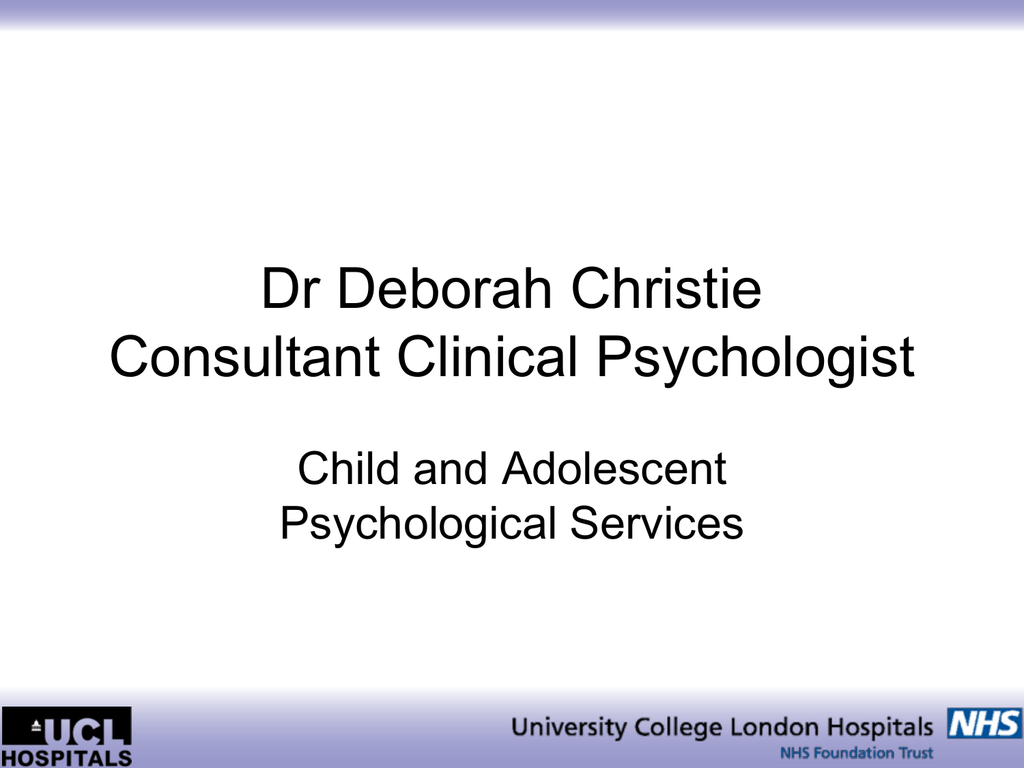 Dr Deborah Christie
Consultant Clinical Psychologist
Child and Adolescent
Psychological Services
Rheumatology
Endocrinology
Orthopaedics
Metabolic
Surgery
Urology
Haematology
Oncology
Fatigue
Chronic Pain
Chronic Pain
Diabetes
Healthy Eating
and Lifestyle
Programme
(HELP)
Late effects of
cancer
Neuropsychology
Medical
Team
Multidisciplinary
team meeting
Specialist psychology
Mysterious llness!
Local
Services
Specialist
Neuropsychology
Individual
therapy
Review
Consultation with
Psychology
Family
Therapy
MDT
work
Group
Work
Ongoing
Consultation
Our starting point
• What has been
helpful before?
• What has not
been helpful?
• What could we do
differently?
Focusing on the solution
Skills, Strengths
and Abilities
Preferred futures?
New stories?
Goodenough?
Bladder Exstrophy
• Feeling "normal but
not "normal"
• Disclosure
• Bullying
How bovvered are you?
• How Important is it that you
change?
• How Confident are you that you
could succeed?
• How much of a Priority is it?
1
2
3
4
5
6
7
8
9
10
Make the intervention fit the patient
not the patient fit the intervention?
Low Confidence
Low Importance
Low/High Priority
High Confidence
Low importance
Low/High Priority
Low Confidence
High Importance
Low/High Priority
High Confidence
High Importance
Low Priority
High Confidence
High Importance
High Priority
Disadvantages
of Status Quo
Advantages
of Change
Leading or following?
Ginger Rogers could do
everything that Fred
Astaire could do only she could do it
backwards and in high
heels!!!