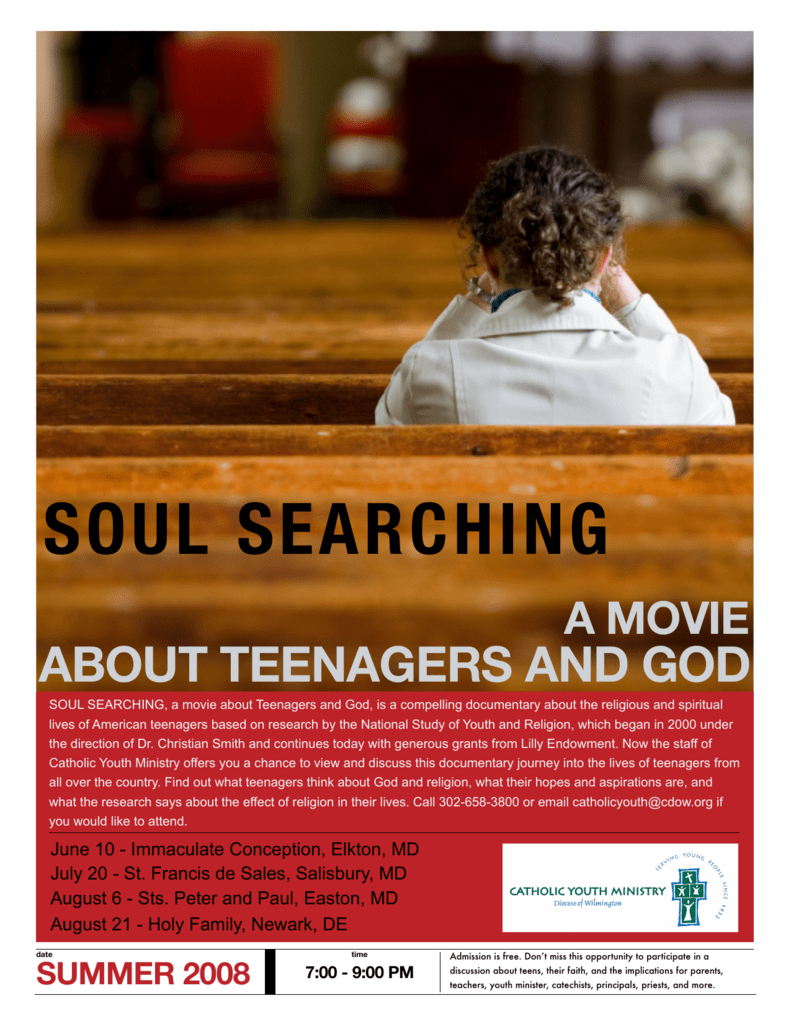 SOUL SEARCHING
A MOVIE
ABOUT TEENAGERS AND GOD
SOUL SEARCHING, a movie about Teenagers and God, is a compelling documentary about the religious and spiritual
lives of American teenagers based on research by the National Study of Youth and Religion, which began in 2000 under
the direction of Dr. Christian Smith and continues today with generous grants from Lilly Endowment. Now the staff of
Catholic Youth Ministry offers you a chance to view and discuss this documentary journey into the lives of teenagers from
all over the country. Find out what teenagers think about God and religion, what their hopes and aspirations are, and
what the research says about the effect of religion in their lives. Call 302-658-3800 or email [email protected] if
you would like to attend.
June 10 - Immaculate Conception, Elkton, MD
July 20 - St. Francis de Sales, Salisbury, MD
August 6 - Sts. Peter and Paul, Easton, MD
August 21 - Holy Family, Newark, DE
date
SUMMER 2008
time
7:00 - 9:00 PM
Admission is free. Don't miss this opportunity to participate in a
discussion about teens, their faith, and the implications for parents,
teachers, youth minister, catechists, principals, priests, and more.