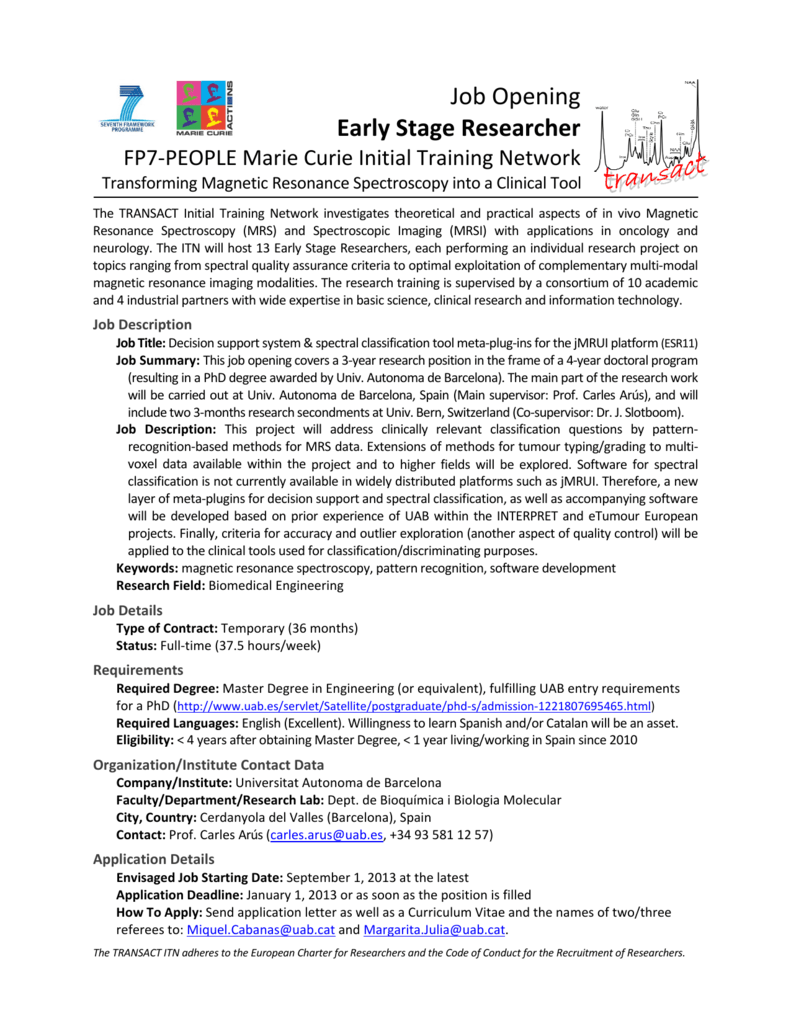 Job Opening Early Stage Researcher FP7‐PEOPLE Marie Curie Initial Training Network Transforming Magnetic Resonance Spectroscopy into a Clinical Tool The TRANSACT Initial Training Network investigates theoretical and practical aspects of in vivo Magnetic Resonance Spectroscopy (MRS) and Spectroscopic Imaging (MRSI) with applications in oncology and neurology. The ITN will host 13 Early Stage Researchers, each performing an individual research project on topics ranging from spectral quality assurance criteria to optimal exploitation of complementary multi‐modal magnetic resonance imaging modalities. The research training is supervised by a consortium of 10 academic and 4 industrial partners with wide expertise in basic science, clinical research and information technology. Job Description Job Title: Decision support system & spectral classification tool meta‐plug‐ins for the jMRUI platform (ESR11) Job Summary: This job opening covers a 3‐year research position in the frame of a 4‐year doctoral program (resulting in a PhD degree awarded by Univ. Autonoma de Barcelona). The main part of the research work will be carried out at Univ. Autonoma de Barcelona, Spain (Main supervisor: Prof. Carles Arús), and will include two 3‐months research secondments at Univ. Bern, Switzerland (Co‐supervisor: Dr. J. Slotboom). Job Description: This project will address clinically relevant classification questions by pattern‐
recognition‐based methods for MRS data. Extensions of methods for tumour typing/grading to multi‐
voxel data available within the project and to higher fields will be explored. Software for spectral classification is not currently available in widely distributed platforms such as jMRUI. Therefore, a new layer of meta‐plugins for decision support and spectral classification, as well as accompanying software will be developed based on prior experience of UAB within the INTERPRET and eTumour European projects. Finally, criteria for accuracy and outlier exploration (another aspect of quality control) will be applied to the clinical tools used for classification/discriminating purposes. Keywords: magnetic resonance spectroscopy, pattern recognition, software development Research Field: Biomedical Engineering Job Details Type of Contract: Temporary (36 months) Status: Full‐time (37.5 hours/week) Requirements Required Degree: Master Degree in Engineering (or equivalent), fulfilling UAB entry requirements for a PhD (http://www.uab.es/servlet/Satellite/postgraduate/phd‐s/admission‐1221807695465.html) Required Languages: English (Excellent). Willingness to learn Spanish and/or Catalan will be an asset. Eligibility: < 4 years after obtaining Master Degree, < 1 year living/working in Spain since 2010 Organization/Institute Contact Data Company/Institute: Universitat Autonoma de Barcelona Faculty/Department/Research Lab: Dept. de Bioquímica i Biologia Molecular City, Country: Cerdanyola del Valles (Barcelona), Spain Contact: Prof. Carles Arús ([email protected], +34 93 581 12 57) Application Details Envisaged Job Starting Date: September 1, 2013 at the latest Application Deadline: January 1, 2013 or as soon as the position is filled How To Apply: Send application letter as well as a Curriculum Vitae and the names of two/three referees to: [email protected] and [email protected] The TRANSACT ITN adheres to the European Charter for Researchers and the Code of Conduct for the Recruitment of Researchers.