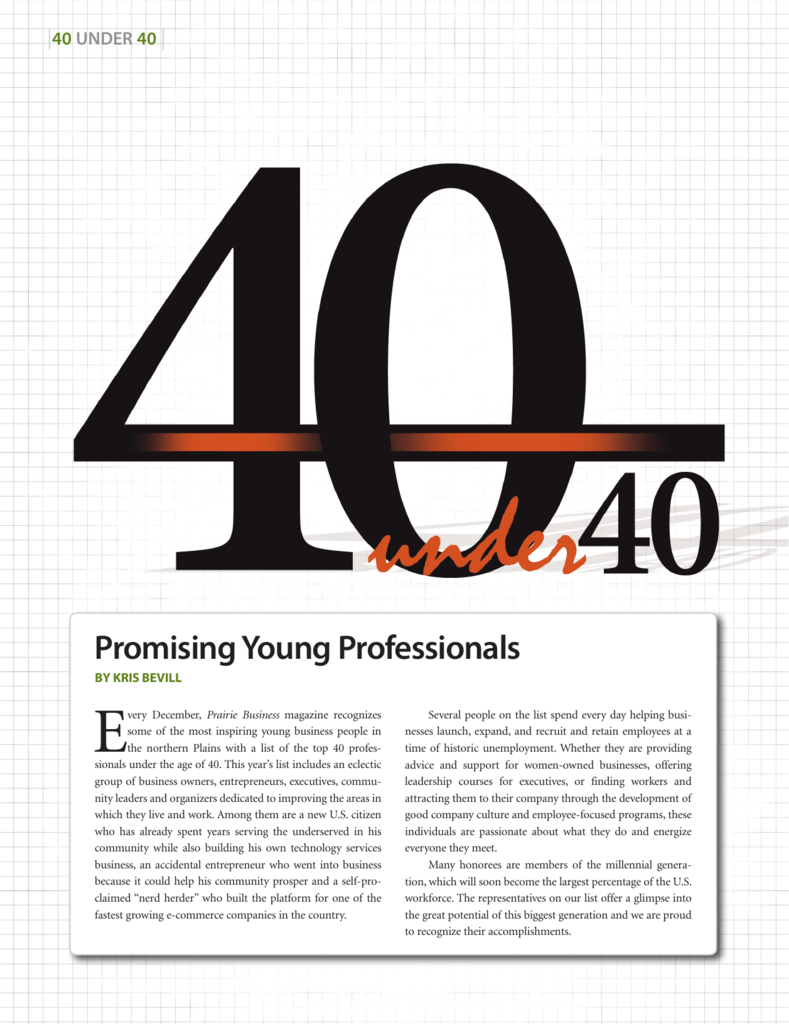 |40 UNDER 40 |
Promising Young Professionals
BY KRIS BEVILL
E
very December, Prairie Business magazine recognizes
some of the most inspiring young business people in
the northern Plains with a list of the top 40 professionals under the age of 40. This year's list includes an eclectic
group of business owners, entrepreneurs, executives, community leaders and organizers dedicated to improving the areas in
which they live and work. Among them are a new U.S. citizen
who has already spent years serving the underserved in his
community while also building his own technology services
business, an accidental entrepreneur who went into business
because it could help his community prosper and a self-proclaimed "nerd herder" who built the platform for one of the
fastest growing e-commerce companies in the country.
Several people on the list spend every day helping businesses launch, expand, and recruit and retain employees at a
time of historic unemployment. Whether they are providing
advice and support for women-owned businesses, offering
leadership courses for executives, or finding workers and
attracting them to their company through the development of
good company culture and employee-focused programs, these
individuals are passionate about what they do and energize
everyone they meet.
Many honorees are members of the millennial generation, which will soon become the largest percentage of the U.S.
workforce. The representatives on our list offer a glimpse into
the great potential of this biggest generation and we are proud
to recognize their accomplishments.
|40 UNDER 40|
MICHELLE
MILLER
Age: 34
Recruiting Manager,
KLJ
Bismarck, N.D.
A few years ago, engineering firms in the northern Plains were laying off recruiters as they scaled back on
new hires to weather the Great Recession. What a difference a few years make. Now, as the region rolls through
an historical economic boom, recruiters are back in full swing and working overtime to help firms staff up to
meet project demands.
At just 34, Michelle has already experienced both ends of the spectrum in her profession and she is currently
enjoying her "busy, sometimes chaotic" role as recruiting manager for regional engineering firm KLJ. After earning bachelor's and master's degrees from the University of Mary, Michelle worked in various human resources
and recruiter roles before joining KLJ four years ago as a human resources assistant. She was quickly promoted
into a larger role and as the company has grown significantly over the past few years — its staff has doubled in
size to about 750 people currently — so have her responsibilities. Along with the catching up that comes along
with quick company growth, her tasks now also include finding qualified applicants in an area with the lowest
unemployment in the nation and stiff competition from the high-paying Bakken.
"New graduates or even mid- to senior-level people can go and work in the oilfields and make a lot more
money than they can at an engineering firm," she says. "Everybody's trying to be creative."
Rather than rely heavily on headhunting, Michelle has focused some of her efforts on developing a pipeline
of new talent through internships and an improved high school job shadowing program that better illustrates
the variety of engineering projects and careers that are available. She also volunteers at the Bismarck Career
Academy, which offers a range of courses including pre-engineering for interested high school students, and
serves as a table mentor for Ethics Day.
Within the firm, Michelle is actively involved in the company's wellness program. She manages and facilitates
the HR aspects to best serve the employee's personal well-being. Now in its third year, the program continues
to evolve and plays into the firm's focus on work/life balance, which is an effort that she expects to continue
influencing potential employees' to join the firm.
Michelle also contributes to the greater community by organizing food drives at KLJ to benefit Ruth Meier's
Hospitality House and the Backpacks for Kids program and by serving as a member of the Bismarck-Mandan
Leadership program. Her leadership skills are inspirational for those who work with her but she credits those
around her for serving as inspiration and feeding her desire to never stop learning.
"The people I work with and hire serve as mentors," she says. "I have learned a great deal since starting my
career at KLJ, we learn from each other every day."
|40 UNDER 40|
ASHLEY
RAE
Age: 34
Entrepreneur, Brand Logic/
MODE/The Cope Well Foundation
Grand Forks, N.D.
Ashley says she worked long hours in her 20s for all the wrong reasons. Now, although she continues to work long hours as owner of a consulting firm and a clothing store, and as leader of a nonprofit
she created, her motivation has evolved. It's less about money or professional advancement and
more about constantly improving herself so she can inspire and help the people around her. "That's
what life is about," she says.
Ashley initially dove into the world of entrepreneurism in 2003 when she launched Twin Citiesbased web design company Brand Logic. The company focused on providing services to small
businesses and the real estate industry until 2012, when changes in her personal life inspired her to
revamp the company with a new focus on delivering consulting services to both aspiring and established business women. "I really want to inspire and empower women and to allow them to see that
anything they want to do, including owning a business, is possible," she says.
As part of Brand Logic's services, Ashley dedicates much of her time to providing mentorship and
guidance to women (and some men) who are starting businesses or need a little help with their
established businesses. She also recently began developing a mentorship program to inspire and
develop college and high school students, and she will soon be collaborating with University of
North Dakota's School of Entrepreneurship.
Earlier this year, Ashley decided she needed to set yet another example for women entrepreneurs.
So she purchased a struggling retail clothing store in Grand Forks, N.D., and set out to turn the business around. "If I'm the person trying to inspire women to take that leap and follow their dreams, I
want to lead by example for them," she says.
Ashley's passion for entrepreneurism and life in general is immediately evident when she speaks
and she readily shares it with the greater community through events like 1 Million Cups, which she
recently helped to organize in Grand Forks. She is also active with the Greater Grand Forks Young
Professionals group. But perhaps her most inspiring venture to date has been the formation of a
nonprofit organization called The Cope Well Foundation, which provides emotional support for
cancer survivors. As with her business, Ashley's motivation to develop the nonprofit stemmed from
personal experience. In 2008, she was diagnosed with melanoma and after battling the disease she
recognized a need for continued emotional support for all cancer survivors. She began developing
the organization in 2009 and launched it to the public in 2011.
Ashley says she will continue to focus on serving the people around her and setting an example
for others to follow, but she leaves the window open for unknown opportunities as she looks toward
the future. "I never want to look back on life and say, 'What if I would have taken that opportunity?'"
|40 UNDER 40|
40
SHANE
WASLASKI
Age: 39
President/CEO,
Intelligent InSites
Fargo, N.D.
Shane has spent years in leadership roles and has a passion for using his skills to make an impact on those who surround
him. So when he had the chance to become president and CEO of Fargo-based Intelligent InSites earlier this year, he jumped
at the "fantastic opportunity" to apply his experience in the health care industry and lead a passionate group of individuals
focused on making profound impacts on health care. The company develops software which can be used to track both equipment and patients with the goal of improving efficiency and the patient experience. It has already successfully impacted the
industry through its use by a number of health care organizations around the country, including Sanford Health and the
Department of Veterans Affairs.
Since joining Intelligent InSites in May, Shane has continually added team members to meet business opportunities. He
expects that even more team members will be needed in the future as Intelligent InSites continues to deploy its operational
intelligence solution to hospitals and clinics in the U.S. and abroad. As he grows the company, he intends to continue to
emphasize the importance of company culture, knowing that good company culture is proven to positively influence a company's overall performance. Shane believes that company culture is influenced more than anything by the people who are
employed there and how they are treated by leadership. "When you are establishing organizations, they embody the habits of
people," he says. "There's an importance to all of us to have consistency … we often see it in the way people get recognized or
promoted in the workplace. There is an important connection in the way people are valued and the way they behave."
The company's culture initiative has already earned recognition from Modern Healthcare Magazine — this year the company nabbed 10th place on its list of the 100 best health care employers in the nation — and by Prairie Business magazine, which
named it one of the 50 Best Places to Work in the northern Plains.
Shane also sees great value in contributing to his community and has served on numerous volunteer boards, including the
North Dakota State Board of Higher Education and the Village Family Service Center. He currently serves as a board member for
Junior Achievement of the Upper Midwest. He says his experience as a leader has proven to him that people share a common
desire to make a difference in their world, a desire which he believes can't be accomplished through work alone and is uniquely
benefited in the Midwest by the genuine willingness of people to help others succeed. "To be in that environment — that's a
tremendous incubator for businesses and leaders and for people who are engaged in meaningful work."
|40 UNDER 40|
40
T
T
O
C
S
R
M:E32YE
Age der,
ly
Cofoun s and Lemon
d
9 Clou gs, S.D.
Brookin
Scott never planned on becoming a business owner, but a love for his community and willingness to be proactive in helping others succeed inspired him and his brother, John, to launch Brookings-based digital marketing firm 9 Clouds less than
six years ago. Scott says they went into it because they realized businesses in rural communities weren't utilizing technology
as well as those in metro areas, but knew that with a little help they could hold their own against competitors anywhere in
the world.
"We thought that for our communities to survive and thrive, we need to not only do it for people, but also teach them,"
he says.
9 Clouds was born to meet both those needs, serving as a digital marketing services provider and offering education
opportunities to help small businesses gain the web knowledge they need. The first few years of business were a learning
curve for the "bro-founders," as they like to say, but about three years ago things started to click. They began adding employees and created a second company called Lemonly that specializes in creating infographics. Lemonly has grown rapidly and
racked up an impressive list of clients including Marriott and Major League Baseball. The two companies now employ more
than 20 people and have a combined annual revenue over $2.75 million.
The local community inspired the pair to get into business so it is fitting that they have taken active roles in giving back
to re-invigorate the area's business community as a whole. Scott leads the weekly entrepreneurial gathering 1 Million Cups
Brookings (John leads the Sioux Falls version), launched TEDxBrookings and recently cofounded a coworking space called
Spark Brookings. He also teaches entrepreneurship courses as an adjunct faculty member at South Dakota State University.
He intends to continue organizing events and contributing to the community in coming years while simultaneously growing
his businesses, with no intentions of relocating the headquarters outside of the rural Midwest.
"We probably got into it thinking we were going to create a technology company and sell it for millions of dollars … but
after awhile you realize there is extreme value, not just financially but also personally, to create something that's long-lasting
and creates good work and is also part of the community," he says. "That's our focus for the future and what we hope to build."
|40 UNDER 40|
ADAM
WOGSLAND
ALEX
HALBACH
ANTHONY
ROME
Age: 33
President/Co-Owner,
SW&L Attorneys
Fargo, N.D.
Age: 29
Attorney,
Cutler & Donahoe LLP;
Owner, Ideal Weigh Inc.
Sioux Falls, S.D.
Age: 34
Marketing Director,
Engage Media
Strategies
Fargo, N.D.
4
40 0
Adam attended the University of North Dakota School
of Law in Grand Forks, where he was named to the Order of
Barristers, served on the Moot Court board, and graduated
with distinction. He began his legal career clerking with the
eight judges with the East Central Judicial District in Fargo.
Adam entered private practice with the Nilles Law Firm,
where he began practicing business law, real estate law and
estate planning. He was named partner in 2012. In February
2013, he co-founded SW&L Attorneys with Greg Liebl and
Nathan Severson. SW&L Attorneys has since grown to five
attorneys and serves clients in nearly all practice areas.
Alex caught the entrepreneur bug while working his way
through law school by owning and operating a technology
services company. He continued to pursue his law degree,
turning a 2009 summer internship with Cutler & Donahoe
into a full-time career upon graduation in 2010. His entrepreneurial spirit led him to take on ownership of struggling
weight management service provider Ideal Weigh in 2012.
The business has since been revitalized and expanded to
include locations in Sioux Falls, Yankton and Brookings, S.D.
Despite his many professional obligations, Alex remains
actively involved with several nonprofits in Sioux Falls. He
serves as president of the Co-Op Natural Foods board of
directors and led the cooperative through a successful recovery process following a devastating building fire last year,
providing invaluable expertise, leadership and positivity to
all involved.
Anthony has built expertise in the fast-changing realms
of online marketing and social media over the last decade.
In 2013, he launched Engage Media Strategies to provide
internal ad agency services to Fargo-area businesses, specializing in social media marketing, ad buying, print production
and promotional products. He currently also serves as vice
president of marketing for Shale Plays Media, where he
provides support for the company's websites and social
media platforms.
ARDAY
ARDAYFIO
BEN
HANTEN
BRIAN
RITTER
Age: 37
President,
Blueprint IT Solutions
Fargo, N.D.
Age: 33
Founder, Ben's;
Cofounder, Think 29/
Two Bridges Capital
Yankton, S.D.
Age: 31
President/CEO,
Bismarck-Mandan
Development
Association
Bismarck, N.D.
Arday's curiosity about the world and enthusiasm for
opportunities led him from Ghana to Concordia College in
Moorhead, Minn., where he earned degrees in both business
administration and computer science in just four years, along
with the respect of the entire campus and local business
leaders. After graduating, Arday continued his relentless
pursuit of new opportunities as a technology consultant and
through various roles in the banking industry until 2011,
when he founded his own technology provider services
firm, Blueprint IT Solutions. His eye for opportunity led him
to identify and a capture a niche market in providing technology services and upgrades to area businesses. His firm is
currently a preferred vendor for WIFI and security cameras at
Choice Hotels throughout the country, an Aruba Networks
authorized dealer and is an authorized Xerox agency for the
Red River Valley.
Arday is committed to giving back to the community
that has become his home. He currently serves on the boards
of directors for the local Kiwanis International group as well
as for Charism, a support center focused on improving the
quality of life for underserved youth and their families. He
also became a U.S. citizen this year.
Ben is a serial entrepreneur with a serious commitment
to connecting communities throughout the upper Midwest.
In 2005 he founded Ben's bar, followed by a speakeasy
known as The Copper Room. In 2012, he cofounded angel
investment fund Two Bridges Capital, which invests in early-stage companies in South Dakota and its bordering states.
Two Bridges has backed seven companies to date and
plans to support up to 15 companies over the life of the
fund. Ben's active role in networking opportunities throughout the region has led to several new events, including a
conference he founded in 2012 to connect entrepreneurs,
investors and creatives. Called Wire Me Awake, the fourth
installment of that event will be held in March 2015 at the
University of South Dakota. Earlier this year, he cofounded
Think29 to encourage entrepreneurial activity along the
upper Interstate 29 corridor and, in late October, he launched
1 Million Cups Yankton. His passion for regional networking
events stems from a belief that the region is stronger if it
works as a whole. "Silicon Valley is a region, not a city," he
says. "I'd like to see this area begin to think regionally, too."
A lifelong resident of Bismarck-Mandan, Brian earned a
bachelor's degree in business communications and a master's degree in business administration from the University
of Mary. He initially joined the BMDA as an intern in 2003.
In 2005, he accepted a full-time position and served in
various roles before being appointed interim executive
director in 2013. He immediately led the organization
through a strategic planning process to guide it through
the next three years. After serving just three months as the
interim, the board of directors unanimously agreed to make
his new role permanent.
|40 UNDER 40|
CASEY
MCCULLOUGH
CHAD
HASELHORST
DAN
HURDER
Age: 35
President,
Green Street
Promotions
West Fargo, N.D.
Age: 32
Vice President,
Capitaline Advisors LLC
Brookings, S.D.
Age: 33
President/CEO,
Great Plains Hospitality
Fargo, N.D.
Chad joined Capitaline as a college intern in 2003 and
worked his way up the ranks, ultimately being named partner
in 2012. He currently manages the Brookings office and
provides analysis and supervision for the firm's $70 million
of assets under management while continuing to research
and analyze new investment opportunities. He has also represented the firm as a board member at various organizations
including Bushmills Ethanol in Atwater, Minn., and South
Dakota State University Brookings Angel Fund II.
Chad is also actively involved with his family's 7,000-acre
farm, where he has a direct interest in operating approximately 1,200 acres of corn and soybeans.
40
Casey founded logo merchandising firm Green Street
Promotions in 2009. Under his leadership, the company's
revenues have doubled every year since, with revenues in
2015 expected to exceed $1 million. Originally launched in
Rogers, Minn., Casey relocated his company to his hometown of Hope, N.D., in 2012 to be closer to the Fargo
market. Earlier this year, the company expanded to include a
showroom in West Fargo. Casey is also a partner in a quickly
growing GPS fleet and asset tracking technology startup
called Razor Tracking Inc. When he's not advancing his
companies, he can be found coaching t-ball and refereeing
at local sporting events or donating his time to the United
Way of Cass-Clay.
ERIC
ISTA
Age: 38
Director of Design/
Senior Creative Strategist,
Sundog
Fargo, N.D
Eric, a.k.a Fish, has been making his creative mark on
the advertising and marketing industries since 1997, when
he joined a Fargo advertising firm as a production artist. In
2005, he was named Sundog's creative director, and he has
since contributed his creative talents to countless companies.
He has also continually advanced within the company,
receiving his most recent promotion in November. He contributes his talents to the community as well, having served
as an adviser and teacher at Minnesota State University
Moorhead and Minnesota State Community and Technical
College. In 2012, he cofounded an organization for designers
known as DSGNX. He plans to also open a creative studio in
Fargo in early 2015.
ERIKA
BAILEYJOHNSON
Age: 39
Sustainability Director,
Bemidji State University/
Northwest Technical College
Bemidji, Minn.
Dan's career in the hospitality industry began with a job
as night manager for a Hilton Garden Inn in Cleveland, Ohio.
From there, he worked his way through the ranks to eventually open and manage various properties in the U.S., including the Fargo Hilton Garden Inn. In 2011, he ventured out on
his own with the purchase of Otter Supper Club and Lounge
in Ottertail, Minn., and the formation of a management firm,
Great Plains Hospitality. Since then, Great Plains Hospitality
has grown to include two dining establishments in downtown Fargo – Monte's Downtown and the Boiler Room.
Monte's participates in the Dine to Donate program and gives
10 percent of every Tuesday evening's revenue to the United
Way. The recently opened Boiler Room was named through
a unique "name the business" Facebook competition, which
successfully generated customer interest and contributed
to its early success. Dan intends to continue building on his
successful hospitality management style by growing Great
Plains' portfolio to include 10 properties by 2020.
GARRETT
MOON
Age: 32
Cofounder,
Todaymade/
CoSchedule
Bismarck, N.D.
North Dakota native Garrett knew he wanted to live in
North Dakota as an adult but he felt existing professional
opportunities were lacking, so he created his own. In 2009,
he cofounded web products company Todaymade. Last year,
he and company cofounder Justin Walsh expanded by separating one of Todaymade's products — a web-based marketing management tool for blogs and social media — into
its own business. That company, CoSchedule, has already
grown to include more than 2,000 customers. Garrett is also
passionate about "creating the community that you want to
live in." He led the organization of Bismarck's first Startup
Weekend, which will be held in January. He also helped
relaunch 1 Million Cups Bismarck and leads Start Bismarck,
which promotes and organizes events geared toward technology-based startups.
40
Erika was studying for her master's degree in environmental studies at BSU when she and a group of fellow
students created BSU's sustainability office, one of the first
of its kind in Minnesota, in 2008. She has since served as its
director and has successfully contributed to a culture-shift
towards sustainability efforts throughout the entire community. She helped create Bemidji's Sustainability Committee in
2009 and was a leader in the implementation of Bemidji's
NiceRide bicycle program earlier this year. She successfully
applied to be a host site for Minnesota GreenCorps for three
consecutive years, which has led to partnerships with other
groups to educate the community on sustainable living. Her
work has resulted in BSU installing solar transpired air units,
real-time energy dashboard kiosks and native landscaping
and incorporating a wellness component into its sustainability model. She also teaches a sustainability course at
BSU, serves on the Rural Renewable Energy Alliance board of
directors and is a member of the Upper Midwest Association
for Campus Sustainability steering committee.
0
4
|40 UNDER 40|
GREG
MCCURRY
JAKE
CLARK
JEFF
HRUBY
Age: 34
President/CEO,
Independent
Community Bankers
of South Dakota
Mitchell, S.D.
Age: 22
Co-Owner,
Fargo 3D Printing
Fargo, N.D.
Age: 39
Water Resources
Practice Leader,
AE2S
Bismarck, N.D.
Greg joined ICBSD in 2012 and has since grown both
the group's membership and its services. Under his direction, the group created two new programs this year --- the
Certified Community Banking Security Professional program to help train the banks' IT staff, and the Emerging
Leaders program, which focuses on developing future
bank leaders. He is a former Mitchell city council alderman and currently serves as a member of the city's parks
and recreation board, the local rotary and the Mitchell
Area Charitable Foundation board. He also regularly
serves as a guest lecturer at Dakota Wesleyan University.
Jake began working as a product designer for a local manufacturer while still studying mechanical drafting and design
at Minnesota State Community and Technical College. About
three years ago, he began using a 3D printer as part of his profession and quickly picked up on the potential disruptiveness
of the technology for many industries. After meeting fellow
3D fanatic Josh Schneider at a public event about 3D printing
in 2013, the pair launched Fargo 3D Printing. The company has
since expanded to include several employees and is being fostered at North Dakota State University's Technology Incubator.
Jake and John also recently cofounded 3DomUSA, which produces filament for 3D printers, and an online training platform
for 3D printers and CAD (computer-aided design) called Triton
Labs. They also devote time to providing 3D demonstrations at
schools and libraries in hopes of inspiring students to become
engineers, designers and entrepreneurs.
40
Jeff's 15 years of experience in the field of water resources and environmental engineering consulting has earned
him a place on AE2S' Leadership Group as well as shareholder
status within the company. He is a founding member and
current vice president of the North Dakota chapter of the
North American Stormwater and Erosion Control Association,
a nonprofit group dedicated to advancing the stormwater and erosion control industry. Jeff is also an advocate
for STEM education and serves on the board of directors
and governance committee for Gateway to Science, North
Dakota's only hands-on science center.
JOANNA
SLOMINSKI
JOE
DUNNIGAN
JONATHAN
SIMMERS
Age: 36
Construction Executive,
Mortenson
Construction
Fargo, N.D.
Age: 33
Interactive Services
Manager,
NetWork Center Inc.
Fargo, N.D.
Age: 36
CEO,
Bismarck Aero Center
Bismarck, N.D.
In her current role overseeing the construction of Sanford
Health's Medical Center in Fargo, Joanna manages a $375
million budget and is responsible for the construction of
one of the 10 largest medical centers currently being built
in the U.S. Prior to this project, Joanna worked on some of
Mortenson Construction's most notable projects, including the University of Minnesota's TCF Bank Stadium in
Minneapolis and the Sanford Health Dickinson Clinic and
West River Community Center Expansion, both in Dickinson,
N.D. A resident of West Fargo, she is a mentor to students
at high schools and universities and serves on the advisory
board of construction management and engineering at
North Dakota State University.
Joe owned his own PC sales and repair business and
spent several years honing his leadership skills as part of an
IT team before joining NetWork Center in 2012. Since then,
he has continued to grow into new areas of his profession.
He currently manages a team dedicated to building mobile
and web applications for the company's customer base and
deploying data analysis services for customers seeking more
insight into their business and day-to-day operations.
40
Since accepting the position of CEO at Bismarck Aero
Center in 2006, Jon has led the company through a sustained period of growth. The company currently employs 40
people, up from five in 2006, and offers seven hangars and
72,000 square feet of aircraft storage space at the Bismarck
location, with additional space at its recently opened sister
company, Mandan Aero Center. On paydays, Jon can be
found personally delivering employees' checks and thanking them for their work. Outside of the office, he promotes aviation through the North Dakota Business Aviation
Association, the North Dakota Aviation Council, Aviation
Education of North Dakota and Aviation Career Day. He also
volunteers with Bismarck/Mandan Junior Achievement, the
local Chamber of Commerce and the North Dakota Economic
Development Foundation.
|40 UNDER 40|
JULIE
JONESWHITCHER
Age: 31
Director of Tourism,
Rapid City Convention
& Visitors Bureau
Rapid City, S.D.
Julie joined Rapid City's CVB in 2002 as an office
assistant while attending college at National American
University and Western Dakota Tech. After receiving her
degree in business and marketing, she accepted a fulltime position as convention sales manager. She worked
her way up to her current role as leader of the tourism
department. Julie also contributes her leadership skills
to projects throughout the community including Day
of Excellence Inc., the Western Dakota Tech Business
Program advisory board and the Girls Scouts Dakota
Horizons board of directors. She is also a graduate of
Leadership Rapid City.
JUSTIN
DELTENER
JUSTIN
FETSCH
Age: 38
Chief Technology
Officer,
RealTruck.com
Fargo, N.D.
Age: 36
Vice President of Sales,
High Point Networks
West Fargo, N.D.
Justin took a big risk when he sold his own web development company to start RealTruck.com's IT department. The
risk has been worth it — for Justin as well as the e-commerce
company. He and his team have played an integral role in aiding RealTruck's rapid development and subsequent growth.
The company is currently ranked as the fastest-growing
company in North Dakota and one of the fastest growing
e-commerce companies in the U.S. Justin spearheaded the
creation of the e-commerce platform the company's website
runs on, and is responsible for ensuring that it stays up and
operating smoothly for customers. He leads the company's IT
team, affectionately known as Web Ninjas. He signs his emails
with the title "Scruffy Looking Nerd Herder," illustrating his
humble nature and good humor, which, along with top-notch
technical skills, have earned him the respect and admiration
of his coworkers, IT industry peers and the automotive industry as a whole.
40
KARLA
SANTI
Age: 39
CEO,
Blend Interactive
Sioux Falls, S.D.
Karla recognized early the great potential for the web
development industry and began working in web design
and development in the 1990s. She owned her own firm,
Santi Interactive, before merging with Deane Barker and Joe
Kepley in 2005 to create Blend Interactive, where she initially
served as partner and creative director. She was recently
named CEO and is responsible for the daily management and
operations of the company while continuing to focus on the
company's mission and vision.
KATE
HERZOG
Age: 31
Marketing /Assistant Director,
Downtown Business
Association Cofounder,
Downtown Bismarck
Community Foundation
Bismarck, N.D.
40
Kate joined the Downtown Business Association five
years ago and has played an active role in the revitalization
of downtown Bismarck through fundraising activities and
various events. She is the coproducer of the Rip-Roarin'
Ribfest, the Street Fair and the Art & Wine Walk. She is the
lead organizer and producer of the North Dakota Downtown
Conference, which held its fourth annual event this year. She
also recently cofounded the Downtown Bismarck Community
Foundation, is a board member of Dakota Stage Ltd., and is
a member of the Bismarck-Mandan Young Professionals.
Justin signed on with HPN as an account manager when
the company was formed in 2003 and has contributed
significantly to the company's continued growth throughout
its first decade of operation. In 2009, he was named partner
and promoted to his current position, in which he is responsible for managing a sales team that spans five states and
for adding technology solutions to the company's offerings.
His leadership positioned the company to be recognized
earlier this year as one of the top 500 IT solutions providers
in the U.S.
MATTHEW
KOLLING
Age: 39
City Attorney,
City of Dickinson
Dickinson, N.D
After practicing law since 2001 and serving as lead
attorney for the city of Dickinson while employed at EbeltoftSickler, Matthew agreed to serve as the city's in-house
counsel in 2013. His duties initially included providing legal
advice and strategy, leading the HR department and providing risk management, but his willingness to tackle more
duties as the city has experienced unprecedented growth
has quickly expanded his role. He has negotiated dozens
of developers agreements, joint powers agreements and
right-of-way acquisitions and has worked on the creation
of new ordinances and resolutions, often addressing issues
that have never been dealt with in the city's history. He also
serves as acting city administrator when necessary and is an
adjunct faculty member at Dickinson State University.
|40 UNDER 40|
MICHAEL
MEAGHER
NICK
HACKER
NICOLE
WASHBURN
Age: 32
Owner,
Sagency
Fargo, N.D.
Age: 32
President,
North Dakota
Guaranty & Title Co.
Bismarck, N.D.
Age: 36
Principal/Branch Manager,
JLG Architects
Minneapolis, Minn.
0
4
After working as a high school political science
teacher and executive director for a church, Mike's career
took an about-face when he decided to launch his
own consulting firm to help nonprofits and for-profits
recruit the best talent possible. Since then, he's earned
a reputation for producing results that exceed clients'
expectations. His nominators credit him for helping their
businesses succeed through improved culture practices,
assistance in identifying and hiring the best candidates
for the positions, and for providing executive-level
coaching that improves their overall effectiveness within
their organizations.
Nick joined NDGT in 2012 as manager of its Williston,
N.D., office. In 2013 he was promoted to vice president of the
northwest region and was named president of the company
earlier this year. A natural leader, he oversees a continuously
growing company while maintaining a culture that recently
earned the company a spot on Prairie Business magazine's
50 Best Places to Work list. In addition to his duties at NDGT,
Nick currently serves as the legislative committee chair for the
North Dakota Land Title Association. Before joining NDGT, he
worked as a business development manager and real estate
agent. He also served in the state senate from 2004 to 2008
and was the youngest senator in the state's history.
A 2001 graduate of North Dakota State University in
Fargo, Nicole joined JLG in 2007 and has since made a
tremendous impact on the company. In her first year, she
developed tools to streamline how the company manages
projects and cash flow and helped increase its profits by
1,400 percent. In 2011, she became staffing coordinator
and director of project management to help realign the
company with a greater emphasis on project management
after an unprofitable year. As a result of her work, JLG's next
year was its most profitable in the company's history. Nicole
became one of the company's youngest shareholders ever in
2013, was named branch manager in 2013 and promoted
to principal this year. She is passionate about improving the
quality of life for future generations in North Dakota and has
been directly responsible for multiple affordable housing
projects recently built in western North Dakota including
Collins Place Apartments in Mandan and the Williston State
College Frontier Hall.
PATRICK
NOVAK
RYAN
RAGUSE
SARA
KENNEY
Age: 37
Vice President
Marketing,
Border States Electric
Fargo, N.D.
Age: 25
President, Chairman,
Cofounder,
Myriad Mobile
Fargo, N.D.
Age: 37
Owner/Clinical Director,
Blooming Prairie
Assessment and
Therapy Center
Devils Lake, N.D.
Patrick joined BSE in 2000 and has since held various
key positions within the company. In his current role, he is
responsible for a team of over 40 people who execute BSE's
marketing strategy and manage the company's vendor
relationships. BSE's total annual sales in fiscal year 2014
were $1.44 billion. As an officer of the company and member
of its executive council, Patrick also helps drive the initiatives of BSE's strategic plan, providing enviable attention to
detail and critical thinking skills to the process. Patrick has
volunteered with the United Way since 2012 and became
a member of the group's campaign cabinet this year. He is
also a member of various industry committees and is the
current vice president of the North American Association of
Utility Distributors.
40
With just a month's worth of cash left in his pocket,
Ryan quit his job and dove headfirst into starting up his own
company while he was still attending North Dakota State
University. The risk proved worth it — Myriad Mobile now
employs nearly 60 people in multiple offices throughout
the U.S. As president, Ryan leads the rapidly growing tech
company while playing an active role in cultivating Fargo's
entrepreneurial community. In addition to his role at Myriad,
he is the cofounder of Virtual Farm Manager and chairman
of Adshark Marketing. While still only in his 20s, Ryan has
already earned a reputation for having an astute business
perspective, a farm-kid work ethic and top-notch management skills.
A Grand Forks, N.D., native, Sara initially moved to
Devils Lake to complete her residency in clinical psychology.
Recognizing the need for mental health services in rural
North Dakota, she remained there and opened a private
practice in 2007. The practice has since grown to include
three additional providers and satellite offices in nearby
communities. Sara is also the state and regional coordinator
for the Upper Midwest Region for Postpartum Support
International (PSI) and founder of PSI-affiliated Pregnancy
and Postpartum Support-North Dakota. She is chairwoman
of the Lake Region Suicide Prevention Committee and a
volunteer for Give an Hour, an organization focused on
meeting the mental health needs of military personnel and
their families.
|40 UNDER 40|
SCOTT
MCCARTHY
STEVE
WATSON
TINA
AMERMAN
Age: 35
Vice President,
Silicon Plains LLC
Bismarck, N.D.
Age: 32
Director of Business
and Community
Development,
S.D. GOED
Sioux Falls, S.D
Age: 39
Director Human Resources,
Bobcat Co./Doosan
Infracore Construction
Equipment
West Fargo, N.D.
0
4
Scott is an owner and vice president of sales at
Silicon Plains, where he has become a trusted advisor
and consultant to many of the area's most prominent
companies. He is known for his ability to successfully
lead board members, business owners and technology
vendors through challenging projects. Before joining the
company in 2009, he worked as an application developer
for various companies in the area. He is a graduate of the
University of North Dakota in Grand Forks.
TRISHA
JUNGELS
Age: 36
VP, Clinical Services/
Chief Nursing Officer,
Jamestown Regional
Medical Center
Jamestown, N.D.
Trisha has more than a decade of professional nursing experience and has provided care to patients in a
variety of settings, from medical-surgical environments
to home health. She became chief nursing officer and
vice president of clinical services at JRMC in 2013 and
has since proven herself to be an example for others to
follow in developing relationships with peers, patients
and the community. She has initiated a Community
Health Improvement Plan with Central Valley Health as
well as nursing residency programs and internships with
the University of Jamestown and has taken the role of
organizational excellence coordinator for JRMC. She is also
a recipient of the Outstanding Rural Health Professional
award from the National Rural Health Association.
Steve joined the Governor's Office of Economic
Development as a business development representative nearly a decade ago and has since worked his way up to his current
role of director. His passion for economic development is
evident through his many efforts to recruit and help expand
business, including the $144 million Bel Brands cheese plant
in Brookings. The expansion was the largest industrial capital
expenditure in the company's history and would have taken
place in another state if not for the work of state and local
economic development officials and Steve's leadership. He
constantly strives for improvement and is a recent graduate
of Gov. Dennis Daugaard's Leadership Development Program.
Tina joined Bobcat in 2004 as a recruiting and staffing
specialist. In her current role as HR director, she is responsible
for providing human resources for more than 500 employees
across multiple locations. Since joining the company, Tina
has played an instrumental role in a number of major company changes, including the implementation of a workplace
culture change, an open-concept office redesign, multiple
restructurings, and the divestiture of Bobcat from Ingersoll
Rand to Doosan. Under her leadership, the company's HR
staff has grown from two people in 2010 to nine full-time
staff members currently. She is also credited for developing
an internship program which boasts over 100 students and
serves as a critical talent pipeline for the entire company. She
is an active volunteer for many local nonprofits, the GFMEDC
workforce committee and is a former board member of the
Fargo Moorhead Human Resource Association. She is also a
graduate of United Way's 35 under 35 leadership program.
TYLER
OKERLUND
ZACHARY
PAULSON
Age: 35
North Dakota
SBIR/STTR Director,
UND Center for
Innovation
Grand Forks, N.D.
Age: 33
President,
TrueIT
West Fargo, N.D.
Tyler holds a master's degree in business administration
from the University of Mary in Bismarck, a marketing degree
from the University of North Dakota in Grand Forks, is a
veteran of the U.S. Navy and North Dakota Army National
Guard, and has 14 years of experience in procurement and
contracting. While working as procurement manager for the
North Dakota SBDC, he worked to secure $24 million in contracts for 2013 alone. Tyler is a certified procurement professional and has served in his current role at the University
of North Dakota's Center for Innovation since March. He
coaches entrepreneurs through the SBIR/STTR federal grant
application process and also provides entrepreneur coaching
to grow their ventures. He recently helped launch 1 Million
Cups Grand Forks, a weekly gathering for entrepreneurs, and
is chapter adviser for UND's Delta Tau Delta fraternity.
Zac worked various jobs before getting his start in IT
sales in 2003 at Ignus Technologies. He spent several years
there, eventually becoming partner in 2010, before becoming a founding partner in TrueIT. In his current role, he is
responsible for process development, consulting and delivery management, ensuring that the company meets its
goal of providing "warm, fuzzy" IT services to its customers.