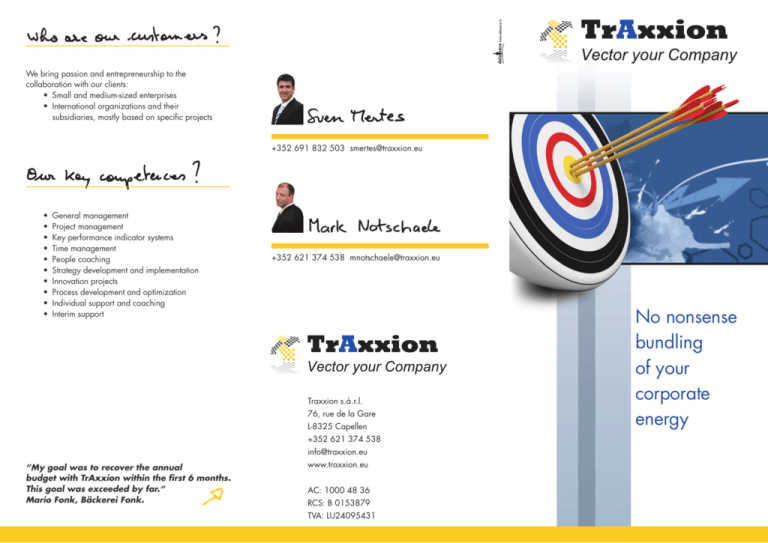 We bring passion and entrepreneurship to the
collaboration with our clients:
• Small and medium-sized enterprises
• International organizations and their
subsidiaries, mostly based on specific projects
+352 691 832 503 smertes@traxxion.eu
• General management
• Project management
• Key performance indicator systems
• Time management
• People coaching
• Strategy development and implementation
• Innovation projects
• Process development and optimization
• Individual support and coaching
• Interim support
+352 621 374 538 mnotschaele@traxxion.eu
Traxxion s.à.r.l.
76, rue de la Gare
L-8325 Capellen
+352 621 374 538
info@traxxion.eu
"My goal was to recover the annual
budget with TrAxxion within the first 6 months.
This goal was exceeded by far."
Mario Fonk, Bäckerei Fonk.
www.traxxion.eu
AC: 1000 48 36
RCS: B 0153879
TVA: LU24095431
No nonsense
bundling
of your
corporate
energy
True results can only be achieved through specific actions
and activities. Based on this realization, TrAxxion started
offering hands-on assistance to companies in 2007:
• A Group of experts, each with more than 20 years
of professional experience
• Active in a number of industry sectors
• Access to a very wide range of international
experience
• Effective communication, thanks to our
multilingual team (German, French, Luxembourgish,
English & Dutch)
Every step is tailored to our client's strategic needs:
One of our experts will be assigned to be your main contact:
• An informal preliminary meeting allows us to get
to know each other and to build an initial assessment
of the situation
• An one-day intake session with key people from your
company deepens the assessment and highlights first
focus areas
• We issue a complete report with priorities and
recommendations within one week
• We plan and review specific actions and activities
together
• The duration of the program depends on the desired
outcome and set goals
"After only 3 days with TrAxxion we fixed
the bottleneck in engineering and could focus
on the production processes."
Dirk Treinen, Luxforge.
"The support provided by TrAxxion allowed
us to focus our energy on the essential topics
of our start up."
Vincent Regouby, Galimeo.
• Discuss and set objectives
• Every workshop closes with results and successes
• You will receive homework based on the activities
and your expectations
• You set the rhythm of the workshops and actions in
relation to your organizational priorities
• Regular sessions will guarantee sustainability
• Our internet-based collaboration platform serves to exchange data and information
• Should your company strategy change, or our
activities not convince you – just tell us Actions should be taken quickly and implemented effectively.
Therefore, we commit ourselves to:
• Passion and honesty
• Tell you what you need to hear
• Work on the real issues
• Involve the right experts
"I never would have expected to be able to
achieve so much in one day, fantastic."
Rainer Humartus, Synergy of Technology
and Security S.A.