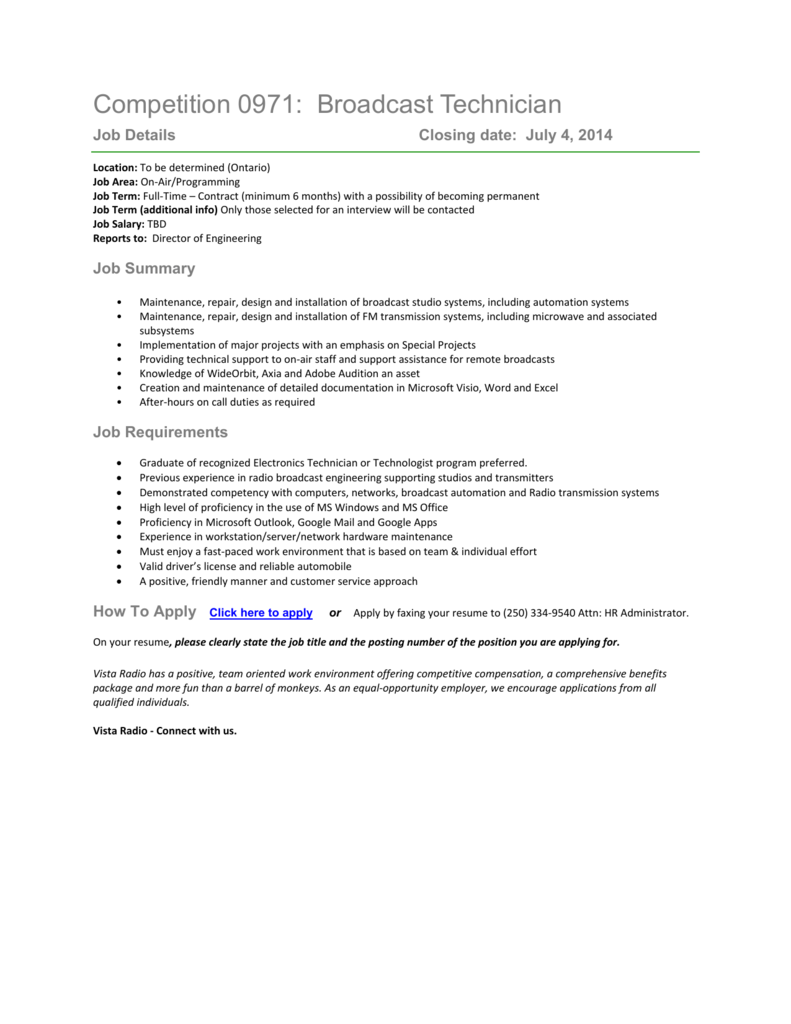 Competition 0971: Broadcast Technician
Job Details
Closing date: July 4, 2014
Location: To be determined (Ontario) Job Area: On‐Air/Programming Job Term: Full‐Time – Contract (minimum 6 months) with a possibility of becoming permanent Job Term (additional info) Only those selected for an interview will be contacted Job Salary: TBD Reports to: Director of Engineering Job Summary
•
•
•
•
•
•
•
Maintenance, repair, design and installation of broadcast studio systems, including automation systems Maintenance, repair, design and installation of FM transmission systems, including microwave and associated subsystems Implementation of major projects with an emphasis on Special Projects Providing technical support to on‐air staff and support assistance for remote broadcasts Knowledge of WideOrbit, Axia and Adobe Audition an asset Creation and maintenance of detailed documentation in Microsoft Visio, Word and Excel After‐hours on call duties as required Job Requirements









Graduate of recognized Electronics Technician or Technologist program preferred. Previous experience in radio broadcast engineering supporting studios and transmitters Demonstrated competency with computers, networks, broadcast automation and Radio transmission systems High level of proficiency in the use of MS Windows and MS Office Proficiency in Microsoft Outlook, Google Mail and Google Apps Experience in workstation/server/network hardware maintenance Must enjoy a fast‐paced work environment that is based on team & individual effort Valid driver's license and reliable automobile A positive, friendly manner and customer service approach How To Apply
Click here to apply or Apply by faxing your resume to (250) 334‐9540 Attn: HR Administrator. On your resume, please clearly state the job title and the posting number of the position you are applying for. Vista Radio has a positive, team oriented work environment offering competitive compensation, a comprehensive benefits package and more fun than a barrel of monkeys. As an equal‐opportunity employer, we encourage applications from all qualified individuals. Vista Radio ‐ Connect with us.