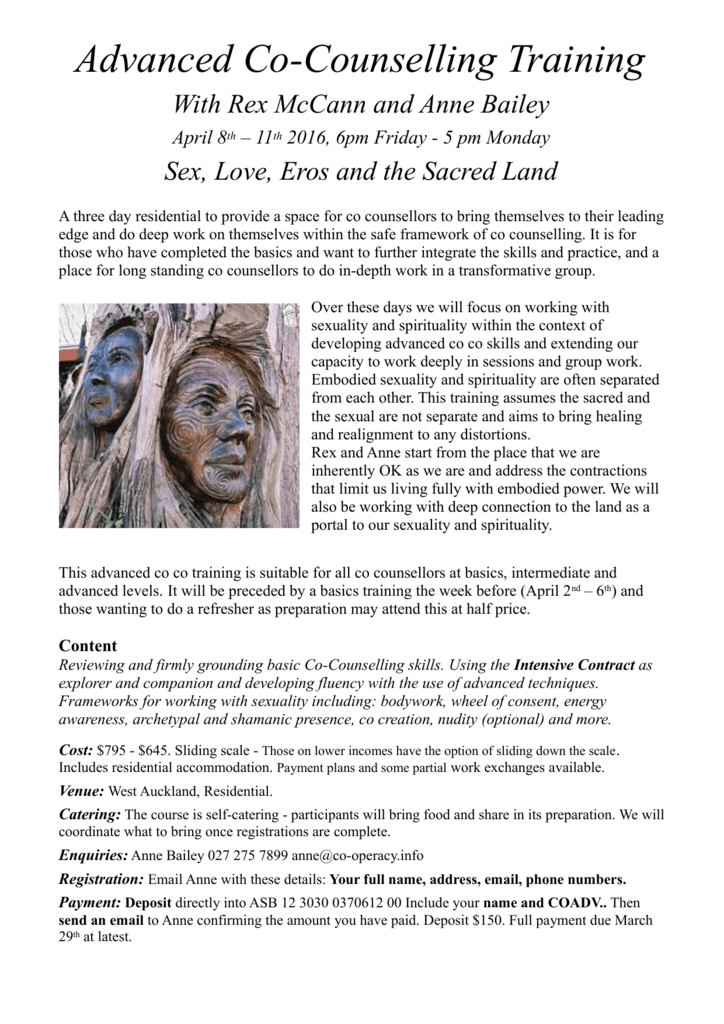 Advanced Co-Counselling Training
With Rex McCann and Anne Bailey
April 8th – 11th 2016, 6pm Friday - 5 pm Monday
Sex, Love, Eros and the Sacred Land
A three day residential to provide a space for co counsellors to bring themselves to their leading
edge and do deep work on themselves within the safe framework of co counselling. It is for
those who have completed the basics and want to further integrate the skills and practice, and a
place for long standing co counsellors to do in-depth work in a transformative group.
Over these days we will focus on working with
sexuality and spirituality within the context of
developing advanced co co skills and extending our
capacity to work deeply in sessions and group work.
Embodied sexuality and spirituality are often separated
from each other. This training assumes the sacred and
the sexual are not separate and aims to bring healing
and realignment to any distortions.
Rex and Anne start from the place that we are
inherently OK as we are and address the contractions
that limit us living fully with embodied power. We will
also be working with deep connection to the land as a
portal to our sexuality and spirituality.
This advanced co co training is suitable for all co counsellors at basics, intermediate and
advanced levels. It will be preceded by a basics training the week before (April 2nd – 6th) and
those wanting to do a refresher as preparation may attend this at half price.
Content
Reviewing and firmly grounding basic Co-Counselling skills. Using the Intensive Contract as
explorer and companion and developing fluency with the use of advanced techniques.
Frameworks for working with sexuality including: bodywork, wheel of consent, energy
awareness, archetypal and shamanic presence, co creation, nudity (optional) and more.
Cost: $795 - $645. Sliding scale - Those on lower incomes have the option of sliding down the scale.
Includes residential accommodation. Payment plans and some partial work exchanges available.
Venue: West Auckland, Residential.
Catering: The course is self-catering - participants will bring food and share in its preparation. We will
coordinate what to bring once registrations are complete.
Enquiries: Anne Bailey 027 275 7899 [email protected]
Registration: Email Anne with these details: Your full name, address, email, phone numbers.
Payment: Deposit directly into ASB 12 3030 0370612 00 Include your name and COADV.. Then
send an email to Anne confirming the amount you have paid. Deposit $150. Full payment due March
29th at latest.