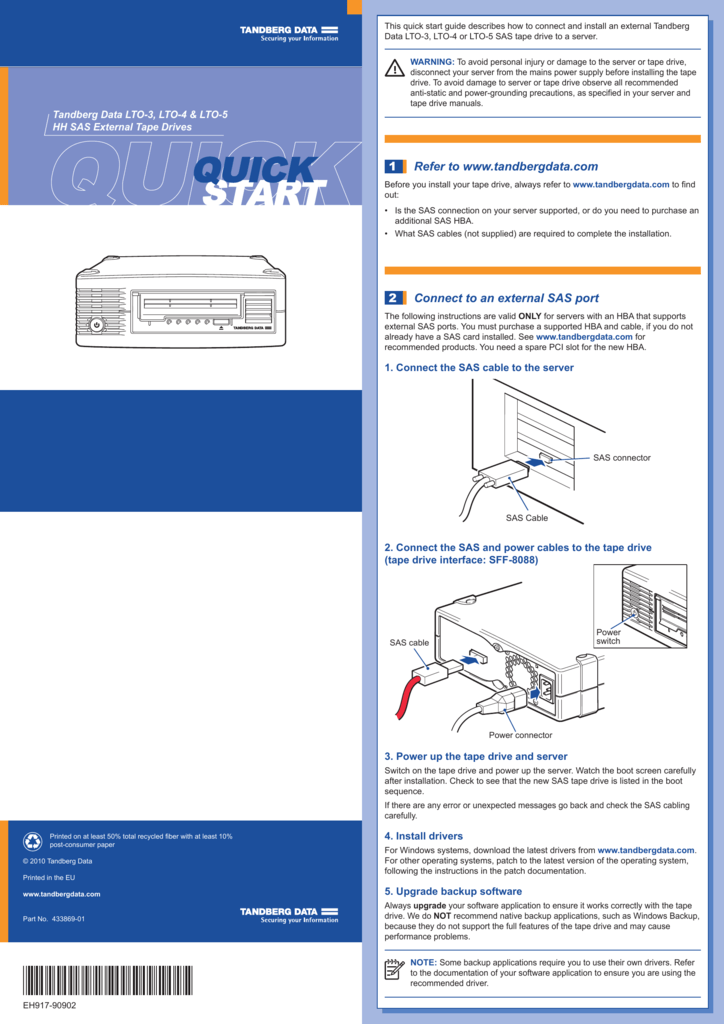 This quick start guide describes how to connect and install an external Tandberg
Data LTO-3, LTO-4 or LTO-5 SAS tape drive to a server.
WARNING: To avoid personal injury or damage to the server or tape drive,
disconnect your server from the mains power supply before installing the tape
drive. To avoid damage to server or tape drive observe all recommended
anti-static and power-grounding precautions, as specified in your server and
tape drive manuals.
Tandberg Data LTO-3, LTO-4 & LTO-5
HH SAS External Tape Drives
1
Refer to www.tandbergdata.com
Before you install your tape drive, always refer to www.tandbergdata.com to find
out:
• Is the SAS connection on your server supported, or do you need to purchase an
additional SAS HBA.
• What SAS cables (not supplied) are required to complete the installation.
2
Connect to an external SAS port
The following instructions are valid ONLY for servers with an HBA that supports
external SAS ports. You must purchase a supported HBA and cable, if you do not
already have a SAS card installed. See www.tandbergdata.com for
recommended products. You need a spare PCI slot for the new HBA.
1. Connect the SAS cable to the server
SAS connector
SAS Cable
2. Connect the SAS and power cables to the tape drive
(tape drive interface: SFF-8088)
Power
switch
SAS cable
Power connector
3. Power up the tape drive and server
Switch on the tape drive and power up the server. Watch the boot screen carefully
after installation. Check to see that the new SAS tape drive is listed in the boot
sequence.
If there are any error or unexpected messages go back and check the SAS cabling
carefully.
Printed on at least 50% total recycled fiber with at least 10%
post-consumer paper
© 2010 Tandberg Data
Printed in the EU
4. Install drivers
For Windows systems, download the latest drivers from www.tandbergdata.com.
For other operating systems, patch to the latest version of the operating system,
following the instructions in the patch documentation.
www.tandbergdata.com
5. Upgrade backup software
Part No. 433869-01
Always upgrade your software application to ensure it works correctly with the tape
drive. We do NOT recommend native backup applications, such as Windows Backup,
because they do not support the full features of the tape drive and may cause
performance problems.
NOTE: Some backup applications require you to use their own drivers. Refer
to the documentation of your software application to ensure you are using the
recommended driver.
EH917-90902
3
Hardware encryption and your Tandberg Data
LTO-5 and LTO-4 tape drive
Your Tandberg Data LTO-5 and LTO-4 tape drive provides the ability to hardware
encrypt your data, applying the strongest level of AES industry-standard encryption
and protecting the data from unauthorized access and use. Encryption is
supported only on Tandberg Data LTO-5 3 TB and LTO-4 1.6 TB media; media
encrypted on a Tandberg Data LTO-5 and LTO-4 drive can only be read on a
compatible Ultrium tape drive that supports hardware encryption.
Hardware encryption can be used with or without compression and without speed
or capacity penalties.
IMPORTANT: Hardware encryption is a powerful feature, but should be used
with care. If you need to import your media onto another machine or to recover
after disaster you will be required to enter an encryption key.
1 Write-protect switch
5
Understanding the LEDs
• Hardware encryption is turned off by default and is switched on by settings in
your backup application, where you also generate and supply the encryption
key.
• Your backup application must support hardware encryption for it to work. The
software supplied with the tape drive provides this support. See
www.tandbergdata.com for an up-to-date list of backup software.
• You should keep a record or backup of your encryption keys and store them in a
secure place separate from the computer running the backup software.
• If you are unable to supply the key when requested to do so, neither you nor
Tandberg Data Support will be able to access the encrypted data.
LTO-5 drives only
4
1
•
•
•
Choosing and looking after media
Your high-performance tape drive works best with high-performance Tandberg
Data LTO media. For optimum performance always use a data cartridge that
matches the specification of your tape drive (see table).
Encryption – blue/amber
On (blue or amber): at power on
Off: drive is idle with no encryption key
Off with Ready LED flashing: drive is reading/writing unencrypted data or
unloading cartridge
• On (blue): drive is idle with encryption key
• On (blue) with Ready LED flashing: drive is reading/writing encrypted data
• Blue and Amber flashing alternately: encryption or decryption error
Table: Tandberg Data LTO data cartridge compatibility
Tandberg Data
LTO-5 HH
LTO-5 3 TB*
Read/Write
(Recommended)
Tandberg Data
LTO-3 HH
No
No
LTO-5, LTO-4 and LTO-3 drives
No
2
•
•
•
Write Once Read
Many
No
LTO-4 1.6 TB*
Read/Write
(Recommended)
No
LTO-4 1.6 TB*
WORM
Write Once Read
Many
Write Once Read
Many
No
LTO-3 800 GB*
Read only
Read/Write
(Recommended)
LTO-3 800 GB*
WORM
Read only
Write Once Read
Many
LTO-2 400 GB*
No
Read only
Read/Write
LTO-1 200 GB*
No
No
Read only
LTO-5 3 TB*
WORM
(Recommended)
NOTE: The Encryption LED only appears on the LTO-5 tape drive.
Tandberg Data
LTO-4 HH
Read/Write
(Recommended)
Read/Write
Write Once Read
Many
(Recommended)
Clean – amber
On: cleaning cartridge in use
Off: the drive does not require cleaning
Flashing: the drive needs cleaning
3 Tape – amber
• Off: no fault has been detected
• Flashing: the cartridge currently in the drive is faulty (damaged or unsupported).
Discard the cartridge.
4 Drive – amber
• Off: no fault has been detected
• Flashing: the drive mechanism has detected a hardware error
5
•
•
•
Ready – green
On: the drive is ready for use
Off: the drive power is off or there was a failure during self-test
Flashing: the drive is busy
* Capacity assumes 2:1 compression.
The recommended cleaning cartridge is the Tandberg Data LTO universal cleaning
cartridge. This cartridge is designed to work with any Ultrium drive and may be
used for up to 50 cleans.
It pays to look after your media
Many tape drive and backup failures are caused by damaged or badly handled
tape media.
• Keep media in the case provided.
• Follow the temperature, humidity and acclimitization guidelines on the media
packaging.
• Avoid dropping it or rough handling, as this is likely to damage the cartridge.
• Inspect it regularly for damage.
• Do not exceed normal cartridge life (260 full volume backup or restore operations).
For detailed information on media care and best practice and to order online,
refer to www.tandbergdata.com.
6
Other sources of information
There is a more detailed "User Guide" on www.tandbergdata.com.
If you need technical support or have any problem with your LTO-3 HH, LTO-4 HH
or LTO-5 HH tape storage solution, phone, fax and addresses can be found under
www.tandbergdata.com SUPPORT.