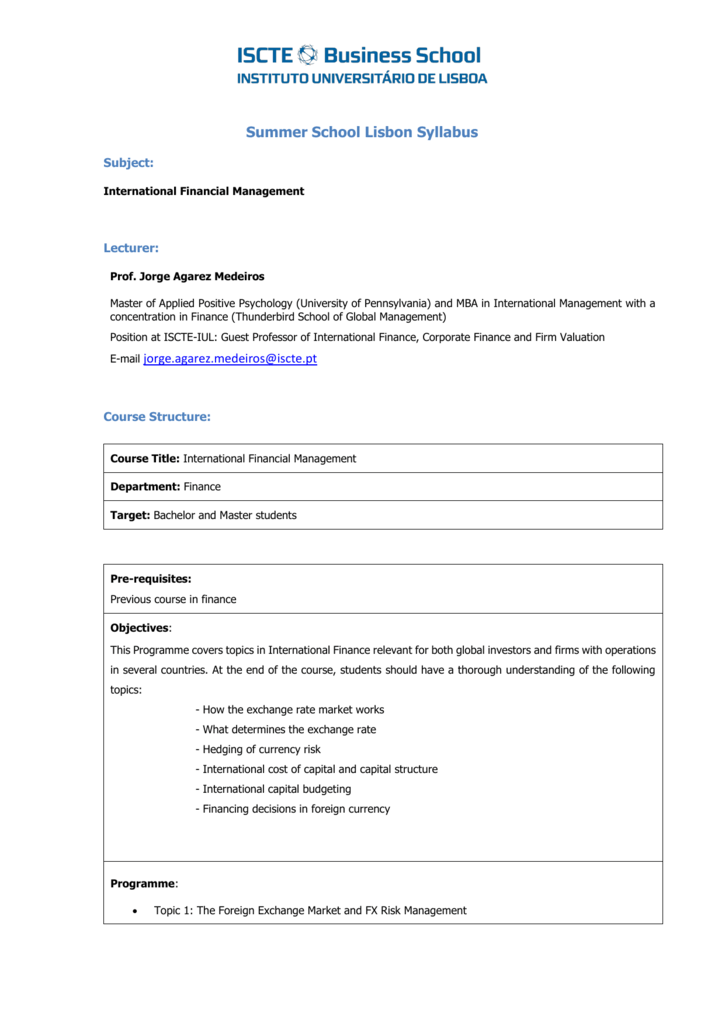 Summer School Lisbon Syllabus
Subject:
International Financial Management
Lecturer:
Prof. Jorge Agarez Medeiros
Master of Applied Positive Psychology (University of Pennsylvania) and MBA in International Management with a
concentration in Finance (Thunderbird School of Global Management)
Position at ISCTE-IUL: Guest Professor of International Finance, Corporate Finance and Firm Valuation
E-mail
[email protected]
Course Structure:
Course Title: International Financial Management
Department: Finance
Target: Bachelor and Master students
Pre-requisites:
Previous course in finance
Objectives:
This Programme covers topics in International Finance relevant for both global investors and firms with operations
in several countries. At the end of the course, students should have a thorough understanding of the following
topics:
- How the exchange rate market works
- What determines the exchange rate
- Hedging of currency risk
- International cost of capital and capital structure
- International capital budgeting
- Financing decisions in foreign currency
Programme:

Topic 1: The Foreign Exchange Market and FX Risk Management

Topic 2: Corporate Finance and International Finance
Assessment:

10% Attendance

90% Final Exam
Teaching Method:
Two topics with a case-oriented teaching approach.
Reading:
 Eun and Resnick, International Financial Management, McGraw-Hill.