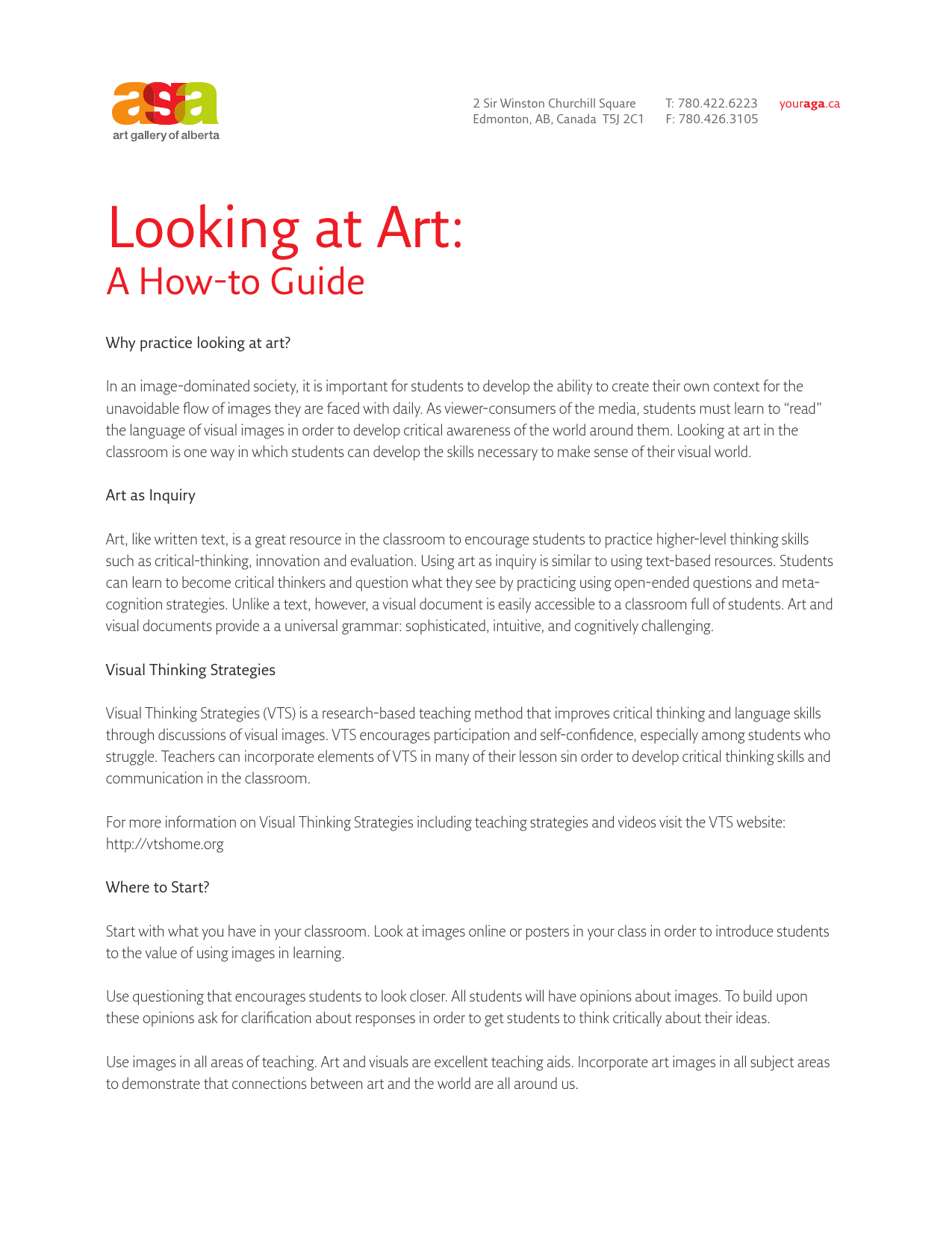 2 Sir Winston Churchill Square
Edmonton, AB, Canada T5J 2C1
T: 780.422.6223
F: 780.426.3105
youraga.ca
Looking at Art:
A How-to Guide
Why practice looking at art?
In an image-dominated society, it is important for students to develop the ability to create their own context for the
unavoidable flow of images they are faced with daily. As viewer-consumers of the media, students must learn to "read"
the language of visual images in order to develop critical awareness of the world around them. Looking at art in the
classroom is one way in which students can develop the skills necessary to make sense of their visual world.
Art as Inquiry
Art, like written text, is a great resource in the classroom to encourage students to practice higher-level thinking skills
such as critical-thinking, innovation and evaluation. Using art as inquiry is similar to using text-based resources. Students
can learn to become critical thinkers and question what they see by practicing using open-ended questions and metacognition strategies. Unlike a text, however, a visual document is easily accessible to a classroom full of students. Art and
visual documents provide a a universal grammar: sophisticated, intuitive, and cognitively challenging.
Visual Thinking Strategies
Visual Thinking Strategies (VTS) is a research-based teaching method that improves critical thinking and language skills
through discussions of visual images. VTS encourages participation and self-confidence, especially among students who
struggle. Teachers can incorporate elements of VTS in many of their lesson sin order to develop critical thinking skills and
communication in the classroom.
For more information on Visual Thinking Strategies including teaching strategies and videos visit the VTS website:
http://vtshome.org
Where to Start?
Start with what you have in your classroom. Look at images online or posters in your class in order to introduce students
to the value of using images in learning.
Use questioning that encourages students to look closer. All students will have opinions about images. To build upon
these opinions ask for clarification about responses in order to get students to think critically about their ideas.
Use images in all areas of teaching. Art and visuals are excellent teaching aids. Incorporate art images in all subject areas
to demonstrate that connections between art and the world are all around us.
2 Sir Winston Churchill Square
Edmonton, AB, Canada T5J 2C1
T: 780.422.6223
F: 780.426.3105
youraga.ca
Teach visual literacy with Looking at Art frameworks. There are many frameworks that can be used to practice looking at
art. These frameworks provide structured processes for reading and interpreting images. See below for examples of ways
to look at art.
Frameworks for Looking at Art
Edmund B. Feldman Framework for Looking at Art
DESCRIPTION
•
•
•
•
•
•
Describe what you see.
Described the artist's use of color. How many colors have bene used?
How has the artist applied the paint?
Describe the texture.
Describe the lines in the work.
What kinds of shapes do you see?
ANALYSIS
•
•
•
•
INTERPRETATION
•
•
•
•
•
JUDGEMENT
• Find an interesting painting. Why is it interesting to you?
• What do you like or dislike about the work?
• The more you look ...the more you will see.
Is your eye drawn to any particular area of the painting?
Is there an element that stands out in the composition?
Is the composition balanced?
Does the work make you think of movement? How does the artist show movement?
• Does the painting look flat or does it give a feeling of depth or space?
• Where might the artist have stood while painting this picture?
What kind of mood or feeling do you get from the painting?
If you could imagine yourself within the painting, how would you feel?
What sounds would you hear?
Why do you think the artist chose this particular subject to paint?
What part of the landscape, building, person, animal etc. most interested the artist? Why do you think so?
2 Sir Winston Churchill Square
Edmonton, AB, Canada T5J 2C1
T: 780.422.6223
F: 780.426.3105
youraga.ca
Taylor's Critical Analysis Framework
MOOD
•
•
•
•
•
Does the work have an effect on you as the viewer?
Does it capture or suggest a mood or feeling which you have experienced?
Can you imagine the artist's feelings during the creation of this work?
Is the work quiet or loud, comforting or troubling, joyful or gloomy?
What are the qualities in the work which affect me?
CONTENT
• What is the subject matter of the work?
• Is the subject matter communicating social, religious, moral, economic or political issues?
• Was the subject matter based on something that was directly observed, or was it remembered, invented or imagined?
• Is the subject matter treated figuratively or has it been intentionally amplified, deformed or abstracted? Can you suppose why?
PROCESS
• Describe the colour scheme. Is there use of contrasts? Is it subtle or vivid? Does one colour predominate?
• Is there a main overall shape or is there a series of shapes?
• Describe the design. Are there recurring shapes, lines, rhythms, tones or forms?
• Describe the variety or unity of texture.
FORM
• List the materials, tools, processes and techniques used by the artist.
• Describe the different stages that led to the completion of the work.
• Do you think the work was executed quickly, or did it develop little by little over time?
• What ranges of skills were necessary to produce this piece?
Taylor, R. & Taylor, D. (1990). Approaching Art and Design: A Guide for Students. Harlow: Longman.