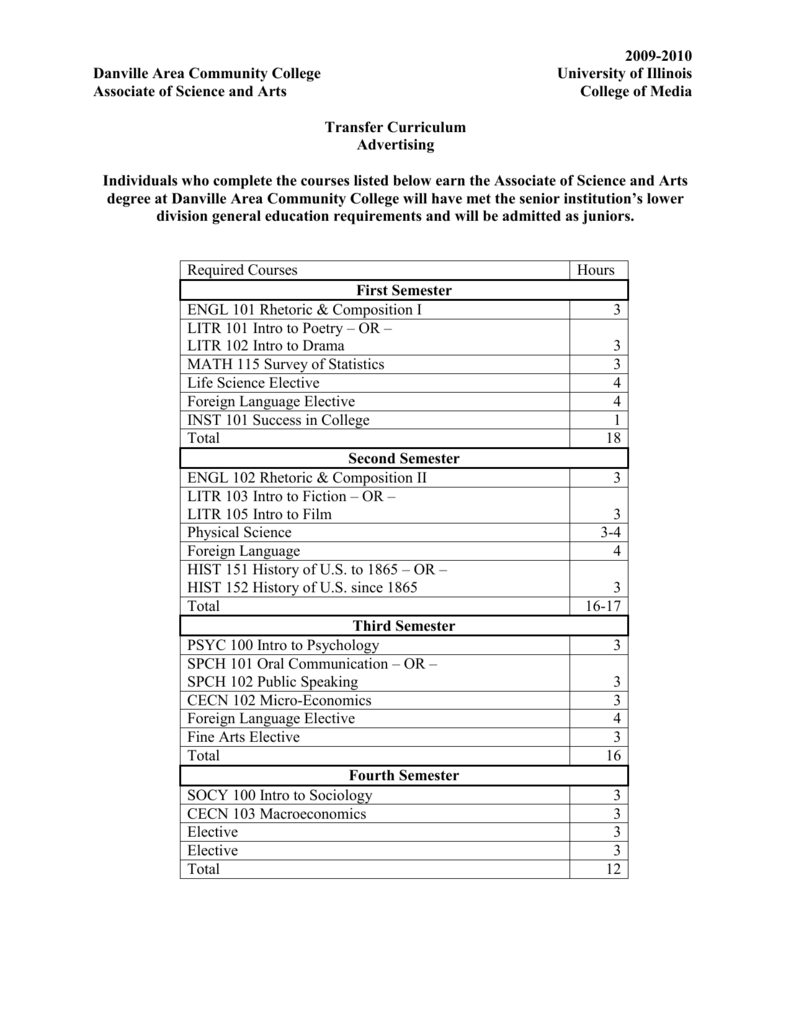 2009-2010
University of Illinois
College of Media
Danville Area Community College
Associate of Science and Arts
Transfer Curriculum
Advertising
Individuals who complete the courses listed below earn the Associate of Science and Arts
degree at Danville Area Community College will have met the senior institution's lower
division general education requirements and will be admitted as juniors.
Required Courses
First Semester
ENGL 101 Rhetoric & Composition I
LITR 101 Intro to Poetry – OR –
LITR 102 Intro to Drama
MATH 115 Survey of Statistics
Life Science Elective
Foreign Language Elective
INST 101 Success in College
Total
Second Semester
ENGL 102 Rhetoric & Composition II
LITR 103 Intro to Fiction – OR –
LITR 105 Intro to Film
Physical Science
Foreign Language
HIST 151 History of U.S. to 1865 – OR –
HIST 152 History of U.S. since 1865
Total
Third Semester
PSYC 100 Intro to Psychology
SPCH 101 Oral Communication – OR –
SPCH 102 Public Speaking
CECN 102 Micro-Economics
Foreign Language Elective
Fine Arts Elective
Total
Fourth Semester
SOCY 100 Intro to Sociology
CECN 103 Macroeconomics
Elective
Elective
Total
Hours
3
3
3
4
4
1
18
3
3
3-4
4
3
16-17
3
3
3
4
3
16
3
3
3
3
12
Transfer Admission Requirements:
1. 3.25 Grade Point Average (4.0 scale)
2. Sixty (60) hours for Admission to the College of Media. Applicants will not be permitted to
complete coursework to fulfill the 60-hour rule of prerequisite coursework during the
summer prior to fall enrollment.
3. A reasonable degree of proficiency in typing is required before entering the College of
Media.
4. ENGL 101, ENGL 102, MATH 115, 2nd level of foreign language are required for
admission. Third level of foreign language is required for graduation.
5. The Online Application is strongly encouraged. Your application will be processed more
quickly and you will be able to check its status onlin
e. Online Applications can be accessed at www.oar.uiuc.edu/prospective/ugrad/apply.html.
Notes:
1. Accreditation by the American Council on Education for Journalism.
2. DACC recommends a three (3) hour course in Third World or Non-Western Culture, either
in Humanities or Social Science.
3. Effective Fall 1992, new students or re-entering students absent more than two years and
seeking an A.S.A. degree are required to take at least one course with human relations
content. See your counselor for a list of courses that fulfill this requirement.
4. For further information, please contact:
Jennifer Follis, Director of Student Services and Advising
119 Gregory Hall
810 S. Wright
University of Illinois
Urbana-Champaign, IL 61801
Telephone: 217-244-4329
Email: [email protected]
PROGRAM AND CURRICULUM REQUIREMENTS ARE SUBJECT TO CHANGE.
SEE A DACC COUNSELOR OR ACADEMIC ADVISOR FOR UPDATED INFORMATION
PRIOR TO REGISTRATION EACH SEMESTER.