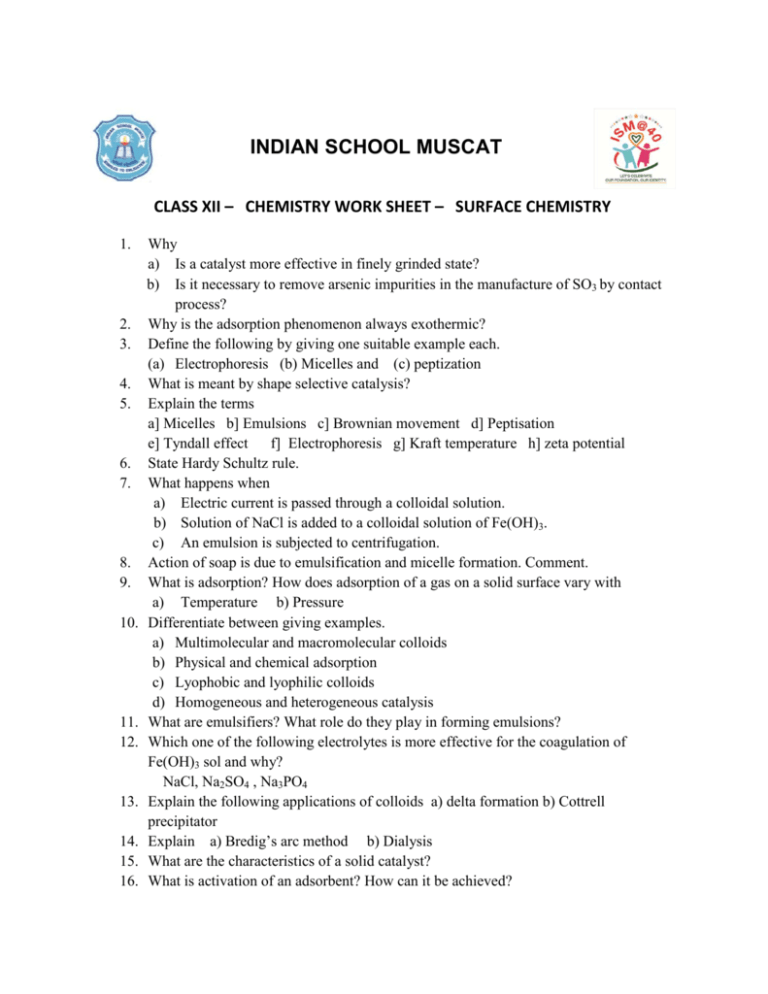 INDIAN SCHOOL MUSCAT
CLASS XII – CHEMISTRY WORK SHEET – SURFACE CHEMISTRY
1.
2.
3.
4.
5.
6.
7.
8.
9.
10.
11.
12.
13.
14.
15.
16.
Why
a) Is a catalyst more effective in finely grinded state?
b) Is it necessary to remove arsenic impurities in the manufacture of SO3 by contact
process?
Why is the adsorption phenomenon always exothermic?
Define the following by giving one suitable example each.
(a) Electrophoresis (b) Micelles and (c) peptization
What is meant by shape selective catalysis?
Explain the terms
a] Micelles b] Emulsions c] Brownian movement d] Peptisation
e] Tyndall effect
f] Electrophoresis g] Kraft temperature h] zeta potential
State Hardy Schultz rule.
What happens when
a) Electric current is passed through a colloidal solution.
b) Solution of NaCl is added to a colloidal solution of Fe(OH)3.
c) An emulsion is subjected to centrifugation.
Action of soap is due to emulsification and micelle formation. Comment.
What is adsorption? How does adsorption of a gas on a solid surface vary with
a) Temperature b) Pressure
Differentiate between giving examples.
a) Multimolecular and macromolecular colloids
b) Physical and chemical adsorption
c) Lyophobic and lyophilic colloids
d) Homogeneous and heterogeneous catalysis
What are emulsifiers? What role do they play in forming emulsions?
Which one of the following electrolytes is more effective for the coagulation of
Fe(OH)3 sol and why?
NaCl, Na2SO4 , Na3PO4
Explain the following applications of colloids a) delta formation b) Cottrell
precipitator
Explain a) Bredig's arc method b) Dialysis
What are the characteristics of a solid catalyst?
What is activation of an adsorbent? How can it be achieved?