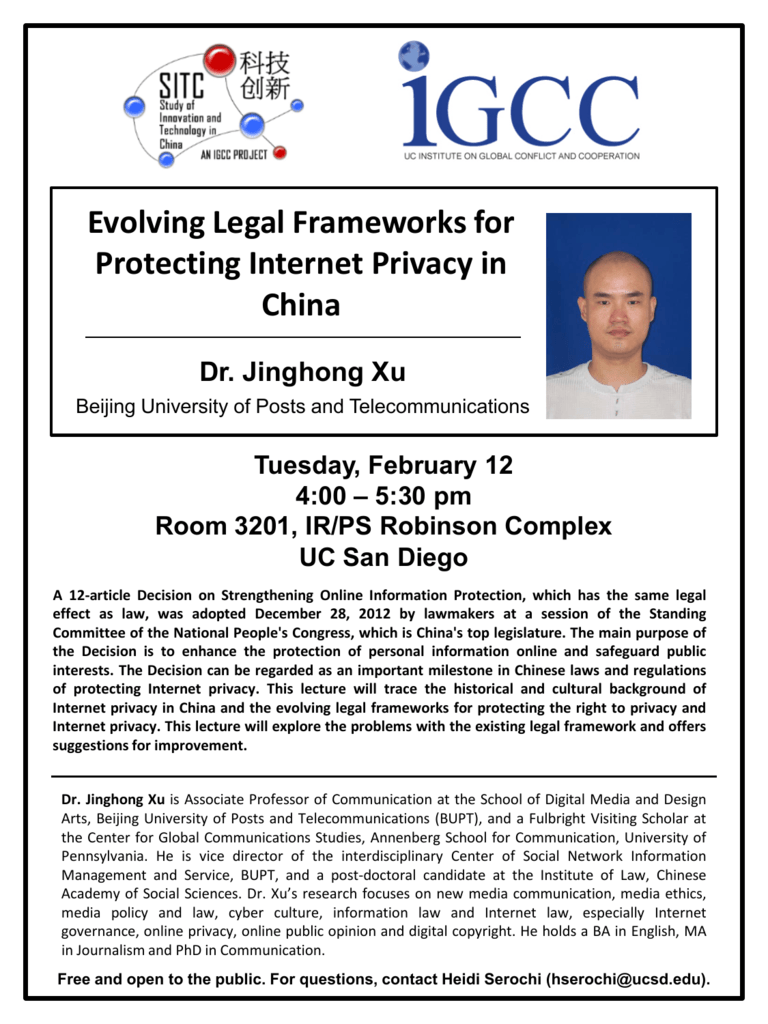 Evolving Legal Frameworks for
Protecting Internet Privacy in
China
Dr. Jinghong Xu
Beijing University of Posts and Telecommunications
Tuesday, February 12
4:00 – 5:30 pm
Room 3201, IR/PS Robinson Complex
UC San Diego
A 12-article Decision on Strengthening Online Information Protection, which has the same legal
effect as law, was adopted December 28, 2012 by lawmakers at a session of the Standing
Committee of the National People's Congress, which is China's top legislature. The main purpose of
the Decision is to enhance the protection of personal information online and safeguard public
interests. The Decision can be regarded as an important milestone in Chinese laws and regulations
of protecting Internet privacy. This lecture will trace the historical and cultural background of
Internet privacy in China and the evolving legal frameworks for protecting the right to privacy and
Internet privacy. This lecture will explore the problems with the existing legal framework and offers
suggestions for improvement.
Dr. Jinghong Xu is Associate Professor of Communication at the School of Digital Media and Design
Arts, Beijing University of Posts and Telecommunications (BUPT), and a Fulbright Visiting Scholar at
the Center for Global Communications Studies, Annenberg School for Communication, University of
Pennsylvania. He is vice director of the interdisciplinary Center of Social Network Information
Management and Service, BUPT, and a post-doctoral candidate at the Institute of Law, Chinese
Academy of Social Sciences. Dr. Xu's research focuses on new media communication, media ethics,
media policy and law, cyber culture, information law and Internet law, especially Internet
governance, online privacy, online public opinion and digital copyright. He holds a BA in English, MA
in Journalism and PhD in Communication.
Free and open to the public. For questions, contact Heidi Serochi ([email protected]).