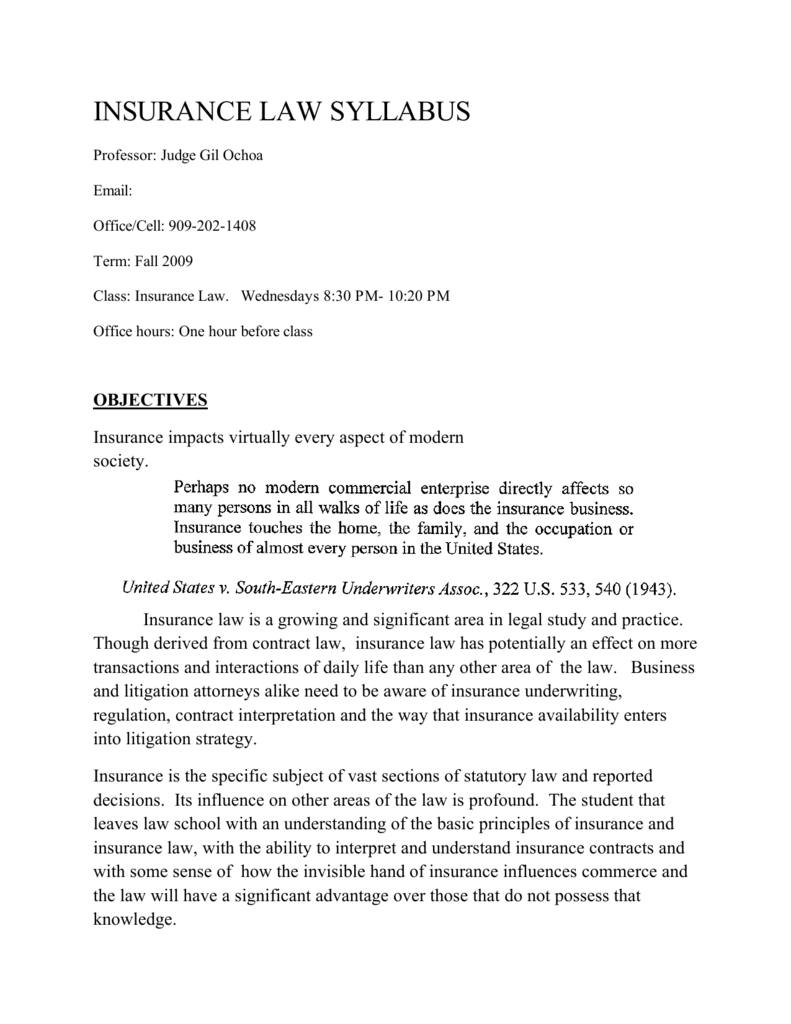 INSURANCE LAW SYLLABUS
Professor: Judge Gil Ochoa
Email:
Office/Cell: 909-202-1408
Term: Fall 2009
Class: Insurance Law. Wednesdays 8:30 PM- 10:20 PM
Office hours: One hour before class
OBJECTIVES
Insurance impacts virtually every aspect of modern
society.
Insurance law is a growing and significant area in legal study and practice.
Though derived from contract law, insurance law has potentially an effect on more
transactions and interactions of daily life than any other area of the law. Business
and litigation attorneys alike need to be aware of insurance underwriting,
regulation, contract interpretation and the way that insurance availability enters
into litigation strategy.
Insurance is the specific subject of vast sections of statutory law and reported
decisions. Its influence on other areas of the law is profound. The student that
leaves law school with an understanding of the basic principles of insurance and
insurance law, with the ability to interpret and understand insurance contracts and
with some sense of how the invisible hand of insurance influences commerce and
the law will have a significant advantage over those that do not possess that
knowledge.
This course is designed to provide the student with a basic understanding of the
following:








Basic insurance principals such as risk
Insurance contract negotiation and formation
Unique principles of contract negotiation and formation
First Party Insurance and Bad Faith
Liability Insurance
Property Insurance
Life Insurance
Insurance Regulation (Time permitting)
Because of its vast nature, no introductory course could reasonably cover every
aspect of unique components of all types of policies. Therefore some omissions
will be made. Ultimately, it is hoped that the course will sensitize the student to
identify the insurance issues lurking in many legal problems. The course should
also provide the student with the tools necessary to analyze and effectively address
those issues.
COURSE MATERIALS
Required Reading: T.Baker, Insurance Law And Policy, 2d Ed.
ATTENDANCE POLICY
Students will be expected to attend class regularly and in a punctual manner.
Nothing will raise the ire of a judge more quickly than an attorney that is
constantly late to court. Start practicing this aspect of your manner now. Active
participation in class is essential to achieving your highest grade possible. Be
prepared to discuss problems at the end of each section and brief the featured
cases. See below.
TESTING AND GRADING
The entire grade for the class will be based upon the following:
• Final – 80%
• Quiz- 10%
• Participation- 10%
ASSIGNMENTS
See assignments sheet.
This information subject to change upon notice.