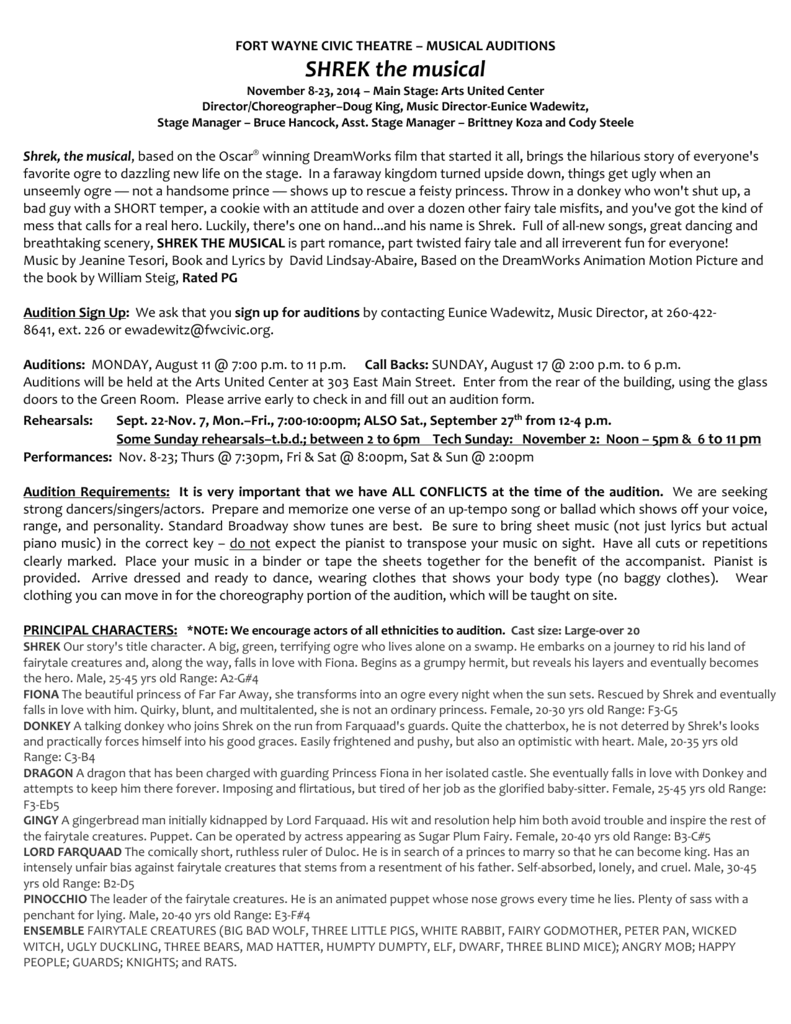 FORT WAYNE CIVIC THEATRE – MUSICAL AUDITIONS SHREK the musical November 8‐23, 2014 – Main Stage: Arts United Center Director/Choreographer–Doug King, Music Director‐Eunice Wadewitz, Stage Manager – Bruce Hancock, Asst. Stage Manager – Brittney Koza and Cody Steele Shrek, the musical, based on the Oscar winning DreamWorks film that started it all, brings the hilarious story of everyone's favorite ogre to dazzling new life on the stage. In a faraway kingdom turned upside down, things get ugly when an unseemly ogre — not a handsome prince — shows up to rescue a feisty princess. Throw in a donkey who won't shut up, a bad guy with a SHORT temper, a cookie with an attitude and over a dozen other fairy tale misfits, and you've got the kind of mess that calls for a real hero. Luckily, there's one on hand...and his name is Shrek. Full of all‐new songs, great dancing and breathtaking scenery, SHREK THE MUSICAL is part romance, part twisted fairy tale and all irreverent fun for everyone! Music by Jeanine Tesori, Book and Lyrics by David Lindsay‐Abaire, Based on the DreamWorks Animation Motion Picture and the book by William Steig, Rated PG Audition Sign Up: We ask that you sign up for auditions by contacting Eunice Wadewitz, Music Director, at 260‐422‐
8641, ext. 226 or [email protected] Auditions: MONDAY, August 11 @ 7:00 p.m. to 11 p.m. Call Backs: SUNDAY, August 17 @ 2:00 p.m. to 6 p.m. Auditions will be held at the Arts United Center at 303 East Main Street. Enter from the rear of the building, using the glass doors to the Green Room. Please arrive early to check in and fill out an audition form. Rehearsals: Sept. 22‐Nov. 7, Mon.–Fri., 7:00‐10:00pm; ALSO Sat., September 27th from 12‐4 p.m. Some Sunday rehearsals–t.b.d.; between 2 to 6pm Tech Sunday: November 2: Noon – 5pm & 6 to 11 pm Performances: Nov. 8‐23; Thurs @ 7:30pm, Fri & Sat @ 8:00pm, Sat & Sun @ 2:00pm Audition Requirements: It is very important that we have ALL CONFLICTS at the time of the audition. We are seeking strong dancers/singers/actors. Prepare and memorize one verse of an up‐tempo song or ballad which shows off your voice, range, and personality. Standard Broadway show tunes are best. Be sure to bring sheet music (not just lyrics but actual piano music) in the correct key – do not expect the pianist to transpose your music on sight. Have all cuts or repetitions clearly marked. Place your music in a binder or tape the sheets together for the benefit of the accompanist. Pianist is provided. Arrive dressed and ready to dance, wearing clothes that shows your body type (no baggy clothes). Wear clothing you can move in for the choreography portion of the audition, which will be taught on site. PRINCIPAL CHARACTERS: *NOTE: We encourage actors of all ethnicities to audition. Cast size: Large‐over 20 ®
SHREK Our story's title character. A big, green, terrifying ogre who lives alone on a swamp. He embarks on a journey to rid his land of fairytale creatures and, along the way, falls in love with Fiona. Begins as a grumpy hermit, but reveals his layers and eventually becomes the hero. Male, 25‐45 yrs old Range: A2‐G#4 FIONA The beautiful princess of Far Far Away, she transforms into an ogre every night when the sun sets. Rescued by Shrek and eventually falls in love with him. Quirky, blunt, and multitalented, she is not an ordinary princess. Female, 20‐30 yrs old Range: F3‐G5 DONKEY A talking donkey who joins Shrek on the run from Farquaad's guards. Quite the chatterbox, he is not deterred by Shrek's looks and practically forces himself into his good graces. Easily frightened and pushy, but also an optimistic with heart. Male, 20‐35 yrs old Range: C3‐B4 DRAGON A dragon that has been charged with guarding Princess Fiona in her isolated castle. She eventually falls in love with Donkey and attempts to keep him there forever. Imposing and flirtatious, but tired of her job as the glorified baby‐sitter. Female, 25‐45 yrs old Range: F3‐Eb5 GINGY A gingerbread man initially kidnapped by Lord Farquaad. His wit and resolution help him both avoid trouble and inspire the rest of the fairytale creatures. Puppet. Can be operated by actress appearing as Sugar Plum Fairy. Female, 20‐40 yrs old Range: B3‐C#5 LORD FARQUAAD The comically short, ruthless ruler of Duloc. He is in search of a princes to marry so that he can become king. Has an intensely unfair bias against fairytale creatures that stems from a resentment of his father. Self‐absorbed, lonely, and cruel. Male, 30‐45 yrs old Range: B2‐D5 PINOCCHIO The leader of the fairytale creatures. He is an animated puppet whose nose grows every time he lies. Plenty of sass with a penchant for lying. Male, 20‐40 yrs old Range: E3‐F#4 ENSEMBLE FAIRYTALE CREATURES (BIG BAD WOLF, THREE LITTLE PIGS, WHITE RABBIT, FAIRY GODMOTHER, PETER PAN, WICKED WITCH, UGLY DUCKLING, THREE BEARS, MAD HATTER, HUMPTY DUMPTY, ELF, DWARF, THREE BLIND MICE); ANGRY MOB; HAPPY PEOPLE; GUARDS; KNIGHTS; and RATS. If you would like to serve on the backstage crew for this production, please call Robert at 422‐8641 x227.