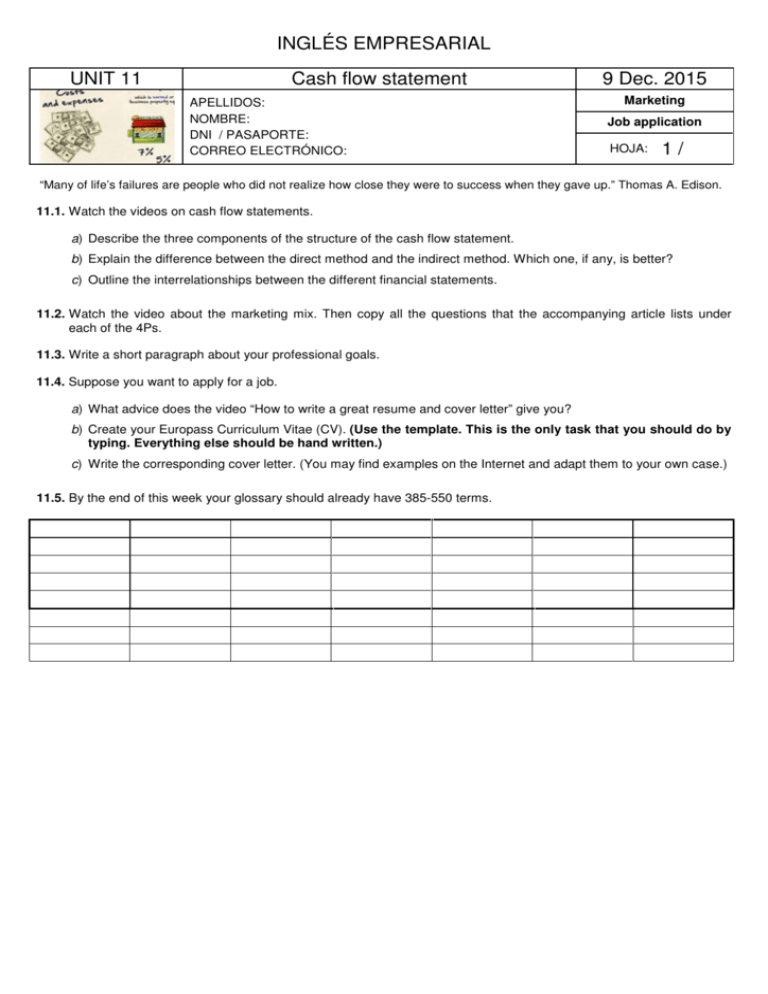 INGLÉS EMPRESARIAL
UNIT 11
Cash flow statement
APELLIDOS:
NOMBRE:
DNI / PASAPORTE:
CORREO ELECTRÓNICO:
9 Dec. 2015
Marketing
Job application
HOJA:
1/
"Many of life's failures are people who did not realize how close they were to success when they gave up." Thomas A. Edison.
11.1. Watch the videos on cash flow statements.
a) Describe the three components of the structure of the cash flow statement.
b) Explain the difference between the direct method and the indirect method. Which one, if any, is better?
c) Outline the interrelationships between the different financial statements.
11.2. Watch the video about the marketing mix. Then copy all the questions that the accompanying article lists under
each of the 4Ps.
11.3. Write a short paragraph about your professional goals.
11.4. Suppose you want to apply for a job.
a) What advice does the video "How to write a great resume and cover letter" give you?
b) Create your Europass Curriculum Vitae (CV). (Use the template. This is the only task that you should do by
typing. Everything else should be hand written.)
c) Write the corresponding cover letter. (You may find examples on the Internet and adapt them to your own case.)
11.5. By the end of this week your glossary should already have 385-550 terms.